Joe Allen: A Reflection of Limited Ambition at Arsenal F.C.?

Michael Steele/Getty Images
May 23, 2012
Arsenal have supposedly had a £3m offer for midfielder Joe Allen turned down by Swansea City, a rumour that sent their fans and those of other football clubs into a frenzied debate on the direction of the club.
Supporters of the club instantly questioned the rumour, questioning whether the Welsh international would strengthen their midfield, an area which has been identified as needing reinforcements.
Some were skeptical of the ambition involved in targeting a player with so little experience in top-flight football, while other, perhaps more conservative supporters, considered him a reasonable, intelligent target.
Meanwhile, Swansea supporters were simply derisive of the purported £3m bid, considering it an insult. More than that, though, they were united in their desire for the club to declare him not for sale.
They have, in fairness, grounds to be disgruntled. Allen, after all,was key in orchestrating the Swan's 3-2 win over Arsenal in January. He and his team have had a terrific debut season in the English Premier League, playing a brand of football that is widely admired.
Allen has been essential in that endeavour—a great passer whose work rate and willingness to close down space meshes seamlessly with his metronomic partner-in-crime, Leon Britton, it's no wonder that free-flowing Arsenal are the side he has been linked with.
Why, then, did this rumour ignite such impassioned discussions? Indeed, the reaction to this story was as interesting as the story itself. How did the need for such a player happen at Arsenal?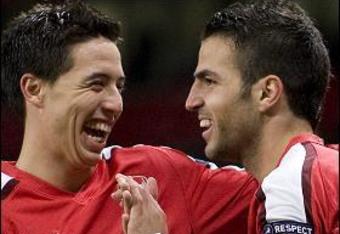 Days Gone By: Cesc Fabregas and Samir Nasri left Arsenal.
Usually, the North London football club are a side associated with a plethora of creative talent in midfield. For the better part of 15 years under the guidance of Arsene Wenger, that has been the case; last season, though, they were forced to endure the departure of two key players.
One, Samir Nasri, was the latest in a succession of Arsenal players to join Manchester City after a dazzling spell of form in the 2010/11 season. The other, Cesc Fabregas, was an astronomical blow to their ambitions, having been Arsenal's standard bearer for several years.
Inevitable, then, that questions have doubts exist over Joe Allen's suitability in the quest to replace such mercurial talents.
The same questions were posed when the club bought Mikel Arteta at the end of the last summer transfer window, and the Spaniard developed into one of the Gunners' standout performers throughout the season.
Beyond him, there is still a wealth of midfield options for Arsenal to call upon; however, it is inescapably true that the quality of those options has dipped, or at least been compromised. Aaron Ramsey, a fellow Welshman of Allen, is a bright prospect who was booed sporadically by Arsenal fans this season because of poor form.
Others, such as Jack Wilshere and Abou Diaby, have been dilapidated by injury. Diaby, sometimes compared to Patrick Vieira when he manages to appear for the club, is so plagued by injury that it wouldn't be surprising to see him retire in his 20s like Dean Ashton and Neil Mellor.
In contrast, the injury-prone Czech international Tomáš Rosický has experienced a renaissance as of late, stringing together regular appearances, and effective ones at that. However, this resurgence may have come three years too late.
At 31 years old, Arsenal may not want to rely too heavily on him, particularly when taking into account their propensity to field younger players. The aforementioned Arteta, aged 30, is in a similar situation.
A possible solution, one that has often been mooted, is to shift Alex Song, superb all season and a massive oversight for the PFA Team of the Year, further up the pitch; that is, to move him from a defensive midfield position into a more advanced, creative one.
That, of course, would still leave a gap in their midfield, this one in the role of midfield enforcer. Different position, same problem. How then should Arsenal proceed?
The key issue in their search for quality players, Champions League football, was resolved when they beat West Bromwich Albion on the last day of the season. But of all the English teams who have a guaranteed spot at Europe's top table, Arsenal are in the weakest position when it comes to signing talent.
Money is problematic; do Arsenal have the funds to compete? Their early signing of Lukas Podolski, a good move, suggests so. Then, of course, it comes down to manager Arsene Wenger, who has become notorious for shirking high-profile signings in favour of rough diamonds.
Primarily, though, silverware is the problem. After a seventh season without a trophy, Arsenal are successful without glory. That, of course, has led to the exodus mentioned earlier. Besides Fabregas and Nasri, the likes of Gael Clichy, Emmanuel Adebayor and Eduardo have left the club.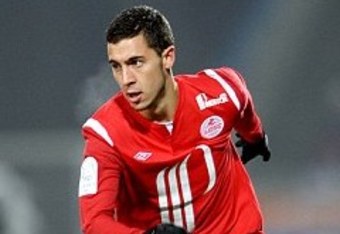 Superstar: Eden Hazard is no longer linked with Arsenal.
Now, disastrously, their talismanic captain, Robin Van Persie, is connected strongly with a transfer move almost every day, most regularly (of course) with Manchester City. Hardly a strong message to the world's elite players.
While once linked tenuously with a move for Belgian superstar Eden Hazard, the Gunners now find themselves on the outside looking in. Despite being a top four Premier League side, they are not on Hazard's radar, as he instead flirts with Chelsea and the two Manchester clubs.
Instead, they find themselves linked with Joe Allen, a player with undoubted talent, but also a player to have experienced only one season of top flight football.
If true, would this be a sound, long-term investment or an uninspired signing?
And if true, what does this say about Arsenal's ambition and strategy?
If you want to discuss this article with me, comment here or follow me on Twitter.
Like the new article format? Send us feedback!