USC Football 2012: Breaking Down the Trojans' Defense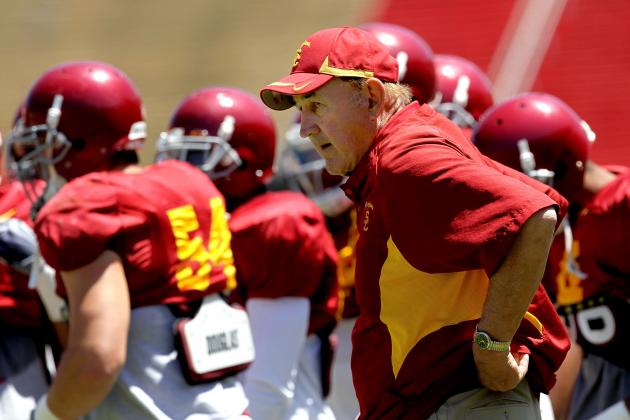 Stephen Dunn/Getty Images

Ever since quarterback Matt Barkley announced that he was returning to USC for his senior season, it seems all of the talk surrounding the Trojans is about how explosive the offense is going to be.
While it is true that the Trojans have the potential to have a dangerous, high-powered offense, the defense is becoming an overlooked unit.
To overlook a unit with as much talent and skill as this group has would be a giant mistake. Despite losing the defensive tackles and defensive end Nick Perry, the Trojans will bring back a majority of their defensive starters.
If the saying is true that defense wins championships, the Trojans look to be in a good position with this unit to go along with their offense.
Here is a breakdown of each area of the defense and what they bring to the table. Keep in mind, the starters are based on the end of spring depth chart.
Begin Slideshow

»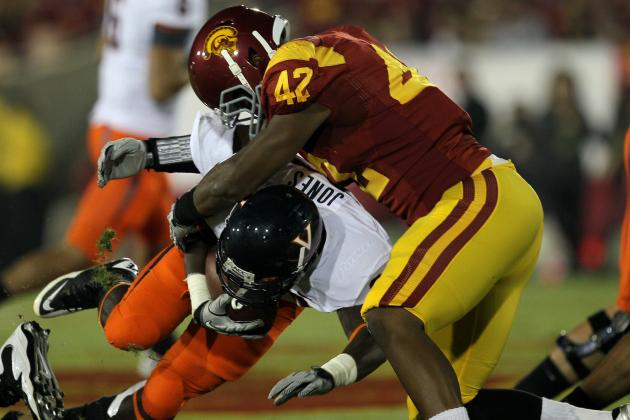 Stephen Dunn/Getty Images

Starters:
Devon Kennard
Wes Horton
Reserves:
Greg Townsend Jr.
Morgan Breslin
Kevin Greene
Devante Wilson
Leonard Williams
Charles Burks
Led by Kennard and Horton, this is a unit that should get some pressure on the quarterback.
While Kennard has not fully lived up to the hype expected of him, that could also be contributed to him having to switch positions multiple times and finally making his way back to defensive end. He had just two sacks last season, but his ability suggests that he is capable of getting that number closer to 10.
Horton has flashed at times in the past, contributing for four sacks in each of the past two seasons. He has had the chance to start before, so he brings the experience with him to go for the whole season this year.
Looking at the reserves, there is not too much experience there, but the talent is undeniable.
Both Townsend Jr. and incoming freshman Leonard Williams have the ability to maneuver along the defensive line. Breslin had a chance to shine in the spring and Greene, Burks and Wilson will help spell the starters throughout the year.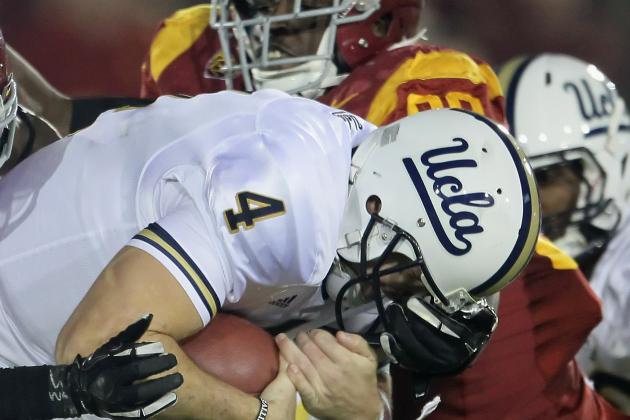 Jeff Gross/Getty Images

Starters:
George Uko
J.R. Tavai
Reserves:
Antwaun Woods
Zack Kusnir
Christian Heyward
Cody Temple
The star of this bunch is expected to be George Uko, who has the potential to eventually be an NFL Draft first-round pick kind of guy. He has the experience to go along with it, appearing in all 12 games last season as a redshirt freshman and compiling 18 tackles.
J.R. Tavai appeared in just seven games, but has shown throughout last season and in the spring that he has the potential to be a disruptive force for the Trojans.
Woods and Heyward were both redshirted during their freshman years last season and Temple is taking on a switch from the offensive line.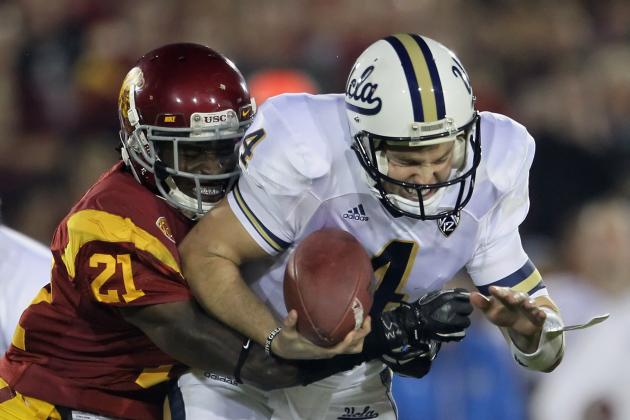 Jeff Gross/Getty Images

Starters:
Nickell Robey
Isiah Wiley
Reserves:
Brian Baucham
Torin Harris
Anthony Brown
Ryan Henderson
Kevon Seymour
Devian Shelton
William Tober
With Nickell Robey in his junior year, the Trojans have an experienced leader in their cornerback unit. He contributed for 63 tackles, nine pass-deflections and two interceptions as a sophomore and enters 2012 as a Thorpe Award candidate.
Isiah Wiley came on strong at the end of the season and provided great play on defense and special teams. He also was a shining player during the spring and provides a taller corner on the opposite side of Robey.
The reserves all have talent to start, although incoming freshmen Seymour, Shelton and Tober could be redshirt candidates. Ryan Henderson, Anthony Brown, Torin Harris and Brian Baucham are all highly talented players with great potential. Henderson could be the surprise of the group.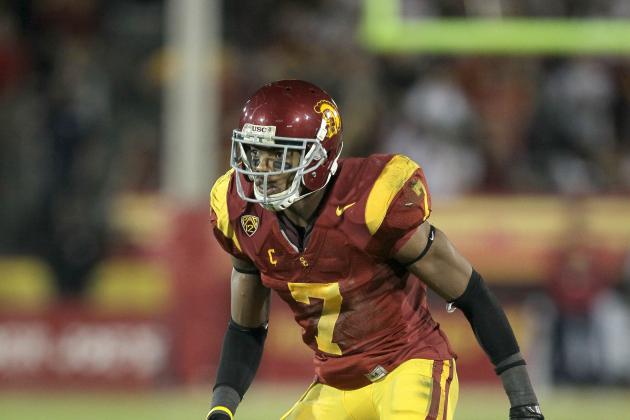 Stephen Dunn/Getty Images

Starters:
T.J. McDonald
Jawanza Starling
Reserves:
Drew McAllister
Demetrius Wright
Josh Shaw
Gerald Bowman
Luis Nevarez
John Auran
This unit could potentially be the most experienced unit with the senior captain T.J. McDonald returning. The Thorpe Award candidate had 67 tackles and three interceptions last season while providing key leadership to the defensive backfield.
Jawanza Starling was a surprising hero in quite a few games, recovering big fumbles against Notre Dame (which he returned for a touchdown) and Oregon. He is another senior in the group and could share time with a rising star in Wright.
Wright and McAllister provide excellent experience as backups (Wright a junior; McAllister a senior) and could spell the starters at any time and help on special teams.
Shaw is a transfer from Florida who was granted a waiver to play this season and Bowman was rated a five-star Juco safety this year. The depth and experience of this unit is phenomenal.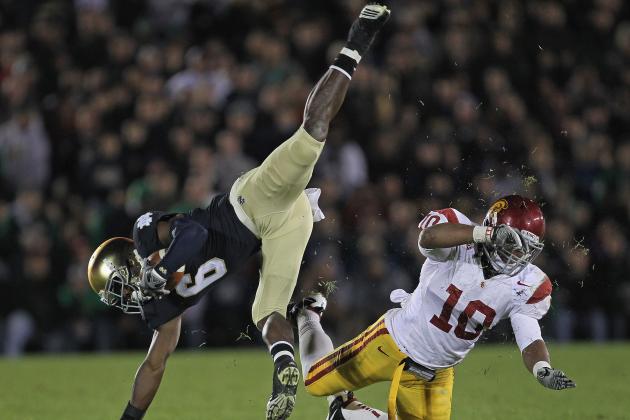 Jonathan Daniel/Getty Images

Starters:
Hayes Pullard
Lamar Dawson
Dion Bailey
Reserves:
Anthony Sarao
Tony Burnett
Scott Starr
Will Andrew
Dallas Kelley
Jabari Ruffin
Marquis Simmons
While young, this could be the most talented unit on the defensive side of the ball. All starters are sophomores and Hayes Pullard and Dion Bailey led the team in tackles last season with 81 apiece.
Lamar Dawson started the last four games for the Trojans and compiled 25 tackles in his eight total appearances as a true freshman.
Anthony Sarao is a redshirt freshman who provided the Trojans with a talented player on the scout team last season. Scott Starr is a highly-rated incoming freshman who is already drawing comparisons to Brian Cushing.
Burnett makes the switch from defensive back to SAM linebacker much like Bailey did to provide speed at the position.
Andrew, Kelley and Simmons are all reliable reserves while Ruffin is coming in the fall as another highly rated incoming freshman.
These linebackers have the potential to match the same type of dominance and production that the Trojans had when they had Cushing, Rey Maualuga and Clay Matthews.