Knicks Agree to Contract to Make Mike Woodson Head Coach
May 25, 2012

Jeff Zelevansky/Getty Images
Mike Woodson not only earned the right to be the head coach of the New York Knicks, but he's also the right man for the job.
According to Bill Reiter of FoxSports.com, New York and Woodson have finally agreed to terms on a new contract to lift the interim tag from the coach's title.
The Knicks just announced they've given Mike Woodson a contract extension.

— Bill Reiter (@foxsportsreiter) May 25, 2012
The terms of the deal are not yet known.
He isn't officially becoming head coach because he led them to an 18-6 regular season record, or because they snapped a record 13-game postseason losing streak under his rule--those things helped--he's officially becoming head coach because the players believe in him.
That is something Knicks players have not been able to say for quite some time now. Dating back to Isiah Thomas' hire as President of Basketball Operations in 2003, the Knicks have put six different coaches on the sideline and only three of them made it to the postseason. All five before Woodson had problems for various reasons.
Lenny Wilkins, in his final coaching stop, was swept by the New Jersey Nets in 2004 and Mike D'Antoni was swept by the Boston Celtics last year. Woodson led the Knicks against the Miami Heat this year and stole one game away from the Eastern Conference's most dangerous team.
But again, that is not why he's coming back.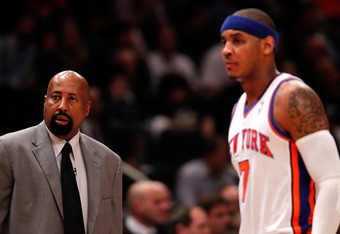 Jeff Zelevansky/Getty Images
Woodson found a way to get the most out of players that wanted nothing to do with their previous coach or system; most notably Carmelo Anthony.
The Knicks' superstar is the key to everything because he's not going anywhere for a long, long time. He woke up under Woodson and became the player the Knicks hoped they'd get when they traded away nearly their entire roster for him a year ago.
Now he just needs to get on the same page with Amar'e Stoudemire and all should be well. They have talented bench players--scorers and defenders alike--a dominant defensive presence on the block, and they should find a way to nab some form of a point guard in free agency (possibly even Jeremy Lin if the price is right).
Bringing back Woodson guarantees the Knicks the most consistency they've had in some time. This is without question the best move for this ball club moving forward.