Boston Celtics: Why C's Must Retain Kevin Garnett to Compete Next Season
May 24, 2012

Elsa/Getty Images
As the Celtics continue their march towards what they hope will be another NBA Finals trip, a couple of things have become very apparent. 
Ray Allen is not just old, but he's also injured. 
Kevin Garnett is indispensable. 
Let's face it, without Garnett this Celtics squad probably misses the playoffs. Forget about how they'd have handled, or not handled, Atlanta in the first round. 
When this season eventually concludes for the Boston Celtics, Garnett's contract will expire. He will be an unrestricted free agent. 
A 7'0", future Hall of Fame power forward who spent much of the 2011-2012 season and postseason playing center, Garnett will be a major catch for whichever team is willing to plunk down enough money and years to convince him to sign for next season and beyond.
That team should be the team he's familiar with, the Boston Celtics. Not only has Garnett shown that when he's not playing in a condensed lockout-impacted schedule he can be a dominant player, he's also re-established himself as a serious postseason presence.
Forget this season. Focus on the future.
The Celtics are already among the weakest rebounding teams in the league. Armed with two first-round draft picks in this June's NBA draft, the Celtics are almost certain to bring on one, if not two young big men.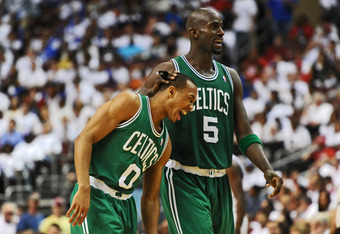 Drew Hallowell/Getty Images
On some teams, that would be plenty. Those would be teams in a rebuilding mode. The 2012-2013 Celtics are not in a rebuilding mode, though. They're in a re-loading mode. Even if the Celtics resign Garnett, it won't be at the $20 million level he's currently paid. That pay cut combined with the likely departure of Ray Allen and the shedding of other contracts, would still leave the Celtics with cap room to bring in reinforcements for next year's run at a ring.
Since it seems highly unlikely that Dwight Howard would come to Boston and even more unlikely that the Celtics and Lakers would get together and fashion a deal to bring Andrew Bynum to Boston, the best big man the Celtics can realistically sign this offseason is already wearing green and white.
It's Kevin Garnett, the "Big Ticket." Bring him back, Boston. It will only make the other returning Celtics and the draft picks that much better.