Thunder vs. Spurs: Western Conference Final Signifies Changing of the Guard
May 23, 2012

Ronald Martinez/Getty Images
There's about to be a new sheriff in town, but before the Oklahoma City Thunder can don the badge, they need to earn it from the San Antonio Spurs.
The Western Conference's No. 1 seed hasn't missed a postseason since the 1996-1997 season. In that time, they've won the conference's top seed six times and the NBA championship four times. Only twice in the last years has this team finished worse than fourth in the West.
The San Antonio Spurs are everything the Oklahoma City Thunder hope to be.
With Sam Presti, a former Spurs executive, running the show, they're off to a good start, but now they have to take the next step.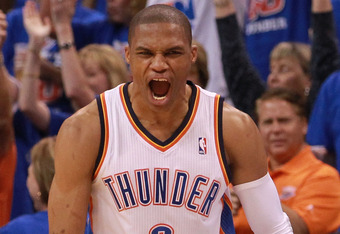 Ronald Martinez/Getty Images
Led by Kevin Durant and Russell Westbrook, the Thunder have two superstars for the foreseeable future, and they have all their other vital pieces signed through at least the end of next season. Presti has built this team the right way, and they're poised to stay atop the conference as long as they can stay healthy.
This Western Conference Final is the last thing standing in their way of truly taking over.
The Spurs enter this series having not yet lost a playoff game this postseason. They swept both the Utah Jazz and Los Angeles Clippers in what can easily be categorized as dominant fashion.
But they haven't seen a squad like the Thunder yet, who've lost only one game in two considerably tougher series against the defending champion Dallas Mavericks and the Los Angeles Lakers.
In fact, if the Thunder can defeat the Spurs, they'll have knocked off the last three teams to win the NBA title from the Western Conference in the same postseason—it doesn't get any better than that.
All that remains is the Spurs, and the Thunder have them right where they want them.