Dallas Cowboys Become Top-5 Offense If James Hanna Produces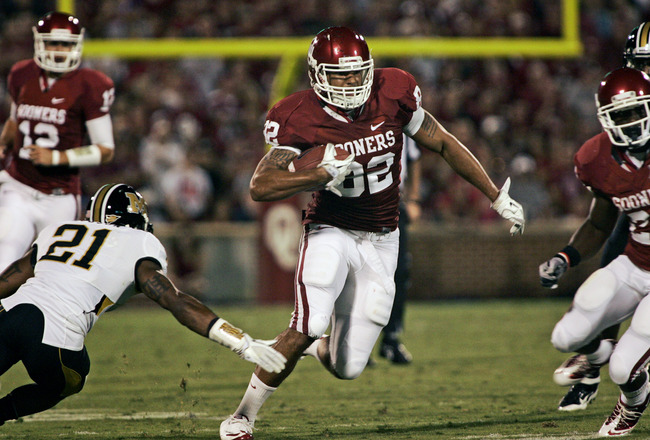 James Hanna Can Run
Brett Deering/Getty Images
The Dallas Cowboys can become a top-five offense this year if James Hanna can contribute right away.
Hanna most likely wasn't even the fifth-best tight end on the Cowboys draft board in April, but those guys were gone by the time Dallas felt ready to invest a pick at this position.
Finding the second receiving tight end obviously wasn't as big of a priority as shoring up the defense and finding another candidate for the third receiving spot.
However, as luck would have it, Dallas ended up with a true boon or bust prospect in Hanna. Hanna isn't known for being a highly reliable receiver—he makes some great catches and he drops some easy grabs.
Yet, he was the fastest tight end clocked in the NFL combine this year. Oklahoma moved him around a fair amount and created some tantalizing mismatches in the process. Hanna is 6'4" and runs in the range of 4.42-4.49 in the 40. That is crazy fast, given that he weighs 252 lbs.
When you consider his potential to be an Aaron Hernandez-type threat, understand that Hernandez is listed as 6'1", 245 lbs. and ran a 4.64 at the combine. Hanna is taller, bigger and faster.
No one has ever questioned Hernandez's hands, however. The same can not be said for Hanna, so he will have to prove his consistency for any of this to work out.
However, with Danny Coale sidelined with a broken foot, Hanna is the only offensive player taken in the draft who will be available for organized team activities and minicamps. This will help all the undrafted free-agent receivers, but it also shifts a bit more attention to Hanna as a receiving option.
And that could be a very good thing for the Cowboys offense.
In these next few slides, I will illustrate how two receiving tight ends would propel Dallas into the upper echelons of NFL passing offense.
Dallas Can Intimidate Defensive Secondaries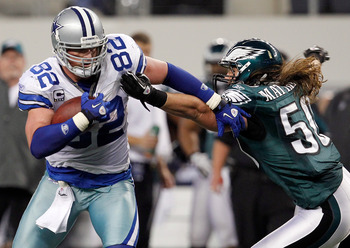 Tom Pennington/Getty Images
The Cowboys will dramatically alter the balance of power in the secondary with James Hanna on the field. Dallas is already blessed with a Pro Bowl tight end and two strong, tall receivers.
Adding Hanna to the mix would mean Dallas could put four receivers into the secondary that owned a height, weight and/or speed advantage in almost every game.
Traditionally, offenses had the advantage of the initiative. They knew what play was being run and the defense had to react, but the corner backs were similar in size and speed and the safeties were bigger. What's more, the safeties had intimidation in their favor. They were bigger and they would arrive with violent intentions to separate receivers from the ball.
Now the rules limit what safeties can do and receivers and tight ends have gotten bigger and faster. Dallas has the chance to take this to a new level with Hanna.
Jason Witten is 6'5" and 260 lbs. and still runs well for a big guy.
Miles Austin is 6'2" and 220 lbs. and runs in 4.4's.
Dez Bryant is 6'2" and 220 lbs., runs 4.5 and fights every tackle like it's a life-or-death matter.
James Hanna is 6'4" and 252 lbs., runs in the 4.4's.
The average secondary is populated by corners that average 5'11",190 lbs. and safeties that average 5'11' and 195 lbs.
If Dallas can put these four receivers into routes on a consistent basis, Romo will have four mismatches to choose from when scanning the field.
This will result in a great deal more production than we have seen in recent years, and it will give both the physical and the psychological advantage to the Dallas offense. This could be the ultimate red-zone package for Dallas.
Staying One Step Ahead of Defensive Coordinators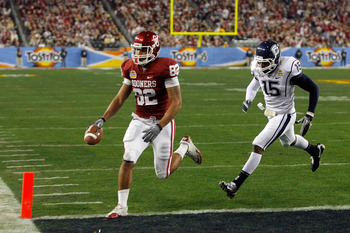 James Hanna Flashed Great Potential at Oklahoma
Tom Pennington/Getty Images
Dallas witnessed up close the problems that a double pass-catching tight end formation causes when it played New England in 2011.
The game-winning reception was made by Aaron Hernandez out of this formation. Dallas doubled Rob Gronkowski, Hernandez made the catch.
In that game, Dallas limited Wes Welker to only 45 yards, but Hernandez and Gronkowski combined for 15 catches and 142 yards.
When both your tight ends are dangerous receivers, your ability to keep the defense off balance is really unlimited.
During an NFL game, the defensive coaches are constantly analyzing where the threats are coming from, who needs to be the priority for the defense.
Defenses have a hard enough time dealing with one dangerous tight end, given that he will often times be isolated on a line backer. Adding in the second receiving tight end exponentially increases the number of plays that can be run. This overwhelms the coaches and the players for the opposition and keeps them one step behind, always reacting to what happened and less likely to anticipate where the offense is going next.
This is why New England finished second in passing yards, had the leading receiver and also had two top-five tight ends last year.
Running out of a Passing Formation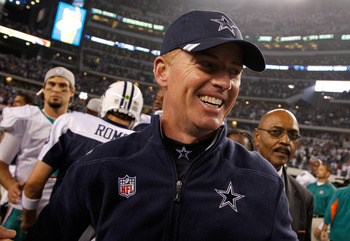 Tom Pennington/Getty Images
Dallas Cowboys coach Jason Garrett is no different than any other offensive coordinator in that he loves to run when the defense is set to stop the pass. The only catch is that you need enough big bodies to run block if you are going to be effective. You can certainly run out of spread formation with success, but Dallas obviously prefers not to do that too often.
The double-threat, double-tight end package allows you to create a strong pass look that is great to run out of. The initial set is an S21, meaning two tight ends, one back, shotgun. Both tight ends are flared out wide, along with two receivers. You motion the tight ends back into blocking position at the last moment and hand off to your running back.
There are dozens of possible variations on this play. My favorite is one that New England has done a few times. They go empty backfield and bring in another receiver. Now the defense is certain it's a pass. It's not. Hernandez sweeps over, takes the pitch and runs to the strong side.
In Dallas's offense, Hanna would take that pitch.
Passing out of the Run Formation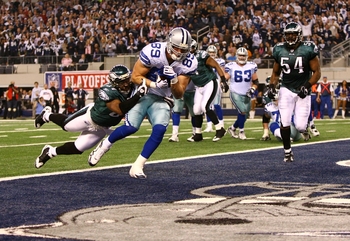 John Phillips, the Other Tight End
Jamie Squire/Getty Images
Passing out of a running formation could become much more productive for Dallas with the second receiving tight end. Dallas tried to do this with Martellus Bennett, but he just wasn't dangerous enough after the catch to tolerate his drops and his inability to get separation.
As dangerous as DeMarco Murray has become, the 21 package would be an especially powerful way to set up the defense for a big pass play.
Imagine you are the defensive coordinator playing the Vikings and they have the 21 package out there with Adrian Peterson. Do you want to have explain to your owner why you didn't put eight men in the box prior to the snap if Peterson takes it to the house?
Murray looked that dangerous last season. His presence will have a magnetic power on safeties in 2012, especially when Dallas is in the 21 package.
If Hanna proves he can catch that seam route the way he did at Oklahoma, watch out. He only has to convert that a couple of times to open up things for Bryant and Austin.
Again, it comes down to overwhelming the defense with possibilities. If Hanna isn't ready right away, John Phillips has proven he can fill this role. However, Hanna is much faster, so ideally he would take over some time soon.
Attacking Linebackers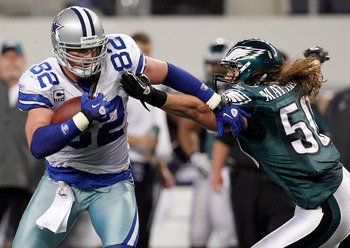 Tom Pennington/Getty Images
The linebacking units of the Eagles and Giants are areas of weakness that can be exploited. When a team can consistently make opposing linebackers cover sideline to sideline and force them into mismatches, it makes for a long day.
Dallas will have a chance to do this if Hanna pans out. He doesn't have to be as productive as the Patriots' Hernandez right away. He just needs to make enough plays to overload the circuits of the guys on the other side of the ball.
And with all the weapons Dallas already has, this is a distinct possibility.
New England started the season last year against Miami, a team that always plays the Patriots tough. The Dolphins are kind of like Washington is for Dallas. They haven't had much talent lately, but they are always up for the fight.
Miami came into that game knowing it had to limit the damage Gronkowski and Welker did to them if it were going to have a chance. It had the entire summer to formulate a plan to do this.
Miami scored first, but what happened next was a gradual dismantling of its defense by too many weapons placed in alignments that created too many mismatches.
Tom Brady set a franchise record with over 500 yards passing and 4 TD's, as the Patriots racked up over 600 yards in total offense and scored 38 points. In a theme that would last all year, Hernandez, Gronkowski and Welker accounted for most of the offense.
If Hanna can contribute enough in the 12 package, Dallas can attack opposing linebackers through a variety of plays with Witten, Hanna, Murray and Jones.
Because these are often very quick passes to receivers in shallow patterns, Dallas will be able to keep Romo upright while racking up yards and points.
Putting It All Together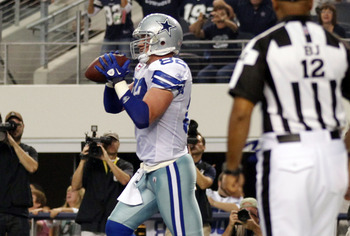 Layne Murdoch/Getty Images
In truth, there are a number of routes Dallas can take to get back to a top-five offense.
I am highlighting the possibility of Hanna making a significant contribution because, unlike a typical 1-1 formation with three wides, a 2-1 formation with two wides keeps the defenses guessing.
Because of this, the position can be very catalytic. Even if the second tight end only averages three catches a game, that is substantially more than most offenses get from their second tight end. That requires defenses to account for him on every play. That, in turn, opens things up for the wide receivers that are on the field.
Garrett always runs a number of different packages on game day. He runs many with three wide, some with one back and two tight ends, a few with two backs and two tight ends; he'll throw in a four wide with an empty backfield; he'll even throw in a three-tight end package on rare occasions.
If Hanna can be a quick study with Garrett's offense and show consistent hands, his foot-speed is going to be an enormous boon for the Cowboys.
For more in-depth Cowboys analysis, check out Cowboysblast.com.
Keep Reading

Dallas Cowboys: Like this team?