Heat vs. Pacers: Game 6 TV Schedule, Live Stream, Spread Info and More
May 23, 2012

Mike Ehrmann/Getty Images
Game 5 between the Indiana Pacers and Miami Heat brought out another big performance from LeBron James, who scored 30 points, grabbed 10 rebounds and dished out eight assists in Miami's 115-83 pummeling of the Pacers.
It also brought out the bad blood between the two teams.
Like any postseason series that extends to a sixth or seventh game, a good deal of chippiness is expected. But things went from chippy to nasty in Game 5, as three flagrant fouls were called, which ultimately could have a huge impact on Game 6.
It's possible Miami could be without Udonis Haslem and Dexter Pittman, as they could be looking at suspensions after the league reviews each flagrant. Already without Chris Bosh (out with an abdominal injury) that could leave Miami very thin up front for Game 6.
Things aren't much better for Indiana heading home for Game 6.
Starting forwards David West (knee) and Danny Granger (ankle) both left Game 5 early with injuries.
Yet while this series has had its share of sideshow antics, and while Game 5 may have resembled a WWE event instead of an NBA playoff game, for the Pacers to get back into the series, they have to get back to playing basketball.
Indiana shot only 34 percent from the floor in Game 5 and suffered the worst playoff loss in franchise history. With West and Granger both likely less than 100 percent, for this series to get back to Miami for a Game 7, someone in a Pacers uniform will have to step up and make some shots in Game 6.
With that being said, here's a look at everything you need to know for this pivotal Eastern Conference playoff battle.
When: Thursday, May 24 at 8:00 p.m. EDT
Where: Bankers Life Fieldhouse in Indianapolis, Indiana
Watch: ESPN
Live Stream: ESPN3
Betting Line: Miami (-2.5), via 5Dimes.
Heat Key Injuries (Per ESPN)
Out: Chris Bosh (strained abdominal muscle)
Pacers Key Injuries (Per ESPN)
Day-to-Day: David West (knee), Danny Granger (sprained ankle)
What They're Saying
After their worst postseason loss in franchise history, count Pacers president Larry Bird as a man who was very disappointed with his team's effort. Bird called out his team, saying:
"I can't believe my team went soft. S-O-F-T," Bird told the Indianapolis Star. "I'm disappointed. I never thought it would happen."

When asked to elaborate more, Bird told the newspaper, "That's all I have to say."
Most Important Player to Watch: Roy Hibbert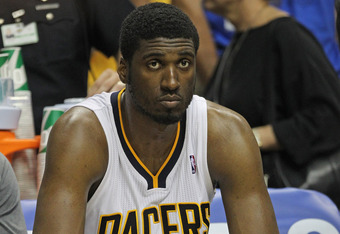 Jonathan Daniel/Getty Images
If the Heat face suspensions, they will be even smaller as a team and Hibbert must take advantage. In the past six quarters, the Pacers have made no attempt to play inside-out. If you hang on the perimeter against the Heat, things like Game 5 will happen.
The Pacers may have shot 37 percent from behind the arc during the regular season, but that number is down to 32 percent in the postseason.
Indiana's strength is in the interior and it must get back to that in Game 6.
As far as Hibbert goes, he must be more aggressive.
The Pacers were outscored by 17 points with him on the court in Game 5, Hibbert's worst plus/minus this postseason. He was a plus-30 in the first four games of the series.
For the Pacers to extend the series, Hibbert must turn in a huge effort.
Key Matchup: Pacers Starting Five vs. Heat Starting Five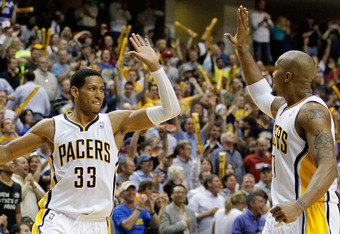 Gregory Shamus/Getty Images
I kept the key matchup a bit broad for a reason; I really wanted to look at the performance of the Pacers starters.
After the past two games, Indiana must find a way to limit the production of Dwyane Wade and LeBron James. That's not easy to do, but they have to force someone else to beat them.
Looking at the Pacers' starting five though, when they are going well, they are as productive as any unit in the playoffs.
The Pacers have outscored opponents by 75 points with its starting lineup (Paul George, Granger Hibbert, George Hill and West) on the court together this postseason, the best plus-minus for any five-player combination in the playoffs. When any other combination of Pacers has been on the court, Indiana has been outscored by 48. In the Eastern Conference Semifinals, the starters are +47 and all other lineups are -74.
The Pacers' starters need to play well because neither team is getting much production from their reserves this series.
Prediction
Pacers 93, Heat 92