2012 SEC Baseball Tournament Bracket: Updated Scores and Printable Bracket
May 23, 2012

Ronald Martinez/Getty Images
The 2012 SEC Tournament has been wildly exciting, with favorite after favorite being slain by scrappy underdogs. 
Now, only three teams remain after an action-packed week of baseball. The No. 7 Mississippi State Bulldogs have secured a spot in the championship game, and are awaiting the winner of No.5 Vanderbilt vs. No. 3 Florida (currently underway).
Here's everything you need to know about the tournament.
When: May 22 to May 27, 2012 
Where: Hoover Park, Regions, AL 
Watch: Charter Sports Southeast, Sport South Channel, ESPN 2 (Championship)
Live Stream: ESPN3.com (All Games) 
Printable Bracket: SEC Website (Click Here) 
Teams Involved
| | |
| --- | --- |
| SEED | TEAM (OVERALL RECORD, SEC RECORD) TOURNAMENT RECORD |
|  No. 1 |  LSU Tigers (42-14, 19-11) 0-0 |
|  No. 2  |  South Carolina Gamecocks (39-15, 18-11) 0-0 |
|  No. 3  |  Florida Gators (40-16, 18-12) 1-0 |
|  No. 4 |  Kentucky Wildcats (41-15, 18-12) 1-0 |
|  No. 5  |  Vanderbilt Commodores (29-25, 16-14) 1-0 |
|  No. 6  |  Arkansas Razorbacks (39-17, 16-14) 0-1 |
|  No. 7 |  Mississippi State Bulldogs (34-21, 16-14) 1-0 |
|  No. 8 |  Georgia Bulldogs (31-24, 14-15) 0-1 |
|  No. 9  |  Mississippi Rebels (34-22, 14-16) 0-1 |
|  No. 10 |  Auburn Tigers (30-26, 13-17) 0-1 |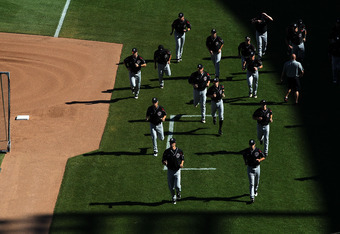 Ronald Martinez/Getty Images
Schedule
| | |
| --- | --- |
| DATE | MATCHUP (DOUBLE-ELIMINATION TOURNAMENT) |
|  May 22 |  Game 1: No. 4 Kentucky Defeats No. 9 Ole Miss 2-0 |
|  May 22 |  Game 2: No. 7 Mississippi State Defeats No. 6 Arkansas 9-1 |
|  May 22 |  Game 3: No. 3 Florida Defeats No. 10 Auburn 6-1 |
|  May 22 |  Game 4: No. 5 Vanderbilt Defeats No. 8 Georgia 4-1 |
|  May 23 |  Game 5: No. 9 Ole Miss Defeats No. 6 Arkansas 2-0 |
|  May 23 |  Game 6: No. 7 Mississippi State Defeats No. 1 LSU 3-2 |
|  May 23 |  Game 7: No. 10 Auburn Defeats No. 8 Georgia 3-2 |
|  May 23 |  Game 8: No. 5 Vanderbilt Defeats No 2. South Carolina 3-2 |
|  May 24 |  Game 9: No. 1 LSU Defeats No. 9 Ole Miss 11-2 |
|  May 24 |  Game 10: No. 4 Kentucky Defeats No. 7 Mississippi State 5-1 |
|  May 24 |  Game 11: No. 2 South Carolina Defeats No. 10 Auburn 5-3 |
|  May 24 |  Game 12: No. 5 Vanderbilt Defeats No. 3 Florida 2-1 |
|  May 25 |  Game 13: No. 7 Mississippi State Defeats No. 1 LSU 4-3 |
|  May 25 |  Game 14: No. 3 Florida Defeats No. 2 South Carolina 7-2 |
|  May 26 |  Game 15: No. 7 Mississippi State Defeats No. 4 Kentucky 2-1 |
|  May 26 |  Game 16: No. 5 Vanderbilt Defeats No. 3 Florida 8-6 |
|  May 27 |  Game 17 (Championship): No. 7 Mississippi State vs. No. 5 Vanderbilt |