Los Angeles Lakers Need Fixing, but Who Goes and Who Stays?
May 23, 2012

Steve Powell/Getty Images
I'm picturing the scene in the Oklahoma City Thunder locker room before Game five against the Lakers. What I see is Herb Brooks addressing the USA Olympic Hockey team before they were to take on the big, bad Soviet Union. Skipping ahead for dramatic effect:
"This is your time. Their time …. Is done. It's over. I'm sick and tired of hearing about what a great hockey team the Soviets have.
Screw 'em!
This is your time!!
Now go out there and take it!"
I'm ready to lace 'em up.
The Thunder took it with a 106-90 series ending thumping of the regal Lakers. After last year's sweep at the hands of Dallas, the Lakers are 1-8 in being drummed out of the last two playoffs in the second round.
What needs to be done? Tweak? Tune Up? Blow it up?
Before you start with all of the suggested free-agent signings, know that the Lakers have committed $71 million next year to Kobe, Pau Gasol, Andrew Bynum and World what's his name. The salary cap this year is $58 million. They don't have to get down to that and, if you want more details, then here you go.
Let's start with coach Mike Brown. Will he be back? Should he be back? I'm checking yes to both of those with the understanding that he won't get another chance if we're looking at the same kind of situation one year from now.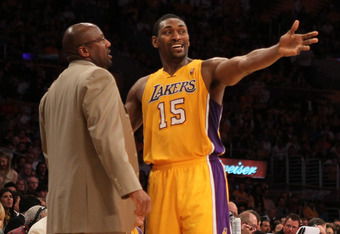 Stephen Dunn/Getty Images
With no training camp and the switch from the triangle to a conventional offense, Brown deserves another shot. Will it be a successful one? Let's discuss that.
The roster is simply not that good and, on top of that, doesn't seem to fit very well. The scary thing is that the Thunder certainly won't be declining anytime soon. Their stars are 22 and 23 years old.
Ramon Sessions was an upgrade over Derek Fisher, but not enough. Sessions and Steve Blake are decent back ups, but are being asked here to play a bigger role than that. Could Steve Nash be the answer?
Up front, the Lakers have two terrific seven footers. So why aren't they more dominant? Gasol just softens when roughed up, while Bynum is great when he decides to be engaged, but suffers from lacking the maturity gained from some transitional time spent in college. All you need to know about Bynum is how little he cares about returning to the purple and gold.
As constituted, this team can't win. Not in the loaded Western Conference, and they will continue to fall short of the Conference Finals as is.
The hot answer seems to be to trade Pau Gasol. He's a very skilled big man who is still highly regarded around the league. Can the Lakers bring back two decent starters for Pau? I think so.
It will be an interesting and crucial off season for the Lakers. The better the Clippers get the more important it is for the Lakers to make moves.
Follow me on Twitter@sprtsramblngman