Athletic Bilbao vs. Barcelona: Barca Stars Who Must Thrive in Copa Del Rey Final
May 23, 2012

David Ramos/Getty Images
It would be fair to say that this season has been a disappointing season for FC Barcelona as it was beaten out for the Spanish Primera Division title by bitter rival Real Madrid and was defeated by Chelsea in the UEFA Champions League semifinals as well. Barca has a chance to end the season on a high note, though, with a win over Athletic Bilbao in the Copa del Rey final.
Barcelona beat Valencia in the semis way back in February, and a lot has changed since then. Barca has gone through plenty of heartache, but those losses should only make the squad want to win the Copa del Rey that much more. This tournament is normally an afterthought for Barcelona, but it is truly the last chance to salvage a somewhat disappointing campaign.
Here are three Barca stars who must come up big on Friday in order to get past Athletic Bilbao in the Copa del Rey final.
Barcelona may have fallen short of several of its goals this season, but none of that was the fault of mystifying forward Lionel Messi. The consensus top player in the world had a season unlike any other as he netted an amazing 50 goals and chipped in 15 assists in 36 La Liga contests.
Messi often put the team on his back despite the fact that he has so much talent around him, but he is undoubtedly the squad's top player and is the key to their success in every match. 
Messi feasted on Bilbao this season like he did essentially every squad, as he scored twice in two contests. Messi is simply so far above and beyond his contemporaries that even if his teammates are just ordinary in any given game, he can will Barca to victory on his own.
If Messi is able to score in this game then Barcelona should cruise to victory, but if Bilbao somehow figures out a way to slow him down, Barca could be in big trouble.

Gerard Pique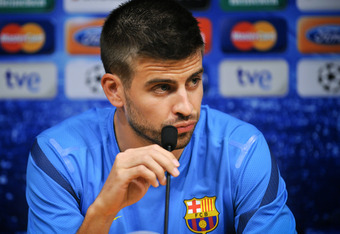 David Ramos/Getty Images
Defender Gerard Pique's importance to Barcelona isn't going to show up on the stat sheet necessarily as he had just two La Liga goals this season, but he is one of the best defensive players in the world.
Pique was often a midfielder earlier in his career, and while he still possesses the ball skills that allowed him to play that position, he is much more effective on the backline. He is Barca's steadiest defender and needs to be solid every single match.
Friday's tilt against Athletic Bilbao will be no different as there are several explosive offensive players to deal with. Bilbao only finished 10th in La Liga this season, but with players like Fernando Llorente and Markel Susaeta setting the pace on offense, Barcelona will have to be cautious.
At the age of 25, Pique has already been through pretty much every big moment you can think of, so the Copa del Rey stage certainly won't be too big for him.
Xavi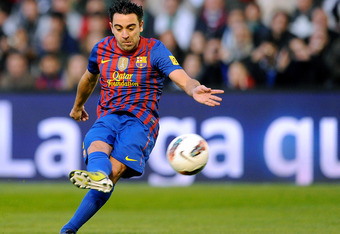 Denis Doyle/Getty Images
While Lionel Messi may receive all of the accolades, it's important not to forget about the contributions of midfielder Xavi Hernandez. Messi is more often than not the finisher, but Xavi is the one who is responsible for Barca's lightning-fast pace and his runs often result in Messi goals.
The 32-year-old veteran is the perfect complement to Messi and his play will be key on Friday. Xavi was Barcelona's third-leading scorer this season with 10 goals and he added seven helpers as well, so his offensive production will be of the utmost importance. 
Even if Xavi's contributions aren't evident statistically every match, his play is always vital as he is responsible for the ball movement that makes Barca so good. There is obviously a considerable talent gap between Barcelona and Bilbao, and that is something that Xavi must exploit. Barca has the ability to run Athletic Bilbao right off the pitch, and Xavi will aim to do precisely that.
Follow @MikeChiari on Twitter