Predicting the NFL's Best Player at Every Position in 2012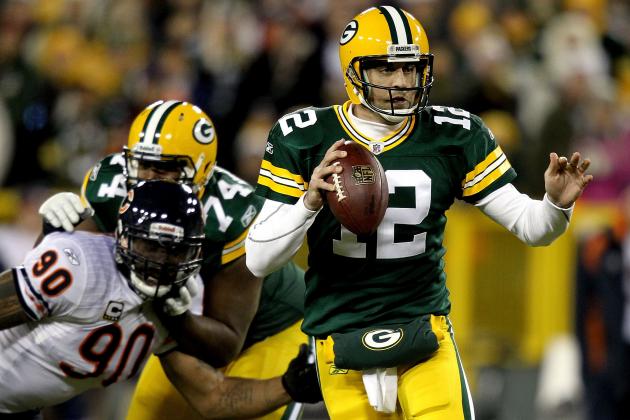 Matthew Stockman/Getty Images

Who will be the best player at every position in the NFL in 2012-2013? That is the topic we are addressing today. The NFL Network does their top 100 players presentation shows during the offseason, but those are subject to debate, and at times appear to be slanted towards winning teams and can resemble the latest trends of which players are the most popular around the league.
In trying to project who will be the best player at their position, we have to examine a wide range of factors. There might be a player who has been a perennial All-Pro that is now being asked to learn a new offensive scheme this year, or is playing for a new head coach.
There might be a change coming at quarterback that could impact how that player runs with the ball, or how somebody is asked to change the way they block. There could be a change at one of the key coordinator positions that will impact the All-Pros as well.
Other factors such as age, coming off of injury, or an up-and-coming stud player who is due to receive more All-Pro consideration than they have previously have to also be considered. Also, keep is mind that it is only late-May, so this projected list could change between now and September based on events that occur during training camp.
When the AP comes out with their annual All-Pro teams, they list the first team choices along with the second team members. We will follow that format, selecting the best player at each position, along with a backup choice for the 2012-2013 season.
On to the presentation.
Begin Slideshow

»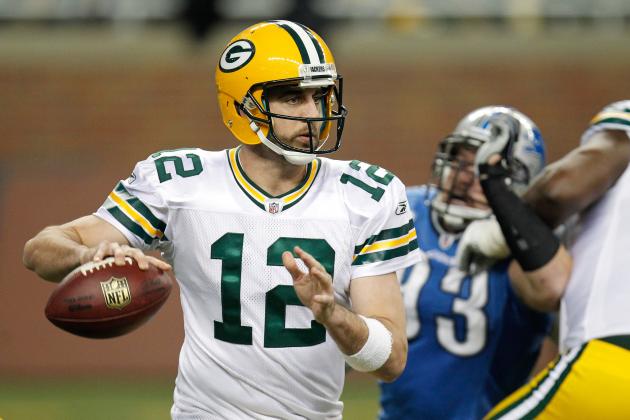 Gregory Shamus/Getty Images

Aaron Rodgers is the pick for the best quarterback of the 2012-2013 NFL season. Rodgers continues to improve with every year that he continues to be the quarterback of the Green Bay Packers.
All of the trends for Rodgers continue to point up. Completion percentage has steadily been rising from 63.6, 64.7, 65.7 to 68.3 percent. Average yards per pass is also rising, going from 7.53, 8.20, 8.26 and then 9.25. QB Passer Rating has grown in the last four years from 93.8, 103.2, 101.2 to 122.5, which was the best in the NFL last year.
Rodgers had been consistently throwing 28-30 touchdown passes for his first three years, but then took a major jump up to 45 touchdown passes in 2011. While he had eight fumbles in 2009, he only had six fumbles in the last two seasons combined. The ratio of 45 touchdown passes to just six interceptions is the envy of the rest of the quarterbacks in the league.
The direction that Rodgers is headed, it wouldn't be a major surprise to see him reach 70 percent in completions and averaging 10 yards per pass. That is the level of where he is headed. He is the best quarterback in the NFL right now.
Backup choice: Tom Brady, New England Patriots
The new stable of receivers coming in, the dual tight ends in Hernandez and Gronkowski and getting Josh McDaniels back as offensive coordinator means another banner year for Brady.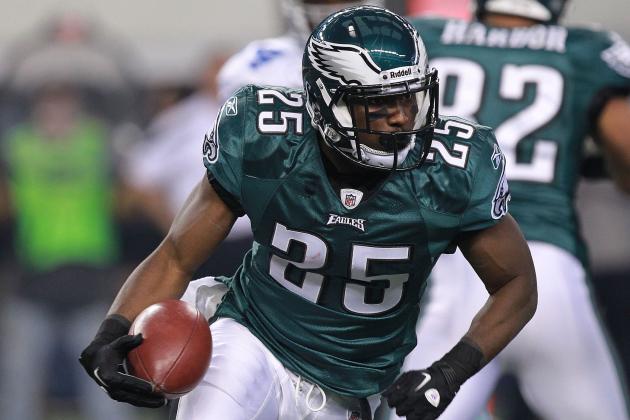 Ronald Martinez/Getty Images

LeSean McCoy had a banner year in 2011, and I believe he will take another jump up in level in 2012. McCoy led the entire NFL with 20 touchdowns last year, thanks in part to coming up with 17 rushing touchdowns in the 2011 season.
McCoy has continued to improve as he gains more experience in the league. His rushing totals have grown from 637 yards to 1,080 yards and then 1,309 last year. He only played in 15 games, so crossing over the 1,500-yard mark shouldn't be a problem in 2012, provided that he plays in every game.
The Eagles rewarded McCoy by extending his contract. He is only 23 years old, so even with a new deal, he will still play like the young and hungry competitor that he is.
The only knock on McCoy is that his reception yardage took a dip last year. He went from 592 reception yards in 2010 to just 315 yards last season. Would like to see that number bumped back up to the 500-600 yard range in 2012.
In 321 touches last year, McCoy only had one lost fumble. That is a key area, because the more that the Eagles can rely on McCoy to produce (and relying less on Michael Vick to make bad decisions with the ball) the better the results will be for Philadelphia. His average of 4.8 yards per rush is slightly down from the career-high mark of 5.2 yards he set in 2010, but it is still a very healthy average.
Backup Choice: Chris Johnson, Tennessee Titans
Word out of Tennessee, according to this story by Jim Wyatt at the Nashville Tennessean, is that Johnson is attending the Titans offseason conditioning program for the first time in his career. That bodes well for Johnson improving on his less than stellar 2011 season.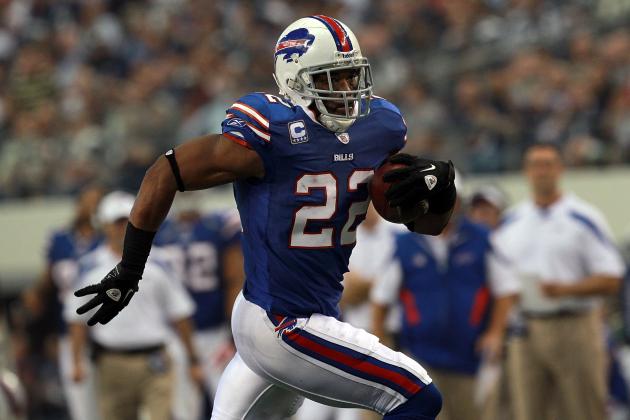 Ronald Martinez/Getty Images

Most football fans are aware of Buffalo Bills running back Fred Jackson, but few football fans are treated to watching him play outside of Western New York, because the Bills are seldom on a nationally televised game. With an improved defense for 2012, the Bills offense should have more opportunities with the ball to make things happen. At 31, Jackson doesn't have many years left to be a top producer.
The fact is that Jackson was leading the NFL in rushing in 2011 after Week 10 with 917 rushing yards. The following week against Miami, Jackson fractured his leg and his season ended. It's a shame because Jackson was headed for his first All-Pro season. This tweet from Terry McCormick states that Jackson has since recovered from the injury and has been medically cleared to play again.
At least the Bills recognized what his value to the team is, because they tore up his existing contract and gave Jackson a new deal in the past month that will keep him in Buffalo for the next three years. Matt Forte, Maurice Jones-Drew and Ray Rice probably saw news of that story and got very angry.
Jackson averaged 5.5 yards per rush in 2011, which was tied with Dallas Cowboys running back DeMarco Murray for the best average in the NFL for all running backs in the league. In addition, his average of 93.4 rushing yards per game was third best in the NFL, better than even LeSean McCoy.
Not only was Jackson leading the NFL in rushing, but he stepped up his game as a receiver out of the backfield. Jackson posted career highs in average yards per catch (11.3 yards) and in reception yards for a season (422). It is not a surprise that when Jackson got hurt, the Bills went 1-6 the rest of the way.
Courtesy of BuffaloBills.com, we learn that Jackson first made his mark in 2009 when he became the first player in NFL history to rush for more than 1,000 yards and total more than 1,000 kickoff return yards in the same season. Also is 2009, Jackson led the NFL with 2,516 combined yards, which at the time was the fourth-most yards in a single-season in NFL history (1,062 rushing + 1,014 kickoff + 371 receiving + 69 punting).
If you still are not convinced about how good Jackson is, here is a little more evidence to consider. In a study conducted by Pro Football Focus, for the 2011 season they found that Jackson was the No. 2 most elusive back in the NFL, behind only Jonathan Stewart of Carolina. Here is a link to the report.
Perhaps this is the year that more football fans will be up to speed on Fred Jackson. The Bills will play against the Miami Dolphins on a nationally televised game on NFL Network, November 15.
Backup Choice: Matt Forte, Chicago Bears
From the "Show Me the Money" group (Ray Rice, Matt Forte and Maurice Jones-Drew), all of them could come into 2012 with a chip on their shoulder. My pick of the three to have a strong year is Matt Forte.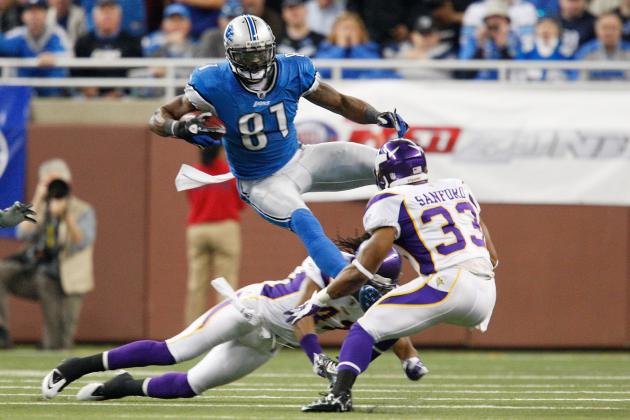 Leon Halip/Getty Images

With 1,681 yards in receptions in 2011, Calvin Johnson led all NFL receivers. Of course, we should also note that 2011 was the first year that quarterback Matthew Stafford was healthy for the entire year, and the end result was that Johnson was propelled to No. 1 in the rankings.
Assuming that Stafford remains healthy in 2012, and we have no reason to doubt that he wouldn't be, it is safe to assume that Megatron will have another monster year.
With his size—6'5" and weighing 236 pounds—strength and jumping ability, it makes him very difficult to contain and defend against, especially in the red zone.
Due to Stafford's solid year and health, Johnson established the following career highs in 2011: receptions (96), average yards per catch (17.5), touchdowns (16), first down receptions (77), and yardage (1,681).
Now that they have built up some solid chemistry, and have a full year of offseason work and training camp to prepare for 2012, expect an even better year for Johnson.
Backup Choice: Larry Fitzgerald, Arizona Cardinals
Fitzgerald shows no signs of slowing down. The biggest issue that he is faced with is who will be the official starting quarterback in Arizona? Whoever wins the job should be able to get him the ball on a regular basis.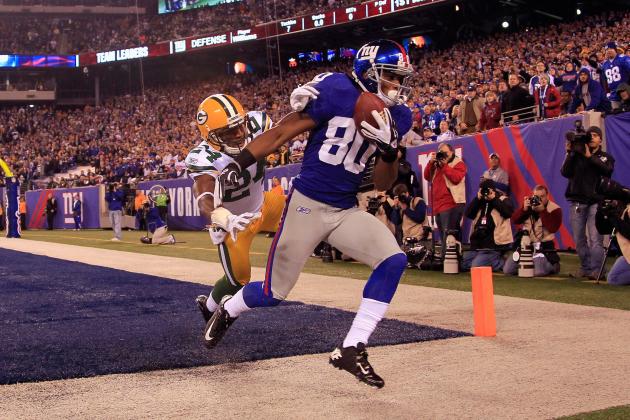 Chris Trotman/Getty Images

What a difference a year makes. New York Giants wide receiver Victor Cruz sprang on to the NFL scene in 2011 by exploding for 1,536 yards in receptions, which was good for No. 3 in the NFL last year.
To think that in 2010, Cruz played three games for the Giants, never caught a pass and then went on season-ending I.R. For those who believe that NFL receivers blossom in their third year, Cruz smashed that theory to pieces for good.
Not only is he an excellent receiver, but is there anybody more entertaining to watch after they score a touchdown than Cruz? He is an original, unique type of player who brings tremendous skills to the New York Giants, who were fortunate that he was available to them after the entire league passed on him in the 2010 draft.
Out of every NFL wide receiver with at least 50 receptions or 1,000 yards in receptions, Cruz was No. 1 in the NFL with an average reception of 18.7 yards per catch. With so little practical experience in the NFL, it is amazing that he was able to put such amazing totals.
In 2012, with Mario Manningham now playing in San Francisco, and the ESPN story that Hakeem Nicks broke his foot in OTA's, that means that Eli Manning will by relying on Cruz more than ever to move the offense. It also means that Cruz will probably be seeing double-coverage until Nicks is back to full speed.
Backup Choice: Wes Welker, New England Patriots
If Welker is not able to get his deal extended beyond the 2012 season, he will be playing for a new contract, and will be highly-motivated all season.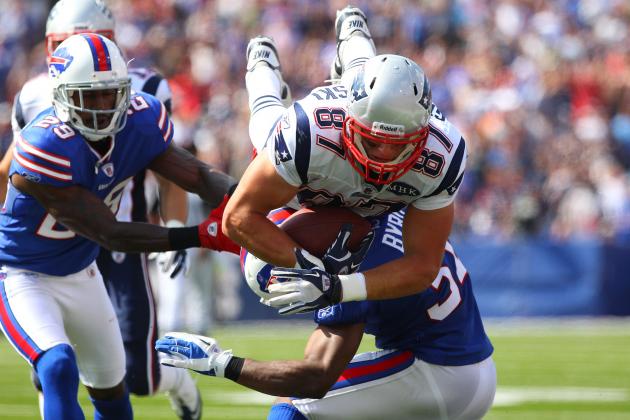 Tom Szczerbowski/Getty Images

New England Patriots Rob Gronkowski is my choice for the best tight end in 2012.
With 90 receptions for 1,327 yards in the 2011 regular season, and a whopping 17 touchdown receptions, Gronkowski continues to push the tight end position to new heights. Gronk has the ability to use his large frame (6'6" and 265 pounds) to shield off defensive backs and make key grabs for converting on third downs or coming with a key grab in the red zone.
Gronkowski proved his toughness last year when he gritted out the Super Bowl against the New York Giants, playing in spite of a painful high ankle sprain that required surgery after the game. Nobody will question his toughness going forward, only his dancing ability.
Gronkowski finished at No. 6 in the NFL in reception yards last year. There is no telling how much more the bar can be raised for him, especially with a quarterback like Tom Brady there to feed him the ball.
Backup Choice: Jimmy Graham, New Orleans Saints
For somebody who is relatively new to football, Graham played very well in 2011. Graham was only 17 yards behind Gronkowski last year, as he totaled 1,310 yards on 99 catches and 11 touchdowns. Graham finished as the No. 7 receiver in the NFL in 2011.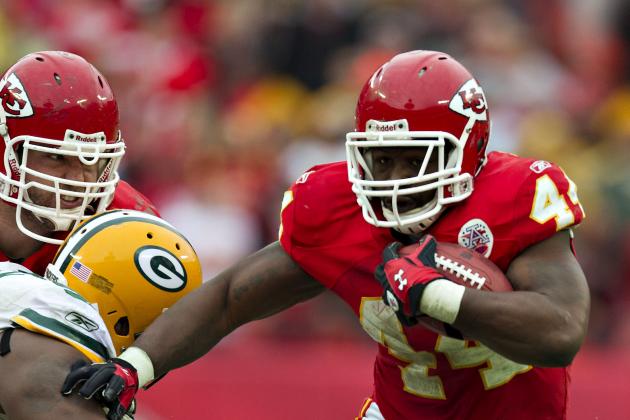 Wesley Hitt/Getty Images

When the NFL first started voting for All-Pro teams, they didn't have a tight end on the team. The NFL later recognized the importance of the position and added it to the list. So, how much longer will it be before they remove the fullback position from the voting? Clearly fullback is a minor role in the current NFL.
If you feel strongly that it should be included, I would prefer to see it listed as Fullback/H-back. If that were the case, then the player I would nominate would be Aaron Hernandez of the Patriots. The things that the Patriots started to do with Hernandez out of the H-back role toward the end of the season show that he can be very effective in that position.
Getting back to the fullback position, I would select Le'Ron McClain of the San Diego Chargers. I expect that McClain will see the ball more in San Diego than would his chief counterparts, Vonta Leech of the Baltimore Ravens and John Kuhn of the Green Bay Packers.
Of course, the number of touches is only one aspect of being a fullback. The fullback's primary role is to either be a lead blocker for the ball carrier or to serve as another pass protector and pick up the blitzes for the quarterback. He can also serve as an outlet for the quarterback, but that seems to happen less and less with every passing year.
Backup Choice: John Kuhn, Green Bay Packers
Kuhn had six touchdowns in 2011, while Leach had none. Leach is a solid blocker, but Kuhn isn't a slouch in that department either.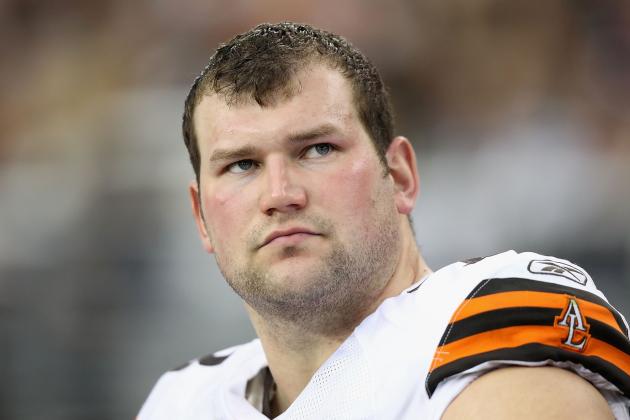 Christian Petersen/Getty Images

Cleveland Browns tackle Joe Thomas has been elected to the last three straight NFL first-team All-Pro teams, and there is no reason to think that he will be stopping the streak anytime soon.
Ever since he was the No. 3 overall draft pick of the Cleveland Browns in the 2007 draft, Thomas has been as steady a performer as you could hope for. Out of 80 possible games, Thomas has played in 80 and started in 80. He is athletic, durable and strong.
Thomas has been elected to the Pro Bowl game every year since he was drafted. Maybe with better weapons on offense this year like Trent Richardson, the Browns can take greater advantage of the skills that Thomas offers.
Backup Choice: Joe Staley, San Francisco 49ers
As per this CSNBayArea.com article by Matt Maiocco, Staley will continue to play at left tackle this year, and is playing at a very high level. He is healthy, and received his first Pro Bowl nod as a result.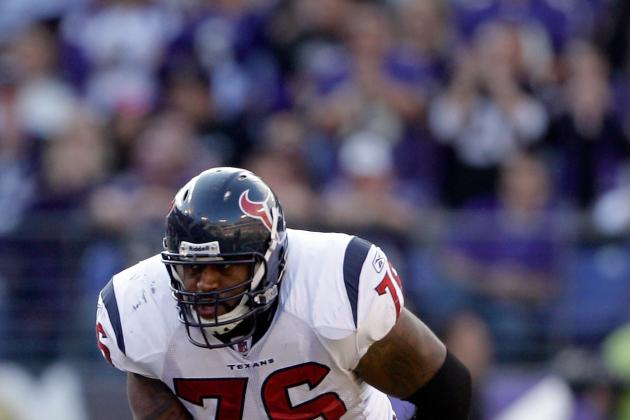 Rob Carr/Getty Images

Duane Brown is my choice for the second tackle. According to this study conducted by Pro Football Focus, Brown didn't allow a sack in all 16 starts last year.
As per this article from Pro Football Weekly, Brown has developed into one of the top tackles in the league. He is in his prime athletically at age 27, plus he is playing for a new contract.
Sounds like a great year to be watching Brown do what he does best.
Backup Choice: Matt Kalil, Minnesota Vikings.
As the No. 4 overall choice in the 2012 NFL draft, there will be high expectations on Kalil to deliver. I think he will be able to prove that he was a smart choice by the Vikings.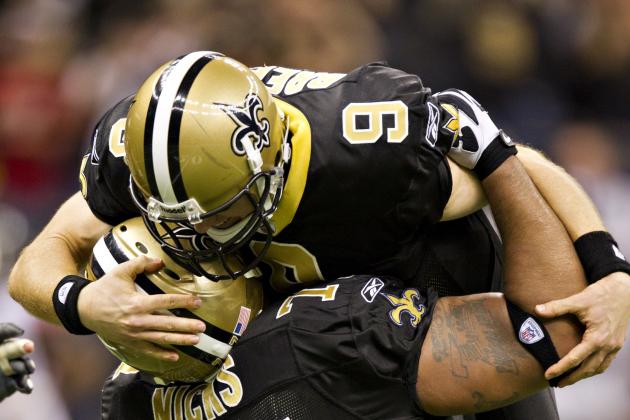 Wesley Hitt/Getty Images

Joe Thomas of the Cleveland Browns has proven that you don't necessarily have to play for a high-profile team to be recognized around the league for being elected as a First-Team All-Pro.
That may also be the case for guard Carl Nicks of the Tampa Bay Buccaneers in 2012. Moving over from the big play offense of the New Orleans Saints to the much lower profile Bucs, Nicks will have to do his best to set the tone to the rest of the Bucs offensive linemen as to what kind of performance and work ethic is expected going forward.
To the extent that the performance of the other linemen surrounding Nicks brings down the level of his play, we won't know that for certain until we see them in action. To be determined.
Backup Choice: Andy Levitre, Buffalo Bills.
It would not surprise me in the least if Levitre makes his first All-Pro team in 2012. In 2011, he played at a superior level, but injuries at left tackle and center forced Levitre to shuffle to different positions and wear different hats as needed.
This article by Ben Stockwell at Pro Football Focus tells you everything you need to know about Andy Levitre. Stockwell refers to Levitre as a "Secret Superstar."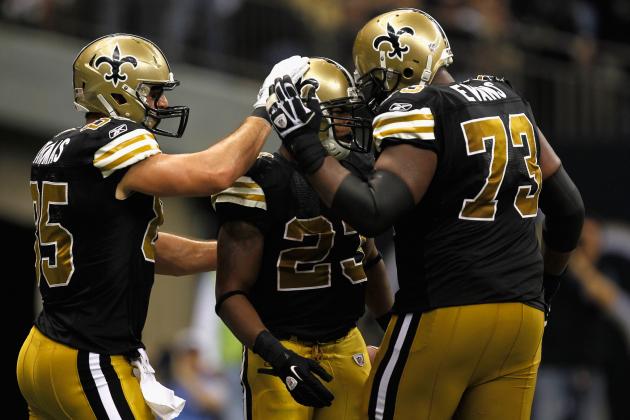 Streeter Lecka/Getty Images

New Orleans Saints guard Jahri Evans has been a First-Team All-Pro for the last three consecutive seasons because the guy is a stud. At 6'4" and 318 pounds, Evans has the size, strength and athleticism needed to play guard at a high level in the Saints offense.
He is also a team player, as Evans agreed to help the Saints out with their salary cap issues, by doing his part. Evans has allowed the Saints to convert his 2012 base salary into a bonus that will be prorated over the next five years. That is the sign of a team player and a leader.
We should note that Evans did have arthroscopic knee surgery during the offseason, but he is projected to be healthy and ready for the 2012 season.
Backup Choice: Ben Grubbs, New Orleans Saints
Grubbs was a talented guard at Baltimore. Since people will be watching the offensive line play in New Orleans to see how Evans is doing, and they recall how well Nicks played, it will be relatively easy to notice the job that Grubbs is doing.
I think he will succeed in New Orleans.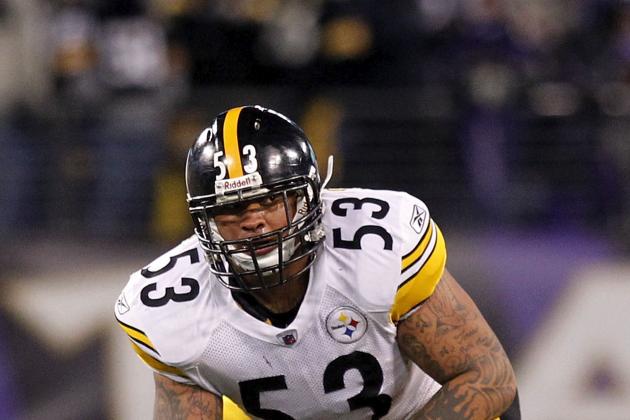 Geoff Burke/Getty Images

While the Pittsburgh Steelers are breaking in rookie offensive linemen David DeCastro at guard and Mike Adams at tackle, one position they won't have to be worrying about is center.
Maurkice Pouncey has been a stabilizing influence on the Steelers offensive line in the past two years, and now with a couple of rookies being added, they will be looking to Pouncey for leadership and direction this year.
With a new offensive coordinator in Todd Haley, Pouncey will take on a bigger role in leadership and keeping the rookies in line.
Pouncey had some bone spurs removed from his ankle in January but expects to be ready and healthy for the 2012 season.
Backup Choice: Nick Mangold, New York Jets
The Jets expect to get back to their old smash mouth style of football this year, and that should bode well for the physical Mangold. What we don't yet know is how many snaps he will be hiking the ball to Tim Tebow and how much his presence will change the Jets offense.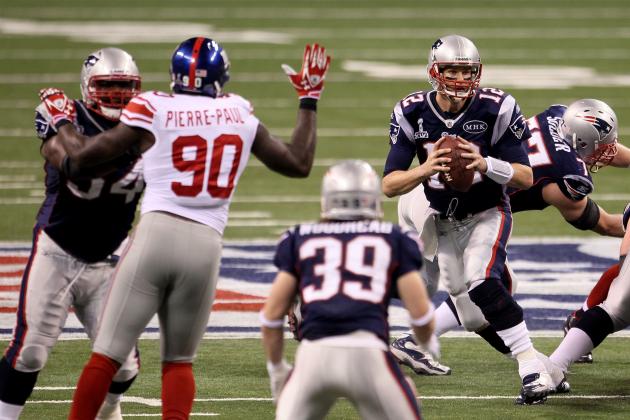 Jeff Gross/Getty Images

New York Giants defensive end Jason Pierre-Paul truly emerged in the 2011 season to become one of the dominant defensive ends in the NFL.
Pierre-Paul wound up with 16.5 sacks in 2011, finishing fourth in the category. His development will allow the Giants to trade away Osi Umenyiora, if they can find a reasonable deal to part with the veteran.
The 16.5 sacks were a huge jump from the 4.5 sacks he recorded as a rookie. Another area where his contribution really took a jump was the tackles he made. There were only 30 as a rookie, compared to 86 last season. Those 86 tackles, by the way, were the most by any defensive lineman in the NFL last year. That is why we feel that Pierre-Paul is becoming one of the most dominating defensive ends in the league.
Backup Choice: Mario Williams, Buffalo Bills
You won't see Mario Williams' name mentioned on a First-Team or Second-Team All-Pro team since 2008, but he has an opportunity to have a special year in 2012.
Playing directly next to two gifted defensive tackles in Marcell Dareus and Kyle Williams, the Bills defensive line should afford Williams enough chances to come up with a big number of sacks in 2012.
If Williams winds up as the guy being double-teamed, than his teammates will prosper.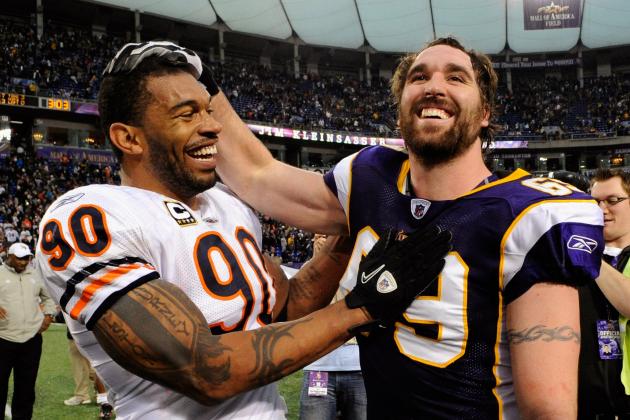 Hannah Foslien/Getty Images

Minnesota Vikings defensive end Jared Allen shows no signs of slowing down. Allen is now 30 years old, but he just seems to keep getting better.
In 2011, Allen fell just one half of a sack shy of tying the single-season record for sacks set by Michael Strahan. The 22 sacks by Allen were exactly double the production he had in 2010. His previous career high had been 15.5 sacks, back in 2007.
That gives Allen double digit sacks in five-straight years, a model of consistency. Another feather in his cap is that Allen hasn't missed a single game since he joined the Vikings, playing in all 64 contests.
Backup Choice: Justin Smith, San Francisco 49ers
The 49ers defense took a big step up in 2011, and Smith is one of the reasons why.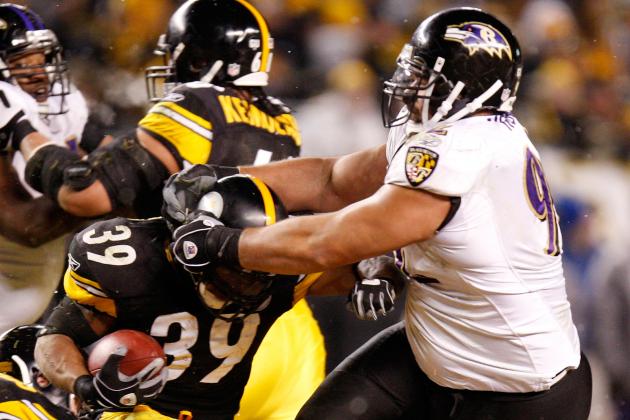 Gregory Shamus/Getty Images

Baltimore Ravens defensive tackle Haloti Ngata has been playing at a superior level for the last three-four years, and his peers and the media have noticed. Ngata been named to the last four All-Pro teams as well as the last three Pro Bowl teams.
The Ravens defense is as good as it is due to their strength up the middle, and that is due to Ngata, Ray Lewis and Ed Reed.
Ngata takes on multiple offensive linemen, and makes it easier for Lewis to find the ball and attack from his linebacker slot. Where things might get more interesting this year is on the outside areas, now that Terrell Suggs is hurt and Jarret Johnson is gone.
Backup Choice: Marcell Dareus, Buffalo Bills
The No. 3 overall pick in the 2011 NFL draft had a very respectable showing as a rookie, leading the Bills in sacks with 5.5. With fellow defensive tackle Kyle Williams coming back to full health in 2012, expect Dareus with his first full offseason and training camp to blossom.
With pressure coming in from both sides of the defensive ends (between Mario Williams, Shawne Merriman and Mark Anderson), it will be up to Dareus and Williams to clean up the middle.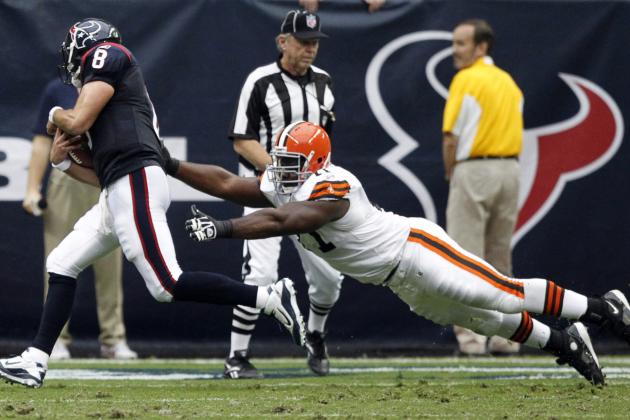 Bob Levey/Getty Images

Cleveland Browns defensive tackle Ahtyba Rubin is another name you may not have heard very often outside of the surrounding Cleveland area.
The Browns finished the 2011 season with the No. 10 overall defense in the NFL. That surprised me when I saw it, so I started doing some digging.
One of the hidden gems I discovered in the Browns defense is Rubin, who led all NFL defensive tackles last year with 83 tackles. To make 83 tackles from the defensive tackle position means that you are very good. Going along with those 83 tackles were five sacks—another telling stat about how good he is.
This just didn't happen overnight. In 2010, Rubin had 82 tackles. Being consistent is one way to get attention, and he has done that. So why with his production isn't Rubin getting more love out there?
Backup Choice: Ndamukong Suh, Detroit Lions
I think that Suh has learned some valuable lessons in the past year, and I expect him to turn his game up a notch in 2012. If he starts taking silly penalties and playing out of control again, then it might take years for him to mature.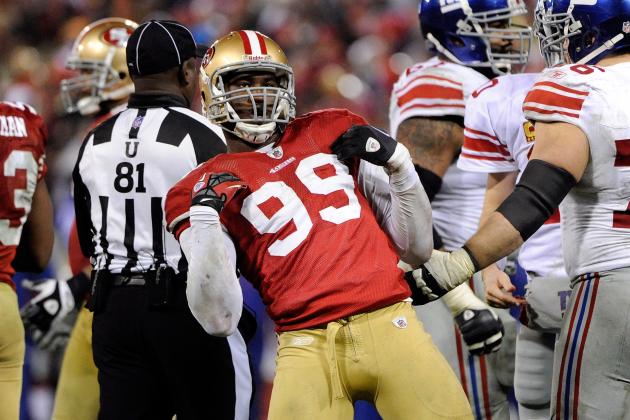 Thearon W. Henderson/Getty Images

San Francisco 49ers outside linebacker Aldon Smith demonstrated that he has the skill set that warranted being drafted with the No. 7 overall pick in the 2011 NFL draft.
Smith recorded 14 sacks in his rookie year, which is remarkable considering how few snaps he played. Smith was tied for second place for all linebackers in sacks with Terrell Suggs of the Baltimore Ravens. Since Suggs is going to be missing a large chunk, if not all of the 2012 season, Smith vacates his slot as our choice for one outside linebacker slot.
With the trio of talented 49ers linebackers in Smith, Patrick Willis and NaVorro Bowman, it is truly one of the most talented linebacker units that anybody has put together in recent memory.
Backup Choice: Von Miller, Denver Broncos
Miller had a solid rookie season, but doesn't have as much talent on defense surrounding him as Smith does. It will be far easier for Smith to make an impact, while teams can focus more on stopping Elvis Dumervil and Miller.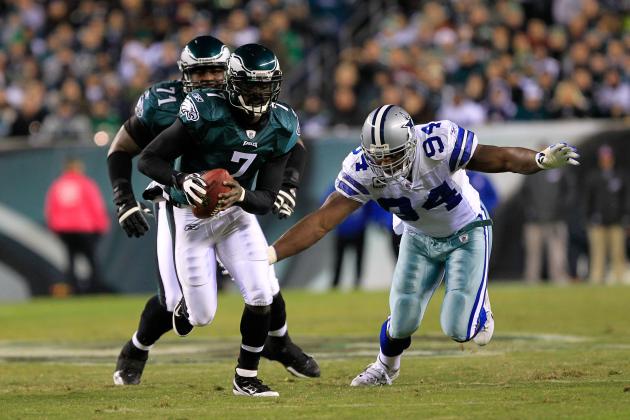 Chris Trotman/Getty Images

Dallas Cowboys outside linebacker DeMarcus Ware is a difficult player to contain. In reviewing the past five years, Ware has been ranked in the top three in the league in sacks four of those five years. His sack totals in the last five years have read: 14, 20, 11, 15.5 and 19.5.
That is the kind of production you can only hope to get out of your best pass rusher, but Ware does it year in and year out.
Backup Choice: Clay Matthews, Green Bay Packers
2011 was a down year for the Packers defense, so I look for them to bounce back in 2012 with a better performance. Expect to see a bounce back year from Clay Matthews.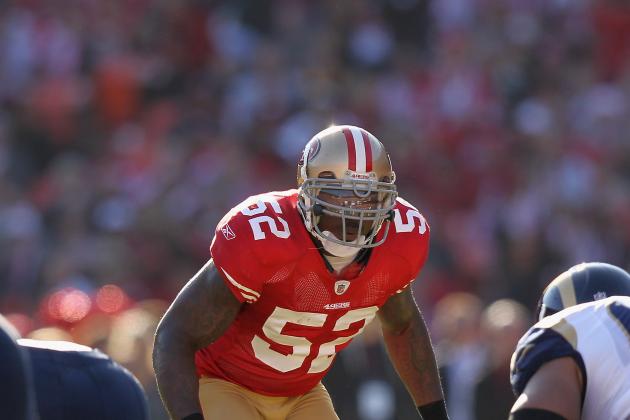 Ezra Shaw/Getty Images

San Francisco 49ers inside linebacker Patrick Willis has risen to the top of the inside linebackers in the NFL.
In the last five years, Willis has been named to the All-Pro team all five years. He has also been named to the Pro Bowl team for the past five years.
As a rookie, Willis led the entire NFL with 174 tackles, and has just continued to keep his head down and do the job every year. That season, he also kicked in four sacks, two forced fumbles and defended against five passes.
And so it goes.
Backup Choice: Brian Cushing, Houston Texans
The NFL Rookie of the Year plays a little bit crazy, but he is still a heck of a football player. You have to be a little bit crazy to butt a guy with your head when he is wearing a helmet, but we aren't here to discuss Cushing's IQ score.
He is tough, rugged, and reminds me of the linebackers from the 1960's like Dick Butkus and Tommy Nobis.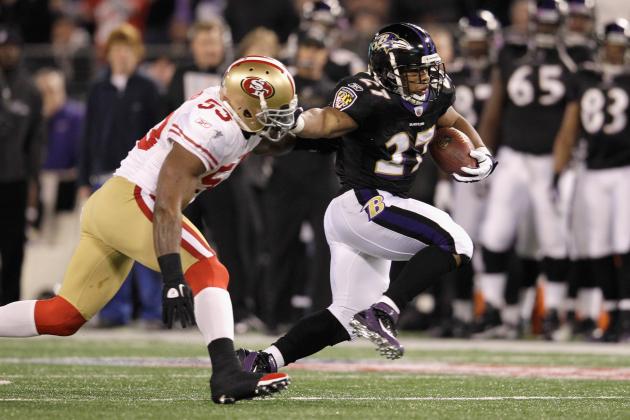 Rob Carr/Getty Images

San Francisco 49ers inside linebacker NaVorro Bowman was entering his second year in the NFL when Takeo Spikes left as a free agent to play for San Diego, opening up a starting job for Bowman.
With Patrick Willis playing next to him, Bowman had a huge year for San Francisco, as he led the team in tackles with 143, and also chipped in with two sacks and eight passes defended.
Bowman was voted to the First-Team All-Pro team. The 49ers defense didn't allow a single rushing touchdown through the first 14 games of the 2011 season, and much of that can be attributed to the strong play of the inside linebackers, Bowman and Willis.
Backup Choice: London Fletcher, Washington Redskins
Fletcher continues to defy the odds, as he just keeps on ticking. Fletcher led the NFL in tackles last year with 166, and also chipped in with 1.5 sacks, two interceptions, three forced fumbles and eight pass deflections.
He is one of the hardest working players in the NFL, despite being 37 years old.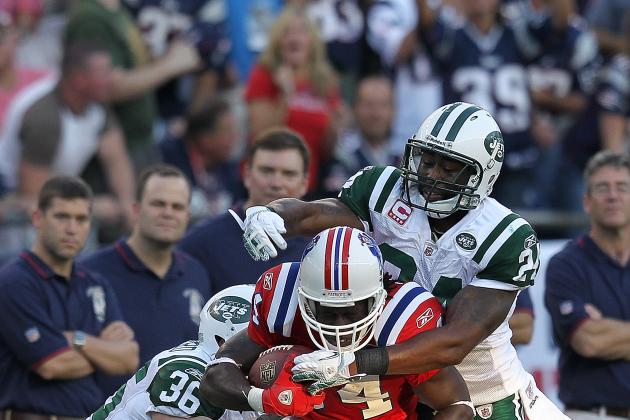 Jim Rogash/Getty Images

New York Jets cornerback Darrelle Revis continues to excel as a shutdown corner in the NFL.
According to this article by Pro Football Focus, Revis allowed only 41.2 percent of the targets thrown his way to be completed. Also according to Pro Football Focus, NFL quarterbacks didn't fare too well when they attempted to complete passes against the player Revis was guarding. The QB Passer Rating against Revis was just 45.6. Out of 85 targets thrown all year at Revis, he allowed only one touchdown.
That is the working definition of shutdown corner. Until we see a noticeable drop in Revis' play, it is safe to assume he will continue to occupy this spot for years to come.
Backup Choice: Asante Samuel, Atlanta Falcons
Even though he was traded away for a late-round draft pick, Samuel has nothing to be ashamed of. That was more of a reflection on the size of his contract than his performance. Samuel has been to multiple Pro Bowls and has totaled 39 interceptions over the last six years.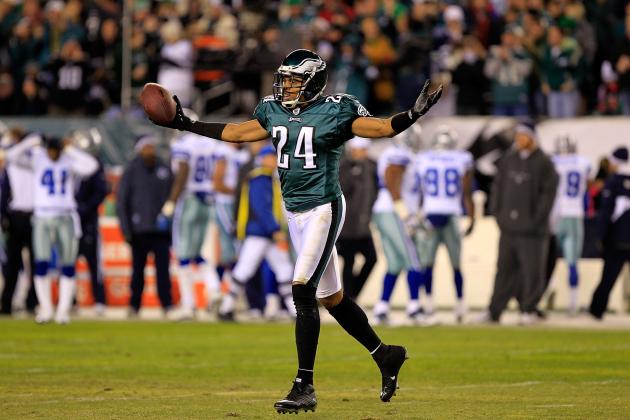 Chris Trotman/Getty Images

Philadelphia Eagles cornerback Nnamdi Asomugha will have the chance, along with the rest of the Eagles, to improve upon his 2011 showing. The team needed some time to incorporate all of that talent, and learn the scheme, which was new for not only Asomugha, but for the defensive coordinator Juan Castillo as well.
In 2012, the Eagles will have a better handle on the defense, and a number of the communication bugs will have been worked out. Asante Samuel has been traded to Atlanta, so now there is a clearer idea of who the top corners are, and what their duties will be.
Backup Choice: Cortland Finnegan, St. Louis Rams
Playing for Jeff Fisher again, I think that Finnegan will have a solid year, and will be looked at to provide some leadership to a young Rams defense.
I would have put Charles Woodson in here, but I am not positive if he will be a safety or a corner this year, in case Packers fans are wondering where he is on this presentation.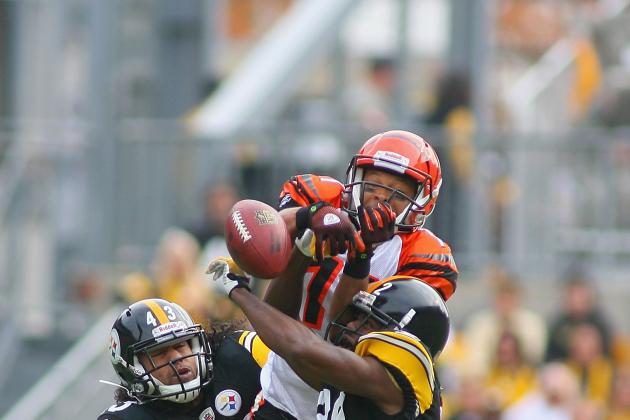 Rick Stewart/Getty Images

Troy Polamalu, All-Pro safety of the Pittsburgh Steelers, excels at anticipating where the ball will be going. It is almost like he knows in advance where the quarterback is going to go with the ball.
Polamalu played in all 16 games last year, which is a good sign for Pittsburgh. He recorded 91 tackles, which is his highest total in the last six years. He had one sack, one fumble recovery, three interceptions and 14 pass deflections.
Over the past four years, Polamalu has come up with 19 interceptions. He has a way of coming up with a big play or creating a stop when the Steelers have the game on the line.
Backup Choice: Mark Barron, Tampa Bay Buccaneers
With so many teams that were very high on Barron, we will nominate him for the backup pick, or second team if you prefer, and see if he is able to live up to the lofty expectations.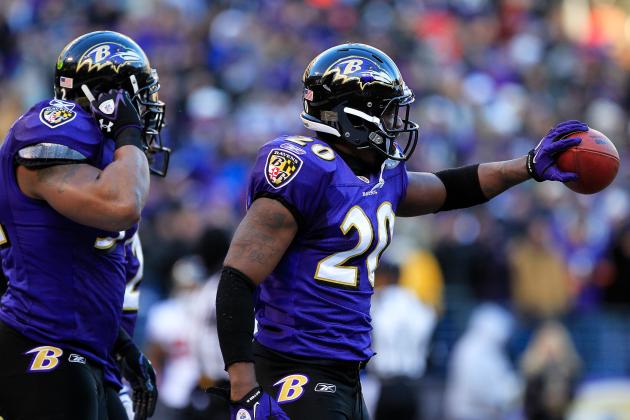 Chris Trotman/Getty Images

Ed Reed, the outstanding safety of the Baltimore Ravens, is no stranger to All-Pro teams or to Pro Bowls. He has been consistently voted to both teams eight times and was the AP NFL Defensive Player of the Year in 2004.
Reed is athletic, quick to react and has good anticipation skills. He is still playing at a high level, so even though he is now 33 years old, we see no reason to downgrade him until we see a drop in his play.
Backup Choice: Earl Thomas, Seattle Seahawks
Thomas is one of the younger safeties in the NFL that is an up and comer type. He could probably learn quite a lot from Reed, but for now will be part of the young guard that learns on the fly and hopes to improve every year.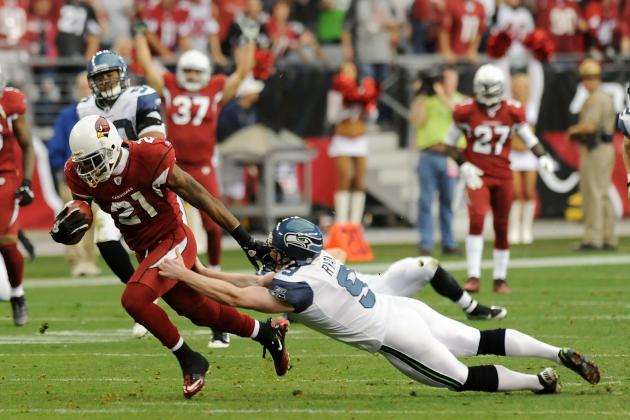 Norm Hall/Getty Images

Arizona Cardinals cornerback and return specialist Patrick Peterson gets the vote for best return man in the 2012 season. Peterson was voted First-Team All-Pro in 2011 with his four touchdowns on punt returns for the Cardinals. Peterson averaged 15.9 yards per return and has the ability to change field position very fast.
Peterson had 44 punt returns on the year, gaining 699 yards. The next closest returner to him (Brandon Tate) had only 543 yards. With the increased frequency of touchbacks on kickoffs, Peterson's punt returning skills will keep him in this slot for years to come.
Backup Choice: Devin Hester, Chicago Bears
Bears fans might have wondered if Hester would still be the primary return man in Chicago this year, since the team appeared to be interested in increasing his role on offense. But according to this article from the Chicago Tribune, Hester will still be the primary return specialist for the Bears in 2012.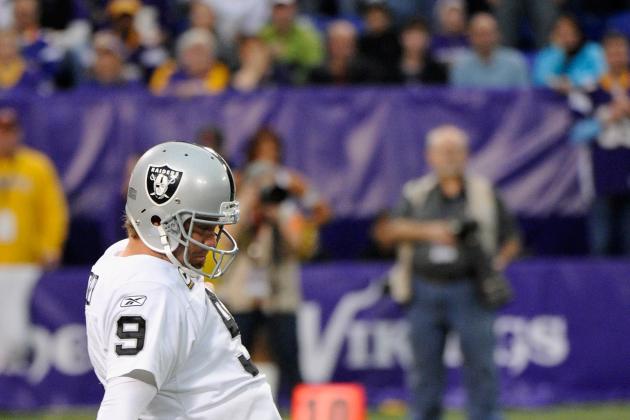 Hannah Foslien/Getty Images

Shane Lechler of the Oakland Raiders is the top punter for 2012, in my opinion. Lechler has been named to seven Pro Bowl teams and nine times to the All-Pro team.
In 2011, Lechler averaged slightly over 50 yards per punt (50.9). His average net was 40 yards, and he has the ability to turn around field position as quickly as any other punter in the NFL.
Backup Choice: Steve Weatherford, New York Giants
Weatherford is very different from Lechler. While Lechler has the booming leg, Weatherford has the uncanny knack of knowing how to drop the punt down inside the 5-yard line or 10-yard line. We saw him do that repeatedly throughout the playoffs. That can be a very effective weapon and can change the course of the game.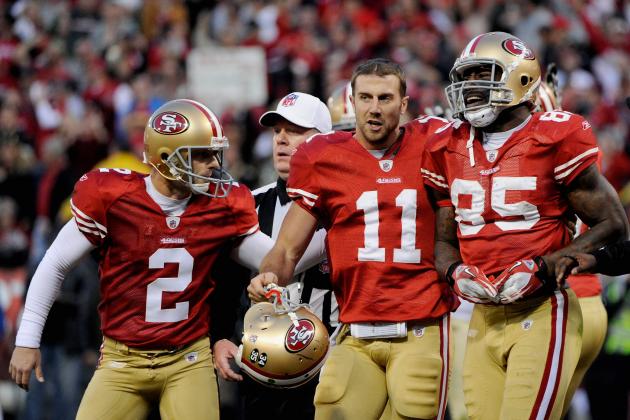 Thearon W. Henderson/Getty Images

David Akers, San Francisco 49ers kicker, will be the best kicker in 2012. Akers led the NFL with 44 field goals in 2011, which means that he kicked at least 11 more field goals than any other kicker.
On top of that, he was very consistent from long range, as he made seven out of nine attempts from 50 yards or longer. With so many NFL games coming down to a field goal at the end of the game, it has be very reassuring to know you have a kicker like Akers who you can trot out there that can decide the game with a single kick.
Backup Choice: Sebastian Janikowski, Oakland Raiders
He still has the ability to get in trouble, but he has got a big leg and is still accurate. Janikowski fits in very well with the Oakland Raiders.