Stanley Cup Playoffs 2012: Phoenix Coyotes' Season Ends Despite Solid Effort
May 23, 2012

Jeff Gross/Getty Images
The end did not justify the means.
Over the course of the regular season and down through the Stanley Cup playoffs, the Phoenix Coyotes were able to put distraction after distraction aside and achieve to a level pundits believed was unreachable.
The end to their season came swiftly and, some argue, out of their control. To that end, the finish of the series seemed cruel and harsh.
The way the Coyotes were eliminated in Game 5 of the Western Conference finals 4-3 in overtime by the Los Angeles Kings before 17,148 at Jobing.com Arena Tuesday night acted to reinforce another level of difficulty the franchise had to traverse and endure.
Surviving a bitter holdout from Kyle Turris at the start of the season, the uncertainty of a future anywhere in the hockey world and a strong roadblock set up by the Kings early in the series, the Coyotes responded in every turn.
The fact they sliced through Chicago and Nashville to reach the NHL's version of the Final Four says volumes that they remained standing while the defending Cup champion Bruins were eliminated in the first round and San Jose, Vancouver and St. Louis, worthy conference rivals, went down before Phoenix.
"You look back and feel good about this group accomplished," Phoenix coach Dave Tippett said. "The frustration will go away in a few days, and you start to think about next season. Yet, they amount of work and dedication it took to get here must be recognized."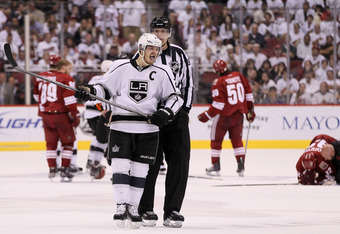 Jeff Gross/Getty Images
Facing elimination on home ice, the Coyotes appeared to put all things in the rear view mirror, lowered the blinders and charged right after the Kings.
Forging leads of 1-0 and 2-1, they fell behind when Drew Doughty and Mike Richards scored 2:36 apart midway through the second period to give the Kings a 3-2 lead.
Showing the resiliency of blocking distractions and reaching down to an extra effort, defenseman Keith Yandle picked up the tying goal when Taylor Pyatt's centering pass went off his knee and behind Jonathan Quick at 16:23 of the middle period.
It stayed tied until the Kings' Dustin Penner's quick shot from the slot beat Mike Smith at 17:42 into overtime to send Los Angeles into the Stanley Cup Finals for the second time in franchise history.
"In this series, we did not get off to a good start and that was the difference," forward Ray Whitney said. "We played much better in the last two games, but the slow start was something we did not overcome. Looking back, I could not be more proud of what this group did and what they accomplished."
Though bitter and frustrated, players acknowledged the result. Collectively, they commended the Kings for a superior effort but also indicated had the series began differently, the end may have been different.
"In Game 1, I think some of our players were awe-struck, and it took us a little while to get going," Tippett added. "In contrast, L.A. played very complete games, and that combination put us behind."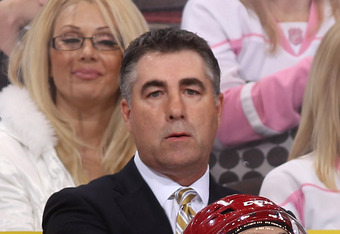 Christian Petersen/Getty Images
From that point, the Coyotes were pushed to the brink, and, in a short window of down 3-0, the space of opportunity closed abruptly. They extended the series with a 2-0 win in Game 4 and a strong effort in Game 5.
"The last two games were an indication of how this team played all season," said Yandle, who finished the playoff season with one goal, and eight assists. "It's really frustrating knowing that many may not get back to this level. Look, it was a great year and we overcome so many things. Hopefully going deep in the playoffs saved this organization."
The Non-Call
The way Game 5 ended left a bitter feeling with the players and Tippett.
Officiating came under candid expressions, and players argued that officials need to be accountable.
Just before Penner's game winner, Kings captain Dustin Brown drove his right shoulder and extended his right knee to the right knee of Coyotes defenseman Michal Rozsival at the Los Angeles blue line. Rozsival went down immediately and was then assisted by the training staff to the locker room.
Neither referees Brad Watson or Kevin Pollack called a penalty, and the Coyotes were livid.
The collision took place with 2:30 remaining in overtime and just 12 seconds later, Penner beat Smith for the game winner.
"It was so obvious," Yandle said of Brown's hit. "It's unfortunate that call is not made, but I don't want to take anything away from the Kings. Give them credit, they beat us, but the officials didn't have to play for them, too."
For his part, Tippett, known to speak candidly, did all he could to refrain from any comments on the Brown hit.
"You saw it and write what you saw," he said. "It is what it is. That's all I'll say."
If Brown received no penalty for what the Coyotes believed was a deliberate and flagrant hit on Rozsival, players shook their heads in trying to understand an inconsistency.
One example cited in the dressing room was the 25-game suspension handed out to Raffi Torres on a hit applied to the Blackhawks' Marian Hossa in Game 3 of the opening round. This time, Brown escaped and they Coyotes openly questioned the creditability of officials.
In raising his voice in astonishment, captain  Shane Doan was direct, blunt and furious.
"Look, I don't want to take anything away from the Kings, they played great," he said. "But I want to know how they missed (Brown's hit). I'm sure they have great explanation."
Doan increased the debate to another level.
"I picked up two penalties in the last game, and I want to know where I got them," he said. "They called me for slashing and roughing. I looked at the tapes, and I want them to tell me where I had those penalties. It's unbelievable, so inconsistent."
If Yandle and Doan were upset, Smith was perhaps more forthwith with his comment about the non-call against Brown.
"The calls which were not made just sapped the life out of us," he said. "After watching (Brown's) knee and make contact the way it did, I can't believe there was no call. For what (Brown) did, this guy should be done forever."
At best, Yandle argued, the league needs to take an educated look on Brown's hit, make a reasonable judgment and assess punishment.
Mark Brown is a Featured Columnist for Bleacher Report. Unless otherwise noted, all quotes were obtained first-hand.