WWE No Way out 2000: Top 10 Moments from the Night Mick Foley Retired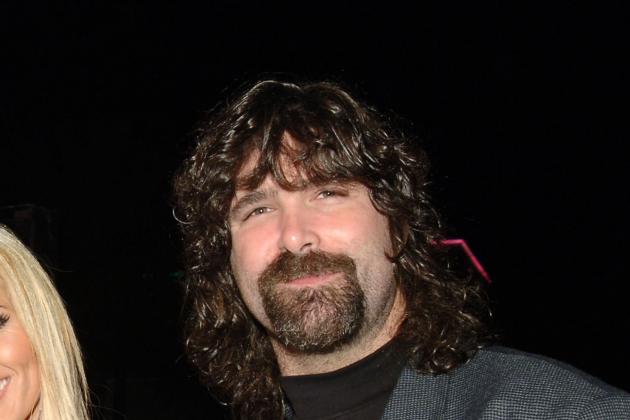 John Sciulli/Getty Images

Next month, WWE will bring back the No Way Out pay-per-view. In my mind, the names of the non-big four events mean nothing. It could be called "WWE Presents Nothing," and I would not care. As long as it was well-built and has solid matches, who cares?

The theme seems to be centered around cage/escape stipulations added into the current stories. While the title is new for fans in 2012, there is a rich history of No Way Out. It is time to look at its past.

I will be skipping the late 1990s for now and begin in the new decade. In February of 2000, the company was riding high on many business aspects. Sadly, this was not one of their best nights during that time period. On a grade scale, I would fall in the B- range.

What were the highlights? Let's find out!
Begin Slideshow

»
Trust me, I am a Mark Henry fan.

This was not his best night. He was still with Mae Young and feuding with Viscera. It was not going to be a pretty night for the fans.

Henry pinned Vis after just a few minutes. Thankfully, it was kept very short.
Yikes!

Tazz was fairly new to the company but had already hit his peak. Big Boss Man was with Prince Albert at the time, and he was fresh off a short main event run to close 1999.

Remember the amazing Attitude Era?

Anyway, this was kept short just like the previous match. It took up five minutes of pay-per-view time and ended with Albert interfering.

Again, this went nowhere.
Kurt Angle was the European Champion.

Chris Jericho was the Intercontinental Champion. He was also with Chyna here, as they had a very unique relationship for a few months.

Angle vs. Jericho at No Way Out was only for the Intercontinental gold.

The two had a fun ten-minute match. For an opener, I really liked it. As most know, Angle won the title and became the Euro-Continental Champion for a couple of weeks.
The New Age Outlaws were enjoying a nice title reign.

While that was great, the Dudley Boyz were gaining momentum as a new team. Yes, they had just debuted in WWE a few months earlier.

They were made out to be the heels, but it would not last. Fans just loved them using tables and being sick and twisted each week.

In any event, this was a solid tag title match. With Billy Gunn looking to break away from his team, it was only logical to get new champs here.

Sure enough, we saw another belt change hands at No Way Out.
This feud just would never end.

X-Pac being with Tori was the right move. Kane looking for revenge with Paul Bearer by his side was also the right move.

These two had many matches, but it never solved anything. Finally, the two moved apart from each other after six months following Wrestle Mania XVI.

At No Way Out, Pac grabbed another victory in their No Holds Barred match. Nobody cared, and it meant the feud would continue for a little bit longer.
Edge and Christian vs. the Hardy Boyz was the match here.

The winner would receive a future tag title match. The real twist was that Terri (manager for the Hardyz) was at ringside. Earlier in the night, she "hired" APA to watch out for her.

It was a strange move, but it made sense later on.

After a great fifteen-minute battle, Terri turned on her team. Christian pinned Matt Hardy moments later, as Terri cheered them on.

She found another set of brothers to manage.

As Mat and Jeff Hardy tried to attack Terri, the APA quickly saved her and beat the brothers up. Her investment was now worth it.
The winner of this match became the No. 1 Contender to the WWE Championship at WrestleMania. There was some controversy at the Rumble between these two, so this match was needed.

Honestly, The Rock and Big Show made for perfect opponents. Everybody loved Rocky, while fans just could not get behind the big man at this point.

To the shock of everybody, Shane McMahon came out to the ring during the closing moments of this match. With the referee being knocked out, Shane hit The Rock with a steel chair.

He turned heel and gave Show the victory. Yes, Big Show was about to headline Mania...
Some fans like to complain about random matches being added to pay-per-view events in 2012. From Ryback to Brodus Clay, the complaints are filled every month over "filler" being added.

Guess what?

At No Way Out 2000, we saw two "bonus" matches.

Tazz vs. Boss Man and Viscera vs. Mark Henry were added last minute. I guess that can be forgiven because of the era. Not now though! In 2012, it is ridiculed up and down.

Also, I have discussed this before, but the build to WrestleMania's main event in 2000 was ridiculous. Once again, for all the great stories in 2000, there was tons of terrible moments. I will just skip over the Rumble ending in January.

At No Way Out, Big Show was named the No. 1 Contender by beating Rocky. A short time later, it was changed to The Rock determined by a Raw match over Big Show when Vince McMahon interfered.

Three days later, Big Show was added to make it a triple-threat title match with Triple H. That match would come early on the very next Raw show. Imagine WWE giving away the Mania main event just weeks before the huge event!

Of course, Mick Foley was added later to make it a four way! Three days later, all the McMahons were added to be at ringside. Ten days later was WrestleMania. Yes, ten days! Is everybody following this?

Long live the Attitude Era!
Mick Foley retired after No Way Out.

Yes he was back in the ring a few weeks later. Yes, he has had many more battles. Yes, he even appeared in the Royal Rumble in 2012.

In the end, I still think many think of No Way Out as Foley's last match. He was Cactus Jack and competed inside a Heck on a Deck WWE Title main event event.

With his opponent being Triple H, you knew he was going to go out with a bang.
What a way to go out!

Cactus Jack and Triple H had an amazing match a month earlier at the Rumble. With Foley's career on the line in February, both men had to up the stakes.

While they did not top their street fight, the two did live up to the steel structure's storied past. While Cactus jack was never going to get the WWE Title, he had fans believing in him.

In your final match, you cannot ask for much more.

After the final pin fall was counted, Foley left to a standing ovation with tears in his eyes. His career was over, but he had left his mark on the industry he loved so much.

Follow Justin Watry on Twitter!