Syracuse Basketball: Predicting Orange Leader for Every Stat in 2012-13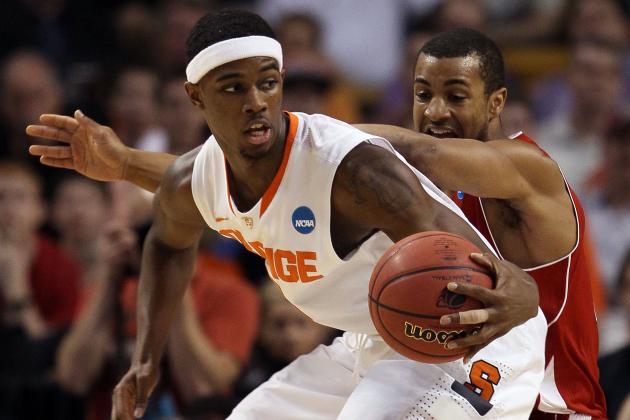 Elsa/Getty Images

The Syracuse Orange will undergo significant roster turnover heading into the 2012-13 season, so it will be interesting to see which talented young players step up for Jim Boeheim.
Offensively, the squad is losing its top two scorers in Kris Joseph and Dion Waiters, along with its top assist-giver in Scoop Jardine.
Fab Melo's blocks and rebounds need to be replaced in addition to Waiters' perimeter defense.
Can Brandon Triche assert himself and score enough to lead Syracuse to the top of the Big East again? Will Michael Carter-Williams live up to his potential? How will freshmen DaJuan Coleman and Jerami Grant fit in?
Here's a projection of who will lead the Orange in every major statistic in 2012-13.
Begin Slideshow

»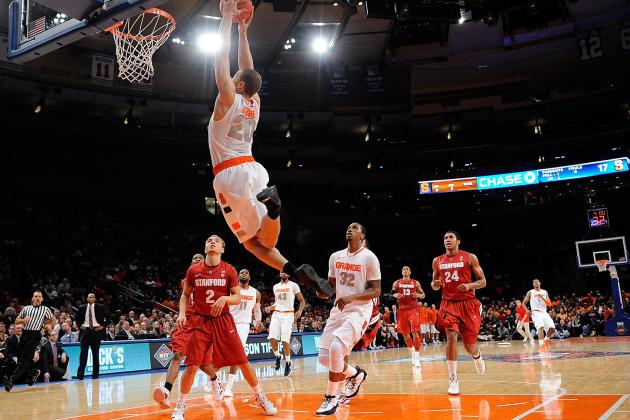 Patrick McDermott/Getty Images

Syracuse's scoring in 2012-13 will probably be similar to last year's, especially in the sense that no one will carry the team. There will likely be two or three players in double digits, with no one exceeding 15 points per game.
Brandon Triche will lead the pack with 13 or 14 points per game. He scored 9.3 per game last season in 22 minutes of playing time.
Heading into his senior year, Triche needs to help fill the scoring void left by Waiters and Joseph. His playing time and usage will both increase significantly this season, so his point totals will elevate accordingly.
Triche Points Projection: 13.3 per game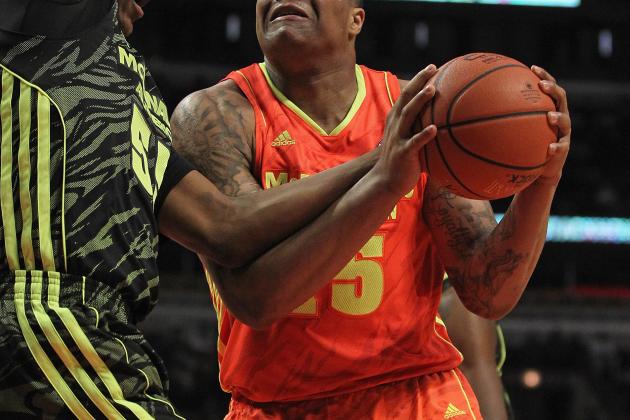 Jonathan Daniel/Getty Images

Hometown product DaJuan Coleman of Jamesville-Dewitt High School will give the Orange a sturdy frame and good hands in the paint.
Coleman was an exceptional rebounder in high school, and he'll undoubtedly use his bulk and 7'2" wingspan to grab at least six or seven rebounds per game. But that total ultimately depends on his playing time.
C.J. Fair and Rakeem Christmas will also clean up the glass, and they'll probably give Coleman a run for his money for the rebounding title.
Coleman Rebounds Projection: 6.4 per game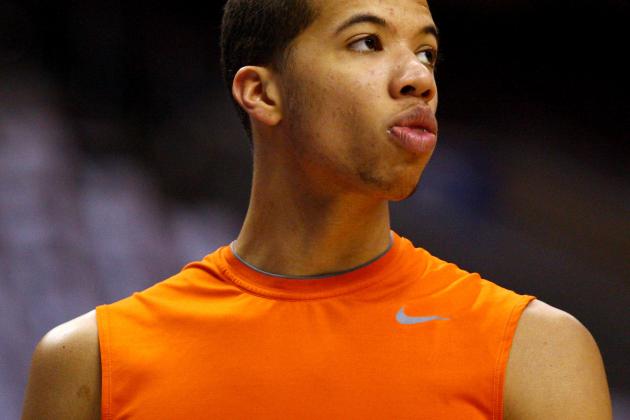 Chris Chambers/Getty Images

Michael Carter-Williams will share some of the point guard duties with Brandon Triche, but for the most part, he'll be doing the facilitating.
He wasn't close to leading the team in assists last year, but he did have the best assists-per-minute rate on the team. With his freshman year under his belt and an entire offseason to work with the team, Carter-Williams should develop into a superb floor general.
Carter-Williams already possesses deft passing skills and a great feel for the game, so it's exciting to think about what he can do with some substantial minutes.
Carter-Williams Assists Projection: 4.8 per game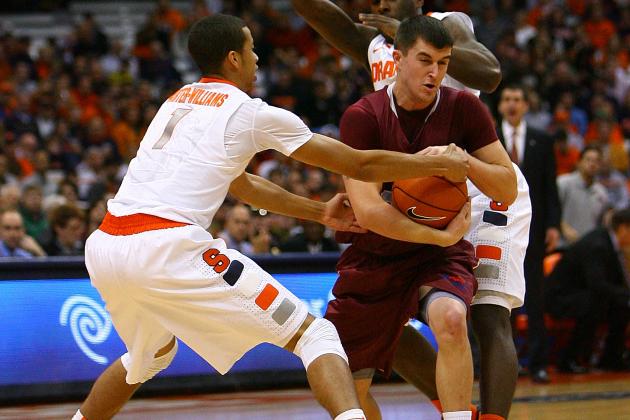 Nate Shron/Getty Images

This category might be a close one between Triche, Carter-Williams, and Jerami Grant, but I'll put my money on Carter-Williams' wingspan.
The freshman reserve snatched nearly one steal per game even though he only played ten minutes.
Carter-Williams isn't ultra-quick or physical on defense like Waiters, but he's going to get his steals by anticipating and taking advantage of shorter guards.
I doubt the Orange will grab as many steals in 2012-13 as they did last year, but they'll still wreak havoc with that zone.
Carter-Williams Steals Projection: 1.8 per game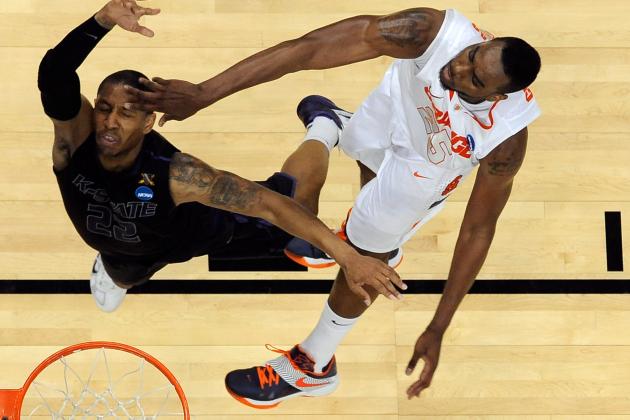 Gregory Shamus/Getty Images

Fab Melo terrorized Big East forwards with his shot-blocking prowess last season, and now that he's gone, fans wonder whether the Orange will be intimidating in the paint anymore.
Syracuse might not completely replace Melo's skills, but Christmas will do his best to protect the rim when he's in the game.
Christmas showed glimpses of shot-blocking excellence last year during his limited playing time, as he registered 11 multi-block games.
He'll have a better feel for the zone this year and position himself for more blocks and shot alterations.
Christmas Blocks Projection: 2.0 per game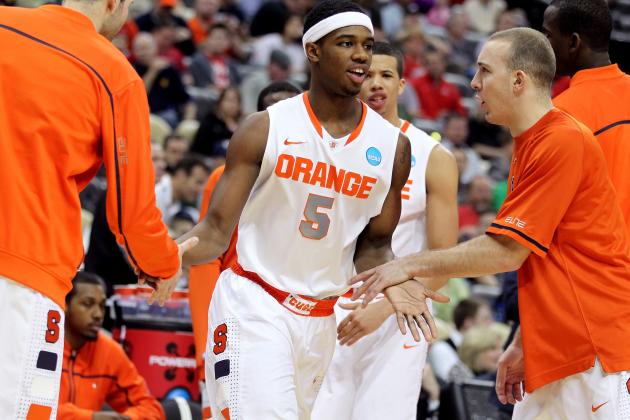 Gregory Shamus/Getty Images

C.J. Fair is entering his junior year and is now a veteran, so Boeheim is going to lean on his versatility and savvy.
Fair's length, good hands, and movement without the ball make him an excellent combo forward. He has enough athleticism to cover a lot of ground on defense and finish fast breaks.
The 6'8" lefty played 26 minutes per game last year, so he already gets plenty of court time. His numbers might eclipse 30, but that depends on how reliable Grant and Christmas are.
Fair Minutes Projection: 28.8 per game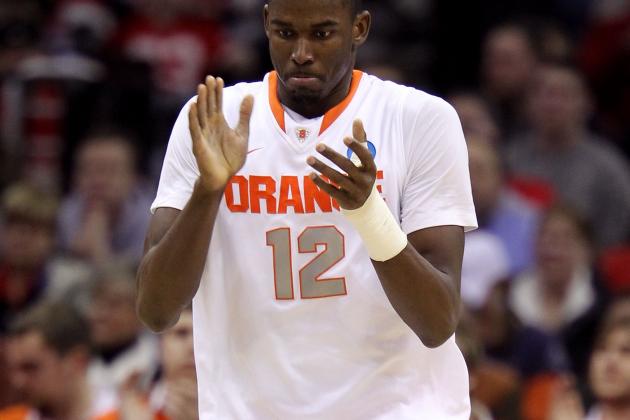 Andy Lyons/Getty Images

Field Goal Percentage: Baye Keita, 67 percent
Three-Point Percentage: Trevor Cooney, 42 percent
Free-Throw Percentage: Brandon Triche, 80 percent
Usage Percentage: Brandon Triche, 25 percent
Player Efficiency Rating: Brandon Triche, 23.3 P.E.R.
Win Shares: C.J. Fair, 4.3 WS