UFC 146: Things You Need to Know About the Dos Santos vs Frank Mir Fight Card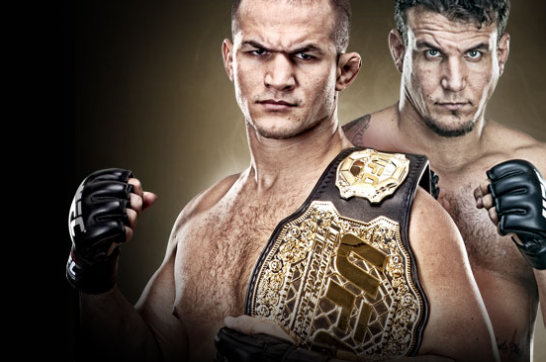 The UFC 146 fight card has gone through its fair share of changes since it was first announced, but two things have remained constant, every fight on the main card will be contested at the heavyweight limit and Junior dos Santos will defend his UFC heavyweight crown in the main event.
Barring some last-minute change (not something I am wishing on anyone), we know what the matchups will be on Saturday at the MGM Grand Garden Arena. In an effort to give you some more information on a select number of those fights, what follows are a few things you should know as fight night approaches.
Begin Slideshow

»
At UFC 146 Daniel Pineda will be competing in his 25th professional MMA bout and third inside the Octagon. Overall, the fighter that goes by the nickname "The Pit" has a record of 17-7. Of those 17 victories none have been by decision.
Pineda has finished 11 opponents by submission and six via knockout. In fact, Pineda has only seen the third round on two occasions, once losing by decision and once when he submitted Frank Gomez at the 2:25 mark of the third stanza of a 2011 Legacy Fighting Championship bout.
Paul Sass will bring a perfect 12-0 record with him into the Octagon on Saturday when he faces Jacob Volkmann. He, like everyone else, knows that Sass is going to attempt one of two submissions: a triangle choke or a heel hook.
How can one be so sure? Eleven of Sass' wins have come via submission, with eight coming via triangle choke and three via heel hook. If that's not enough, he goes by the moniker of "Sassangle."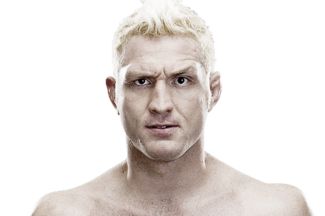 If there is a must-win fight on the UFC 146 fight card, the bout between Jason "Mayhem" Miller and C.B. Dollaway would have to be it.
Miller was brought back to the UFC in 2011 and given an opportunity to coach opposite Michael Bisping on The Ultimate Fighter. At the conclusion of the show, the two met inside the Octagon with Miller delivering a very poor performance. Miller looked so bad, that despite his name draw and fan base, there were doubts that he would get another shot in the UFC.
Miller's opponent, Dollaway, is on a two-fight losing streak, losing to Mark Munoz via first round knockout and Jared Hamman via second round TKO. Prior to those two defeats, Dollaway was 11-2 and had been on a three-fight winning streak, with the last win of that trio being a September 2010 "Submission of the Night" victory over Joe Doerksen.
To be fair to Miller, while his last win was in 2010—a submission victory over Sakuraba—he did only fight once after that win, losing to Bisping in December of last year.
Edson Barboza rolled into the UFC in 2010 sporting a record of 6-0, with none of those fights going past the 1:14 mark of Round Two.
Four fights later he is now 10-0. Barboza has also seen the third round four times since joining the UFC, with two of those fights going the distance. Perhaps the most impressive has been his run of "Fight Night" bonuses.
Barboza did not collect a bonus in his first UFC outing, but in his next three fights in the Octagon he racked up four, earning "Fight of the Night" honors three times and "Knockout of the Night" once. His latest victory, a third round knockout of Terry Etim was the win that gave him two bonuses for one fight.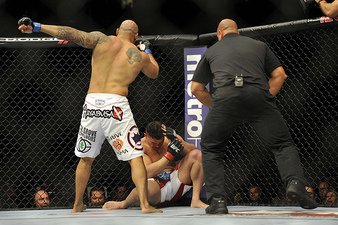 Joe Camporeale-US PRESSWIRE
If you've never seen Lavar Johnson in person count yourself among the fortunate. Johnson is a big dude, a big, scary dude, and if you've heard the story of how he survived a 2009 gunshot, you can add "tough" to the list of adjectives used to describe hi—and that's without even seeing him fight.
His 15 career KO/TKO wins let you know that his look is not the only frightening thing about him, his power is no joke either. Johnson has never gone the distance in his career, winning 15 fights by KO/TKO and two by submission while losing once by knockout and four times by submission.
In his seven Strikeforce/UFC fights Johnson has spent an average time of 4:41 in the cage in each fight, the second lowest average in UFC/Strikeforce heavyweight history.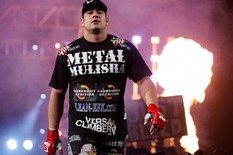 Esther Lin for Strikeforce
Stipe Miocic and Shane del Rosario may not be household names at this point, but after UFC 146 there is a strong chance that at least one of them will walk away with his name carved into the minds of those that witness Saturday's fight card.
Miocic and Del Rosario are a combined 19-0 in their professional careers and of those 19 victories, only Miocic's unanimous decision win over Joey Beltran at UFC 136 has gone the distance. Combined the two have 14 KO/TKO's and 4 submissions, so if you are interested in a prop bet for UFC 146, it's probably safe to put your money down on this one ending early.
How early you ask? Well, in 11 fights, Del Rosario has been to the second round only once and outside the decision over Beltran, Miocic has no other trips into the third round.
Cain Velasquez has 10 professional MMA fights to his name, with eight of those coming from inside the Octagon. Velasquez has racked up those eight UFC bouts since debuting with the promotion in April 2008. In that time not only did Velasquez become the UFC heavyweight champion (now former), but he was able to get his name in the UFC's heavyweight record book quite a few times:
Wins by KO: Tied for second with six
Shortest Avg. Fight Time: Third at 5:03
Career Knockdowns Landed: Tied for third with six
Individual Fight Knockdowns Landed: Tied for first with three (UFC 83)
Individual Fight Total Strikes Landed: 261 (UFC 99)
Career Striking Accuracy: First at 60.6%
Career Strikes Landed Per Minute: First with 7.44
Individual Takedowns Landed: Tied for fourth with 7 (UFC 99)
Career Takedown Accuracy: Second at 65.2%
Career Takedown Average Per 15 Minutes: Second at 5.58
Junior dos Santos has a total of eight fights in the UFC, ending five of those fights by knockout, a number that ranks him behind only Andrei Arlovski, Cain Velasquez and Cheick Kongo, as far as finishing fights by KO/TKO.
Dos Santos is the epitome of a heavyweight power puncher as he has the highest attempted significant strikes per minute (14.36) in UFC history. It seems like every thing he throws has the intent of separating his opponents from their senses.
During his career Dos Santos has accumulated 10 KO/TKO wins, with all of them coming in the first round. In short, the key to beating Dos Santos seems to be: Don't let him land any strikes.
In the last slide we learned that Junior Dos Santos is proficient at putting his opponents away in the first round. Dos Santos' opponent at UFC 146, Frank Mir, is an accomplished submission artist with nine submission victories to his name. Interestingly, of those nine submission wins, three rank in the top five fastest submissions in UFC heavyweight history:
UFC 36 (46 Seconds), UFC 41 (46 seconds) and UFC 48 (50 seconds)
While it is true that these three submissions came quite a while ago, it does show that Mir has the ability to get things done quickly if the opportunity presents itself.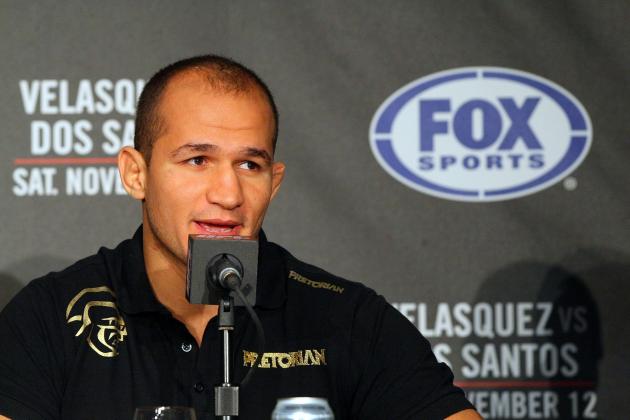 Victor Decolongon/Getty Images

Junior dos Santos is a fine defensive fighter, something that may go unnoticed due to his power, but when his opponents ramp things up in their attack Dos Santos can hold his own.
This fact is evidenced by his 85 percent career takedown defense in the UFC. Once taken down, Dos Santos' opponents have struggled to keep him down, as he has spent a total of 13 seconds on his back during his UFC career, second only to Jon Jones' 12 seconds.