10 College Football Teams That Can't Afford Offseason Troubles in 2012
Wesley Hitt/Getty Images
Some teams can have offseason issues and still do fine during the season. LSU did just that in 2011 after Jordan Jefferson got himself arrested for a bar fight.
While no team wants to deal with off-the-field issues, these ten teams just can't afford to get into that kind of trouble.
Some of them are on the verge of greatness. Others are undergoing difficult transitions. And yet others are just trying to get their program back on track.
Who are they? Read on.
Oregon Ducks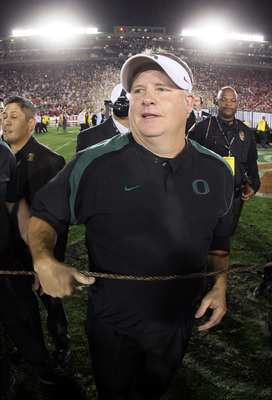 Stephen Dunn/Getty Images
2012 may be Chip Kelly's most challenging season of his career at Oregon. USC is off of their bowl ban, and the Ducks have lost LaMichael James and Darron Thomas. Their run of Pac-12 championships appears to be in jeopardy.
There are certainly still some bright spots remaining for Oregon. De'Anthony Thomas should be able to pick up where James left off—but the Ducks have less room for off-the-field issues this season as they make this transition.
Tennessee Volunteers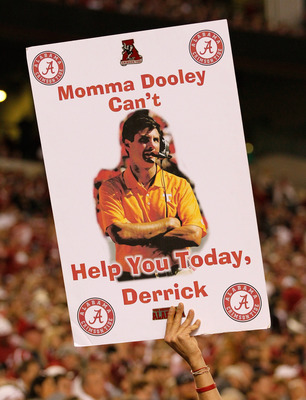 Kevin C. Cox/Getty Images
It's simple, really. Either Derek Dooley wins eight or more games this season or he's gone.
The Volunteers understand that Dooley inherited a mess after Lane Kiffin up and left after just one season, but their patience only goes so far.
Offseason troubles could doom Derek Dooley before the season begins.
Florida Gators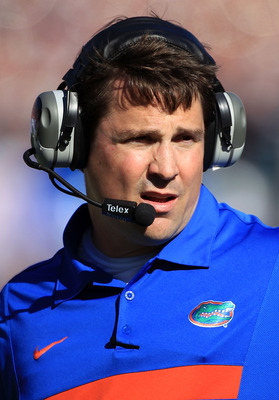 Scott Halleran/Getty Images
It's safe to say that Will Muschamp's first year as head coach at Florida didn't quite go as planned. His gamble in picking up Charlie Weis as an offensive coordinator certainly didn't pay dividends, and Weis has already taken a head coaching job at Kansas.
Muschamp's job is safe for now, but patience is not a virtue in the SEC. Muschamp needs to lead the Gators to victories and soon, and offseason problems could place him right behind the eight-ball.
Penn State Nittany Lions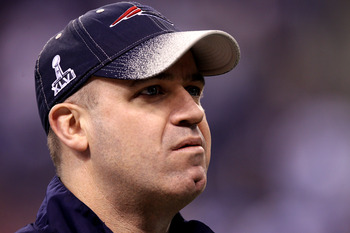 Elsa/Getty Images
The Nittany Lions have been through several decades' worth of problems in the last year.
Penn State lost Joe Paterno twice—first to the Sandusky scandal and then to lung cancer. Now Bill O'Brien has the unenviable task of helping Penn State move on.
And one thing that this program certainly can't afford is more devastating drama.
Michigan Wolverines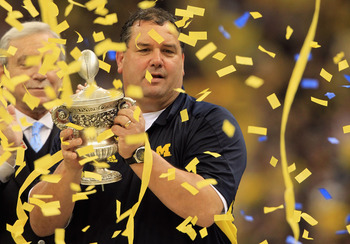 Matthew Stockman/Getty Images
It only took a single season for Brady Hoke to take the Wolverines back to a BCS bowl. With Denard Robinson coming into his senior year, Michigan just might put itself in position to accomplish even greater things.
But it only takes one offseason indiscretion to derail a promising season.
New Mexico Lobos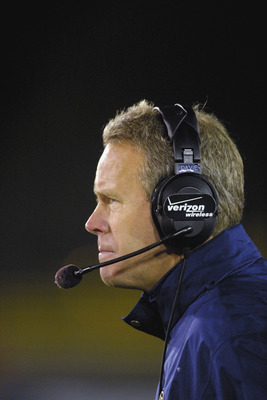 Scott Halleran/Getty Images
New Mexico is a program in a world of hurt.
Their last coach was a complete and total disaster. Not only did Mike Locksley routinely get caught up in off-the-field scandals (hitting an assistant coach and an age- and sex-discrimination lawsuit, just to name a couple), he also couldn't win games. Over his short career, the Lobos won a grand total of two games out of 28.
Now, they have Bob Davie trying to clean up Locksley's mess.
I don't expect the Lobos to be competitive in the MWC even if New Mexico has a perfect offseason, but this is a program that needs a better direction and needs it now.
TCU Horned Frogs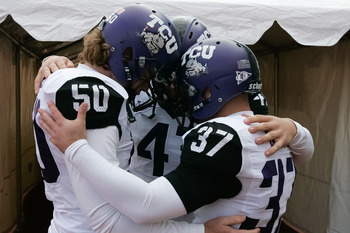 Otto Kitsinger III/Getty Images
The Horned Frogs are taking a step up from the MWC to the Big 12 this season. Such transitions are always difficult.
Just ask Utah.
TCU is in a good position to compete in their new conference, though. They may not be as good as they were in 2010, but they'll still hold their own.
That is unless they shoot themselves in the foot before the season begins. During this difficult transition, the Horned Frogs can't afford to do that.
Utah Utes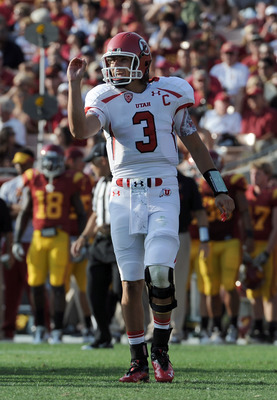 Harry How/Getty Images
Speaking of the Utes, they had a lackluster first run through the Pac-12, partly due to injuries. Nonetheless, they squandered an opportunity to play in the Pac-12 Championship Game and they blew it against Colorado.
However, now that Jordan Wynn is healthy again, Utah should have a better run this season. I don't see them winning the Pac-12 South with USC back in the hunt, but the Utes should be able to prove they belong in the big leagues.
That is, unless some off-the-field trouble gets the Utes off on the wrong foot...
USC Trojans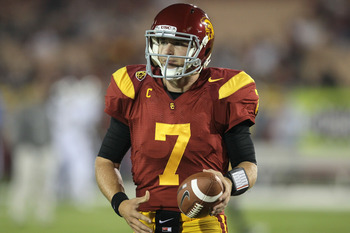 Stephen Dunn/Getty Images
USC has their first real opportunity to win a national championship in some time after having to sit out the last couple of postseasons. All the pieces are in place, including a top-notch QB in Matt Barkley and a great WR in Robert Woods.
The window is narrow for the Trojans, though, as they'll have to give up some scholarships in 2013, not to mention the fact that Barkley will be gone to the NFL.
The Trojans can't afford offseason drama—they have too much to lose.
Arkansas Razorbacks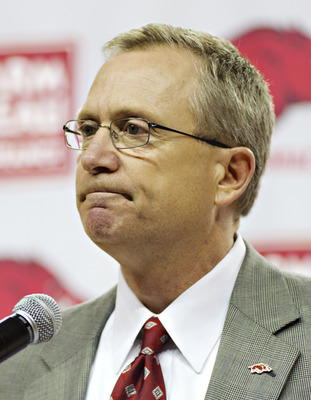 Wesley Hitt/Getty Images
To say that Arkansas has already had a bad offseason is a major understatement.
Bobby Petrino is gone after a wild ride to ruin on his motorcycle, and three Razorbacks were just arrested for breaking into dorm rooms.
The Razorbacks still have plenty of talent coming back, including Tyler Wilson and Knile Davis. There's still a chance that Arkansas can salvage the 2012 season before it starts.
They sure have a razor-thin margin for error, though.
Keep Reading