Philadelphia Flyers: 8 Potential Captains If Chris Pronger Does Not Return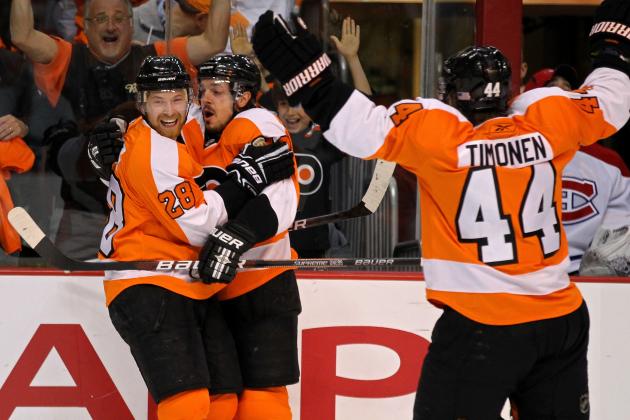 Al Bello/Getty Images

Since Chris Pronger was declared out for the remainder of the 2011-12 NHL season back in December, his symptoms have reportedly not improved, according to Philadelphia Flyers General Manager Paul Holmgren.
Pronger was declared team captain before this season after former captain Mike Richards was traded to the Los Angeles Kings. If Pronger continues to stay in the same condition he is in now, it is unlikely he will return to the NHL.
If this is the case, the Flyers will be without a player wearing the "C" on the ice. At some point, maybe as early as next season, the Flyers should be naming a new captain.
They will need someone with enough experience to lead the team on and off the ice, through exemplary play and an attitude driven by the desire for victory.
Begin Slideshow

»
Giroux is playing like a captain despite not having the letter on his chest. Over the past two seasons, Giroux developed into a legitimate superstar, being noticed across the NHL for his high level of all-around playing ability.
What also developed was Giroux's presence as a spark plug for the Flyers. A captain is meant to be able to lead and carry his team at times of need. A captain is meant to say "this is what we need to do," then do it.
A captain is the type of player who will score an overtime goal in the Stanley Cup Final when his team is down 2-0 in the series. A captain is the type of player who will tell a rookie teammate to stop celebrating goals as if he's in the world junior championships.
A captain is the type of player who will lay out the other team's captain five seconds into a clinching playoff game then blast a shot past the opposing goalie in the first minute.
Giroux is that player. Giroux is captain material.
Briere already served as an NHL captain during his time with the Buffalo Sabres and carries those leadership qualities through to the Flyers, most often during the playoffs.
When the team was facing elimination in Game 6 of the 2011 Eastern Conference quarterfinals against the Sabres, it was Briere (not captain Mike Richards) who spoke up in the locker room before the team came back to win the game and series.
Briere is a playoff performer who can carry the team when they need him to. His ability to deliver at valuable times sets a great example for the rest of the players, who should feel compelled to step up their game when Briere is on his.
Timonen is not as energetic of a leader as Giroux and does not turn into an even more extraordinary hockey player in the playoffs like Briere does.
Still, Timonen is a veteran hockey player who brings leadership to the team. Before the Flyers acquired Timonen in 2007, he was the Nashville Predators captain. Five more seasons of experience only make the 37-year-old defenseman more qualified.
Once a gritty role player, now an All-Star and the Flyers' leading goal scorer, Hartnell is quickly turning himself into an exemplary hockey player with leadership abilities.
He plays hard, plays well and brings the type of energy to a game a captain should. He will stick up for his teammates by dropping the gloves and he always makes decisions with the team on his mind.
Hartnell's position as a leader did not significantly develop until this season, but he's certainly that type of player now.
After the four previous players, there does not seem to be a realistic replacement for Chris Pronger as captain, but the Flyers have several players with notable leadership abilities.
Jagr is a two-time NHL captain and served as a quality role model for younger teammates this past season. He was dedicated to his intense training regimen, an aspect many players would benefit to copy.
Jagr's historic accomplishments in the NHL make him a source of knowledge in the locker room; he won the Art Ross Trophy as the NHL points leader an impressive five times in his career. He knows a lot about the game and if he returns to Philadelphia next season, he will provide leadership yet again.
Talbot wore an "A" as an alternate captain at certain times in his first season with Philadelphia. He is a vocal leader in the locker room and was noted by Head Coach Peter Laviolette for those leadership abilities after the season.
Due to his age in relation to other candidates and his short tenure with the team, other players would likely be named captain before him. Still, Talbot is a leader and will serve that type of role throughout his time in Philadelphia.
With Jagr, Pronger, Briere and Timonen all aged 34 or older, it appears as though additional spots will open for alternate captains in the coming years. Giroux is just one year older than Simmonds, which means Simmonds would likely not wear the "C" as long as the two players are both in Philadelphia.
Still, Simmonds is a player, like Hartnell, who will do whatever is necessary for his team. While his playing ability and skills are still developing (Simmonds hit a career high in goals and points this season), Simmonds' mindset is already where it needs to be.
Here is the youngest future leader the Flyers have.
At age 20, Schenn already made his mark in the NHL, being a valuable player in the first-round victory over the Pittsburgh Penguins.
Though Schenn does not exactly exude leadership; 2011-12 was his rookie season, but the way he plays the game seems to show potential for development into that type of role.
Schenn angers his opponents and plays hard. He's the type of player who seems to know how to elicit an emotional response. If Schenn spends enough time in Philadelphia, look for him to be at least an alternate some day.
-
Jason Sapunka is available on Twitter for NHL updates, commentary and analysis.