Liverpool Transfer Rumors: Reds Would Be Wise to Give Joe Cole Another Try
May 23, 2012

Scott Heavey/Getty Images
Joe Cole wants to give it another go at Liverpool. Whether the Reds want him to is another story entirely.
Cole spent the past season reviving his career while on loan with Lille of France's Ligue 1 and, as he told The Daily Mail, now feels adequately prepared to deliver on the promise for which then-manager Roy Hodgson signed him in July of 2010:
"When I signed for Liverpool, it startled me a bit. I don't know if I felt the pressure but the city is so in love with football. It's a religion. If I go back, I will be more prepared for it this time."
Cole went on brown-nose the legions of disappointed Liverpuddlians even further in what comes off as a bit of a groveling mea culpa:
"I can see why people say [joining Liverpool] is a culture shock. It is a small place but it has this great buzz. How can there not be in a city that has produced five Prime Ministers and The Beatles?

"The people are so sharp, quite a bit like Londoners really." 
But, as one might expect from a professional footballer, Cole's determination to return to Anfield is as much a matter of personal pride as it is about helping the club:
"There is still a part of me that would really love to make it work there and I don't want to have a bad spell at Anfield on my CV.

"It is out of my hands now. At the minute I can't rule anything in or out. We have got to speak to Liverpool and see what happens there."
The folks at Fenway Sports Group could certainly be forgiven if they're not exactly jumping at the thought of the former West Ham and Chelsea man returning to the Reds. His £130,000-a-week wages amounted to three goals and two assists in 32 appearances during a turbulent 2010-11 season.
Then again, Liverpool brass may have little choice but to give Cole another chance to succeed. Simon Mullock of Mirror Football reports that FSG may opt for austerity in light of the Reds' failure to qualify for European football again. That would likely leave Kenny Dalglish's successor with but a limited crop of options on the transfer market.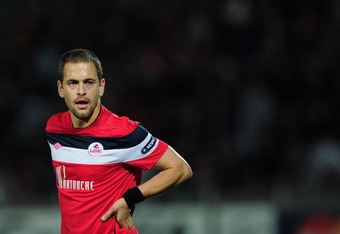 Jamie McDonald/Getty Images
And he has only a limited roster with which to reshape what was a torrid attack. Luis Suarez aside, King Kenny's biggest acquisitions (Andy Carroll, Stewart Downing, Charlie Adam, Jordan Henderson and the Anfield Cat) all proved to be busts at Liverpool. Throw Jay Spearing into the midfield alongside an aging Steven Gerrard, and it's no wonder the Reds struggled so mightily to create scoring chances and managed just 47 goals in English Premier League play.
Cole may be no better a creative force at Anfield than any of those aforementioned players, but with a new boss on board and money at a premium, Liverpool may have little choice other than to find out firsthand.