Comparing the Texas Rangers' Rotation to Every Possible Postseason Matchup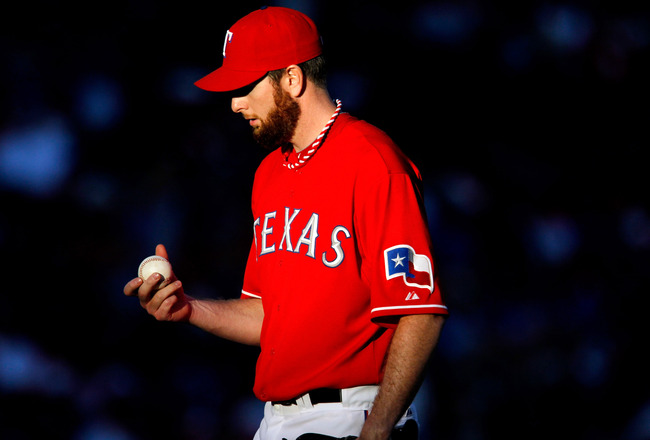 When you're number five is a former 17-game winner that was forced into the bullpen, it's all good.
Tom Pennington/Getty Images
The 2012 Texas Rangers appear poised for another trip deep into the promised land of postseason play. Naturally, it's very early in the young season and nothing is guaranteed. The Neftali Feliz injury is a sobering reminder of the fragility of a season.
However, if there is a plus side to losing Neftali for four to six weeks, it's that it demonstrates the unbelievable depth that the Rangers possess.
The Rangers have former 17-game winner Scott Feldman as a stopgap while Feliz rests and rehabs his ailing elbow.
Even with the loss of a key contributor to their rotation, Texas still has one of the best rotations in the big leagues.
Here's a look at how the Texas Rangers rotation compares to other playoff hopefuls.
The first slides are a look at the rotations of the teams that would claim playoff berths should the season end today. The final slides feature a glimpse on how the Rangers stack up with additional teams that have playoff aspirations.
Enjoy.
AL East: Baltimore Orioles (10th ERA 3.53)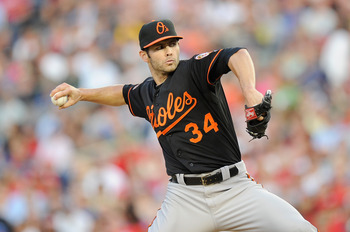 Greg Fiume/Getty Images
Rotation: Jake Arrieta (4.72/8.3/1.21) Tommy Hunter (5.07/5.1/1.35) Jason Hammel (3.12/8.4/1.14) Wei-Yin Chen (3.35/6.9/1.32)
Advantage: Texas Rangers
Tommy Hunter wouldn't make the Rangers rotation this season, but that's not necessarily a knock on him. After all, former 13-game winner Alexi Ogando couldn't crack this staff.
Wei-Yin Chen has a bright future and certainly pitched well against the Rangers. There is too much inexperience in this young staff for proof of sustainability.
AL Central: Cleveland Indians (20th ERA 4.01)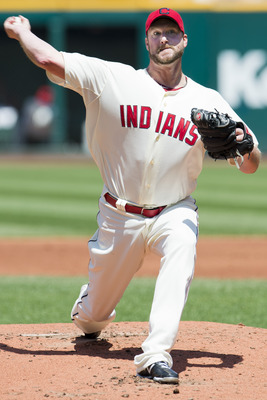 Jason Miller/Getty Images
Rotation: Derek Lowe (2.15/2.3/1.42) Justin Masterson (5.04/6.2/1.50) Ubaldo Jimenez (5.02/5.5/1.71) Jeanmar Gomez (3.19/4.9/1.09)
Advantage: Texas Rangers
Ubaldo Jimenez has been winning some games, but it hasn't been pretty. I'm still not convinced there isn't something wrong with him: This is a dude that was 98-100 MPH while in Colorado; he now sits in the low 90s.
Derek Lowe was a great addition, but I'm not so sold on him continuing his current tear; his strikeout rate indicates that he relies on pitching to contact and ground balls can find holes for hits. It looks like Justin Masterson has regressed from his breakthrough 2011 campaign.
AL West: Texas Rangers (3rd ERA 3.17)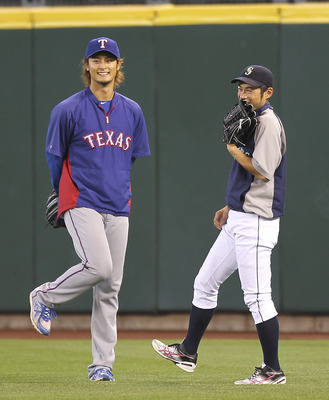 Ichiro is all smiles against Yu at the plate as well.
Otto Greule Jr/Getty Images
Rotation: Colby Lewis (3.30/8.0/1.10) Yu Darvish (3.05/10.1/1.41) Derek Holland (4.27/7.9/1.22) Matt Harrison (4.72/5.6/1.43)
Advantage: Texas Rangers, duh.
The Texas Rangers rotation dropped a notch when they lost Neftali Feliz. Sure, he's only been put on the 15-day disabled list, but he won't be able to resume throwing for four weeks. Then it will take some rehabilitation assignments before he's brought back up to the big-league club.
He might be gone until well after the All-Star break. He was a great potential replacement for Holland or Harrison in the postseason should they falter down the stretch.
AL Wild Card No. 1: Tampa Bay Rays (13th ERA 3.57)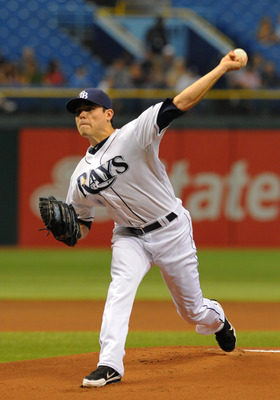 If Matt Moore is your worst starter, then you're going to be just fine.
Al Messerschmidt/Getty Images
Rotation: James Shields (3.77/8.4/1.291) David Price 2.88/7.9/1.213) Jeremy Hellickson (2.73/6.1/1.232) Matt Moore (5.20/8.4/1.578)
Advantage: Tampa Bay Rays
Yes, I'd take the Rays rotation over the Rangers right now. It might have been a toss-up before the Neftali Feliz injury. I still think that Yu Darvish has better stuff and a higher ceiling than even Matt Moore, but from top to bottom, the definite advantage goes to the Rays.
Matt Moore's a future stud, David Price is the real deal and Jeremy Hellickson might be the best pure "pitcher" of the bunch. If James Shields hadn't had to pitch against the Rangers the last two postseasons, his playoff numbers might be closer to Colbyashi's.
AL Wild Card No. 2: Oakland Athletics (12th ERA 3.55)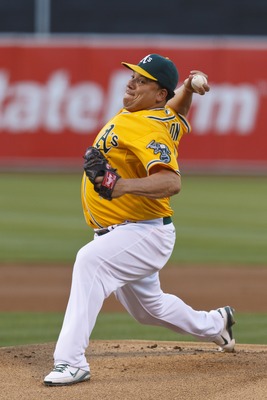 There's a lot going wrong here, but Bartolo's number have been pretty solid.
Jason O. Watson/Getty Images
Rotation: Bartolo Colon (4.09/5.5/1.28) Brandon McCarthy (2.95/6.2/1.34) Tommy Milone (3.75/5.0/1.09) Jarrod Parker (3.90/5.5/1.48)
Advantage: Texas Rangers
Two rookies, a Rangers castaway and Bartolo Colon. Nope, not even close.
NL East: Washington Nationals (1st ERA 2.87)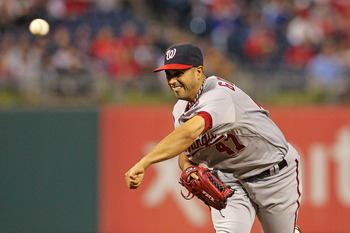 Hunter Martin/Getty Images
Rotation: Stephen Strasburg (2.21/10.9/1.02) Gio Gonzalez (1.98/11.4/0.98) Jordan Zimmermann (2.47/6.5/1.06) Edwin Jackson (3.31/8.0/0.97)
Advantage: Washington Nationals
If it weren't for Strasburg's past injury issues, would anybody doubt that this rotation is the best in the big leagues?
Gonzalez has had about zero problems transferring to the NL, Edwin Jackson has been flat-out nasty and Jordan Zimmermann (the "m" and "n" man) looks poised for greatness.
If this foursome can keep it up, the Nationals will make their first postseason splash and there might be a new chief in the NL East.
NL Central: St. Louis Cardinals (11th ERA 3.55)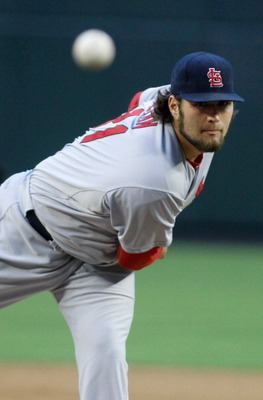 Lance Lynn has been outstanding for the Cards in 2012.
Ralph Freso/Getty Images
Rotation: Lance Lynn (2.31/8.7/1.01) Jaime Garcia ( 3.55/6.6/1.41) Jake Westbrook (2.41/5.8/1.24) Kyle Lohse (2.91/5.8/1.17) *Adam Wainwright
Advantage: Texas Rangers
Yeah, it's pretty difficult to say the Rangers have the pitching advantage over the team that just beat them in the World Series.
However, notice that there is no Chris Carpenter. Yes, there's an Adam Wainwright, but aside from last night's complete-game shutout, he's struggled to regain his pre-Tommy John form.
Lynn has been terrific, but he's in his first full season as a starter. Westbrook didn't even crack the Cardinals' postseason rotation last year and might not this season either.
Lohse is having an excellent season, but is it sustainable? I don't think that it is; look for him to get back to the career 4.58 ERA and 1.39 WHIP by season's end.
NL West: Los Angeles Dodgers (2nd ERA 3.04)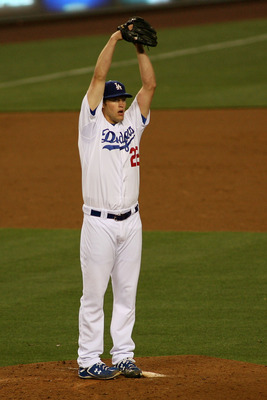 Jeff Golden/Getty Images
Rotation: Clayton Kershaw (1.90/7.4/0.88) Chris Capuano (2.25/8.0/1.05) Aaron Harang (3.83/7.3/1.30) Ted Lilly (1.79/5.6/0.90) Chad Billingsley* (3.91/7.8/1.44)
Advantage: Texas Rangers
Clearly, the Texas Rangers don't have a Clayton Kershaw-type pitcher in their rotation. Although some feel that Holland has an ace-type ceiling, I'm not so sure. Even if he does, Kershaw's ceiling is higher still.
Aside from Kershaw, the Rangers rotation is clearly superior to that of the Dodgers.
I'm not sold on Capuano continuing to pitch like Justin Verlander. He's good but not great and the only time he's had a sub-3.95 ERA was in 2010, when he was only a part-time starter.
I feel the same way about Harang, though his numbers look more likely to stand up than Capuano's.
Ted Lilly is the rope-a-dope pitcher that exploits hitters' weaknesses; he may pitch into his 40s. Billingsley has struggled, but he adds depth to the Dodgers should they continue their NL West romp into the playoffs.
NL Wild Card No. 1: Atlanta Braves (ERA 3.99)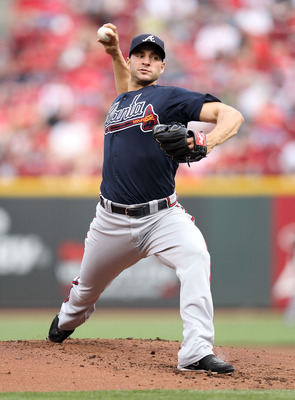 Beachy has been peachy.
Andy Lyons/Getty Images
Rotation: Brandon Beachy (1.77/6.5/0.90) Tim Hudson (3.03/5.2/1.19) Tommy Hanson (3.31/8.0/1.37) Randall Delgado (4.26/7.5/1.40)
Advantage: Texas Rangers
Tim Hudson's return from injury makes this staff that much better. However, Tommy Hanson wore down last season and Randall Delgado is still unproven. Brandon Beachy is a future All-Star, but still hasn't had a full major-league season under his belt.
NL Wild Card No. 2: Cincinnati Reds (7th ERA 3.43)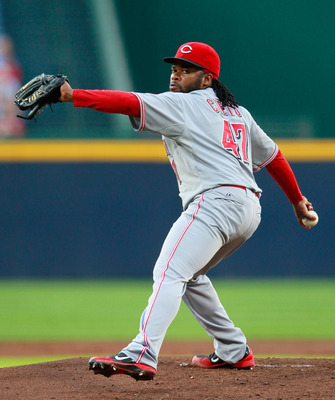 Kevin C. Cox/Getty Images
Rotation: Johnny Cueto (1.97/5.8/1.13) Bronson Arroyo (3.46/6.4/1.31) Homer Bailey (4.34/6.4/1.45) Mat Latos (4.35/8.1/1.43).
Advantage: Texas Rangers
Johnny Cueto is a true ace. Mat Latos is at least a solid number two.
I'll take Colby Lewis over Cueto in the postseason, though. Lewis has that extra gear which has been proven over the Rangers' last two playoff runs.
I don't think there is a team in the big leagues that would take Latos over Yu Darvish. Arroyo surrendered 46 home runs last year (2.1/9)—Holland over Arroyo in a landslide. Matt Harrison over Homer Bailey all day everyday.
AL Playoff Contenders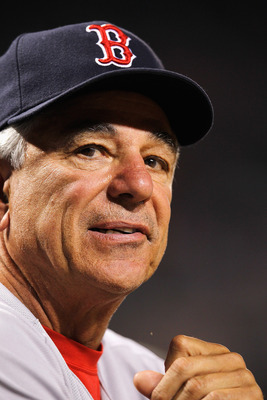 Bobby V's BoSox have plenty of offense. Good thing too.
Rob Carr/Getty Images
Los Angeles Angels of Anaheim (ERA 3.60)
Jered Weaver (ERA: 2.80 K/9: 7.8 WHIP: 0.93) C.J. Wilson (2.90/8.3/1.27) Dan Haren (4.37/7.3/1.33) Ervin Santana (4.22/6.8/1.26)
Weaver is a true ace and Wilson has been just as advertised—perhaps better. The Angels' problems have little to do with their rotation; an aging lineup and a busted-up bullpen are the issues.
Toronto Blue Jays (ERA 3.74)
Brandon Morrow (2.63/7.9/0.96) Henderson Alvarez (3.30/2.7/1.23) Ricky Romero (3.64/6.4/1.28) Kyle Drabek (3.27/7.1/1.43)
The Blue Jays have a solid rotation and with Morrow and Drabek, they have two young, electric arms with front-of-the-rotation ability.
Chicago White Sox (ERA 3.87)
Philip Humber (5.31/8.4/1.35) Jake Peavy (2.39/7.7/0.91) Chris Sale (2.91/8.3/1.13) Gavin Floyd (4.66/7.9/1.18) *John Danks (5.70/5.0/1.50)
Jake Peavy has regained his ace form and that's been a key for the ChiSox as John Danks continues to regress. So far, Chris Sale has been outstanding in the rotation.
New York Yankees (ERA 4.15)
CC Sabathia (3.78/9.1/1.21) Ivan Nova (5.69/9.6/1.65) Hiroki Kuroda (4.56/5.7/1.48) Phil Hughes (4.94/8.5/1.37)
Andy Pettitte will be a welcome arrival, but will he be enough? The Yankees' pitching depth has been marred by injuries (Michael Pineda, Mariano Rivera) and ineffectiveness. Simply put, it's no longer an elite rotation in the AL.
Detroit Tigers (ERA 4.19)
Justin Verlander (2.14/9.1/0.80) Max Scherzer (5.73/11.7/1.58) Doug Fister (1.59/7.5/1.15) Drew Smyly (2.89/9.1/1.19)
Verlander is Verlander; arguably (inarguably?) the finest hurler in the league. Fister's return should be a boost. Max Scherzer has absolutely filthy stuff—maybe even better than Verlander's—but his command can be awful.
Had rookie Drew Smyly been in their rotation last season, the Tigers rather than the Rangers might have been AL Champions—he's that good.
Boston Red Sox (ERA 4.63)
Jon Lester (3.95/5.8/1.30) Josh Beckett (4.38/7.3/1.28) Clay Buchholz (7.84/4.9/1.91) Felix Doubront (3.96/9.0/1.42) *Daniel Bard (4.85/5.5/1.55)
The buzz around the DFW Metroplex since Feliz's injury has been about Roy Oswalt. Honestly, if any team needs Oswalt, it's Boston.
Lester is great and Beckett will be okay, but Buchholz has been terrible. Look for Daniel Bard—if he's not put back in the bullpen—to replace Buchholz in the postseason rotation if Boston can make it.
How these rotations stack up against the Texas Rangers
The Anaheim Angels have the only rotation here that is better from top to bottom. Stuff-wise, the Detroit Tigers are very close to the Rangers and obviously Justin Verlander would be an ace anywhere.
The Red Sox are way too erratic and I don't think that Beckett's best years are ahead of him. Jon Lester's a stud and better than any left-hander in the Rangers rotation.
The White Sox rotation doesn't feature one pitcher I'd take over anyone in Texas. Can Peavy stay sharp all season?
Toronto's Brandon Morrow reminds me of a right-handed Derek Holland; the stuff is there, but he's just too inconsistent.
NL Playoff Contenders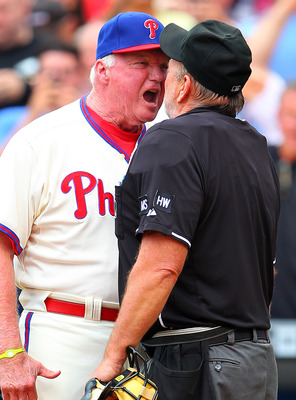 Rich Schultz/Getty Images
San Francisco Giants (ERA 3.33)
Tim Lincecum (6.04/10.0/1.59) Matt Cain (2.94/8.5/0.90) Madison Bumgarner (2.85/6.0/1.07) Ryan Vogelsong (2.27/6.4/1.17) *Barry Zito (3.00/5.3/1.25)
Lincecum has been more "Bleak" than "Freak" this season. However, his K/9 numbers are still excellent, so he's worked around his velocity loss.
To me, the Giants ace is Matt Cain, with Bumgarner close behind. Vogelsong is the real deal and Zito can be added to the postseason roster should Lincecum continue to falter.
Miami Marlins (ERA 3.38)
Mark Buehrle (3.36/4.5/1.12) Carlos Zambrano (1.96/6.7/1.07) Anibal Sanchez (2.32/9.1/1.07) Josh Johnson (4.82/7.2/1.51) *Ricky Nolasco (4.31/4.8/1.34)
Carlos Zambrano might be a slam-dunk Comeback Player of the Year contender this season. Josh Johnson is better than his ERA indicates and Anibal Sanchez is an excellent pitcher as well.
Nolasco adds depth to a very strong rotation should they be able to secure a wild-card berth.
Philadelphia Phillies (ERA 3.61)
Cliff Lee (2.66/8.2/0.86) Roy Halladay (3.22/7.0/1.06) Vance Worley (3.07/9.2/1.34) Cole Hamels (2.48/9.6/1.03)
It's absolutely criminal that Cliff Lee still hasn't gotten a win yet. Halladay's a horse and Hamels might be better than both Lee and "Doc."
The Phillies remind me of the Angels; their pitching is legit, but can they score enough runs to make it to the postseason?
Arizona Diamondbacks (ERA 4.21)
Ian Kennedy (4.47/7.2/1.35) Joe Saunders (3.55/5.2/1.30) Trevor Cahill (3.74/5.7/1.26) *Daniel Hudson (6.00/6.0/1.61)
Daniel Hudson's importance to last year's Diamondbacks team has been readily apparent since he went down due to a shoulder impingement. If Hudson is back to form, this is an excellent rotation.
Milwaukee Brewers (ERA 4.52)
Zach Greinke (2.70/9.4/1.112) Yovani Gallardo (4.62/8.5/1.46) Randy Wolf (6.02/5.3/1.70) Shaun Marcum (3.93/8.1/1.24)
Greinke and Gallardo are arguably the NL's second-best one-two punch. Randy Wolf has been awful.
If the Brewers are close at the All-Star Break, look for them to trade for some rotation help. If not, Greinke might be moved to a contender so that the Brewers can rebuild.
How these rotations stack up against the Texas Rangers
Aside from the San Francisco Giants and the Philadelphia Phillies, there isn't a rotation that I'd prefer over that of the Rangers—even with the recent injury to Feliz.
The Diamondbacks seem to be having a rotational sophomore slump and if Hudson is still hurting, they may not even make the playoffs. The Brewers are solid, but Gallardo hasn't been as sharp as in years past.
Who knows how long the Marlins' Zambrano will be effective—or how long Johnson can manage to stay off of the disabled list.
Keep Reading

Texas Rangers: Like this team?