Matt Cain vs. Madison Bumgarner: Which Giant Will Win a Cy Young First?
May 23, 2012

Thearon W. Henderson/Getty Images
The San Francisco Giants already have two former Cy Young Award winners on their pitching staff in Barry Zito and Tim Lincecum, a two-time winner. The Giants have two other solid candidates who could win the award at some point in their careers.
Could either Matt Cain and Madison Bumgarner add to the Giants' stable of Cy Young winners?
If so, which of these two pitchers could win the award?
Let's take a look at each pitcher's stats and we can make a judgement on which of these two starters has the best chance of being a Cy Young winner.
Matt Cain is 27 years old and has been a solid pitcher since he broke into the major leagues in 2005. In 2011, Cain threw 221.2 innings, his fifth consecutive season of over 200 innings. He complied a record of 13-12, which would have been better had it not been for the Giants' moribund offense.
Cain was outstanding, even though his record does not validate his dominance. Cain had an ERA of 2.88 and WHIP of 1.08. He struck out 179 hitters in those 221.2 innings. 
Cain's most dominant performance actually occurred in the 2010 postseason, when he helped lead the Giants to their first World Series title in San Francisco history.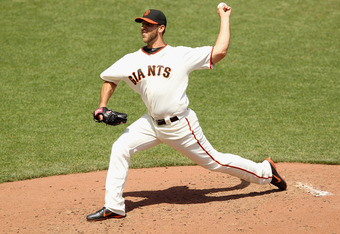 Ezra Shaw/Getty Images
Cain had three starts covering 21.1 innings. He went 2-0 and did not allow an earned run. His WHIP was an outstanding 0.93.
Madison Bumgarner is only 22 years of age and is one of the best young pitching stars in the National League. Bumgarner is a tough competitor and has a quiet confidence that belies his youth.
In 2011, Bumgarner went 13-13, which, like Cain, would have been substantially better had the Giants' offense been even average. He threw a career high 204.2 innings and struck out 191 hitters.
Bumgarner started slowly, losing his first six decisions, but finished the year with an ERA of 3.21 and WHIP of 1.21.
Both Cain and Bumgarner are pitching well in 2012 and leading a very strong Giants pitching staff. However, it remains to be seen if they can be realistic Cy Young candidates at some point.
To be a legitimate Cy Young candidate, a pitcher needs to be dominant. This means that strikeout numbers go a long way to garner votes. Neither Cain nor Bumgarner is a huge strikeout pitcher. I believe this will ultimately be a road block to either pitcher winning the award.
If we consider the fact that there are 15 teams in the National League as of next year, that means there are roughly 75 starting pitchers that have a chance at the award. We will not consider relief pitchers at this point.
I do see both Cain and Bumgarner as being in the mix and getting votes at various points in their careers. However, I do not see either being truly dominant enough to win it.
If I had to choose, I would say Bumgarner, because of his youth, has the best chance. Being five years younger than Cain, Bumgarner will have more time to win a Cy Young and could develop into a more dominant pitcher than he is today.
Nevertheless, both Cain and Bumgarner are outstanding pitchers and recently signed long-term deals to ensure their future with the Giants. Although they may never win a Cy Young, the Giants are fortunate to have both locked up for the next several years.