Los Angeles Lakers: Let the Overreaction Begin
May 22, 2012

Fire the coach! Trade Kobe! Trade Gasol!
Not even 24 hours removed from the end of the Los Angeles Lakers season and the calls for widespread change among Lakers fans have already begun. As with any franchise that has championship expectations, these reactions have become expected, however, the speed and severity of many of the comments have been startling.
My message to Lakers fans?
Relax.
Sure, a Game 5 exit to the Oklahoma City Thunder wasn't how it was drawn up at the beginning of the year, but blowing up a team requires more justification than simple frustration and disappointment.
Remember, this was a team that was forced to adapt to a brand new coach and a brand new system without any formal training camp. This was also the season in which everyone wrote the Lakers off, thinking surely no team as old as they were could survive the treacherous lockout-induced schedule.
Despite all of the obstacles and difficulties, however, there the Lakers were the No. 3 seed in the loaded Western Conference. And then, despite their age and fatigue, it was those same Lakers that pushed a younger, more athletic Thunder squad to the brink in round two, losing in part because of late blown leads in three of the five games.
With this framework of thinking in place, let's take a look at the rumors and theories ravaging the Internet.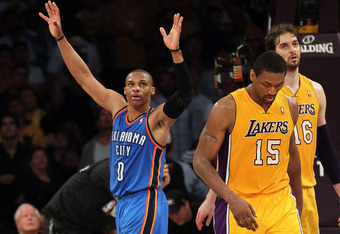 First off, let's start with Kobe Bryant.
Of all the theories, rumors and suggestions, those surrounding Bryant are by far the easiest to address: he's not going anywhere. Sure he'll be 34 by the time the 2012-13 season begins and sure, he'll be earning almost $28 million, but at the end of the day, all of that means very little.
Despite all of the criticism, Bryant remains the team leader and is coming off of a season in which he finished second in the league in scoring. With a more spread out schedule on the horizon for next season and an extra year to adapt to the game plan of Mike Brown (we'll get there in a bit), Lakers fans can rest assured that Kobe Bryant will be ready for next season.
Speaking of Mike Brown, the Lakers first-year head coach has taken plenty of heat for the Lakers early exit, some deservedly and some that is probably a bit unfair. As mentioned above, it's tough to judge a coach after just one season of work, especially a season in which he didn't have any time to get players up to speed with his new offensive and defensive game plans.
An even bigger question, however, is if you don't like Mike Brown, who else is out there? Unfortunately, there isn't a long list of prominent coaches looking for work.
A name like Brian Shaw is intriguing given his history with the Lakers and a guy like Stan Van Gundy seems interesting considering his career record, but neither of those names instill the excitement needed to justify firing a coach after one year.
This brings me to the last major rumor circulating the Internet, the future of Pau Gasol. While I feel pretty confident in guessing what will happen regarding the first two rumors, Gasol is a much trickier situation to predict.
On one hand, Gasol gives the Lakers an advantage that no trade piece could ever bring in return: the presence of two highly skilled seven-footers. On the other hand, moving Gasol could potentially answer quite a few questions.
The only way I would consider moving Gasol is if the Lakers can bring back in return two or three quality pieces. Maybe not all starters, but players who could be relied upon to play 15 to 20 minutes on a given night. Obviously, at least one of those pieces, maybe two, would need to be bonafide starters.
The question you have to ask yourself is whether you're blowing things up just for the sake of change, or if the move in question will truly make the Lakers a more competitive team next season. Clearly moving Gasol could give the Lakers a fresh start and an infusion of new blood, but if that "new blood" isn't replacing the production and presence of a seven-foot all-star, it isn't worth it.
So, yes, today is a day of disappointment. It's a day of "what-ifs" and finger pointing. But as a Lakers fan interested in the long-term well-being of the franchise, I'm hoping today isn't a day of overreaction.