Chicago Cubs Must Shop Bryan LaHair with Anthony Rizzo Ready
May 23, 2012

Jonathan Daniel/Getty Images
The Chicago Cubs haven't been much to watch this season, but first baseman Bryan LaHair has been at least one positive for the team this season.
As of May 22, LaHair is batting .315 with 10 home runs and 21 RBI through 150 plate appearances this season. Those numbers are incredibly good for a guy who had only appeared in 65 games during his career prior to this season.
Those numbers are not just reflective of his performance this past year.
He had a strong year last year in the minors, batting .331 with 38 home runs and 109 RBI.
Unfortunately, the team must consider moving the 29-year-old, as top prospect Anthony Rizzo has been performing well in the minors and certainly deserves a jump to the big leagues.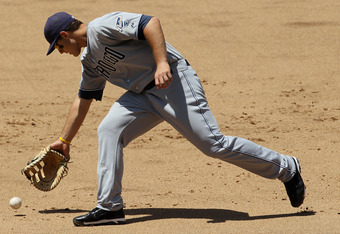 Stephen Dunn/Getty Images
Through 179 plate appearances, Rizzo is batting .344 with 14 home runs and 39 RBI. It would remain to be seen how he would transition to the majors, but nonetheless the guy is continually tearing it up.
Why would the Cubs even consider trading LaHair, though?
The fact is, LaHair plays the same position as Rizzo, and the Cubs could potentially get a decent return for the lefty.
He certainly could shift to the outfield and take over for a player like Alfonso Soriano, who has performed below value yet again, but then the Cubs will continue to be carrying players on the bench with no value while adding nothing to the mix.
LaHair has been consistent thus far, especially after last year's success, but that is where he becomes a gamble if the Cubs decide to hold onto him.
Will LaHair continue to play at this superb level, or will it eventually run its course and he will return to mediocrity?
That is the risk that any team runs, but given the Cubs' minor league depth and flexibility with players like Rizzo, Brett Jackson and Josh Vitters, they have plenty of talent coming up the pipe in positions that LaHair could play, making him quite dispensable.
Other teams may see his growing potential, which would only increase his value. Especially for teams looking for a power left-handed bat.
According to ESPNChicago.com's Bruce Levine, Cubs manager Dale Sveum made it clear that Rizzo will join the team in June, starting out in a DH role.
If Rizzo performs well, they will need to find a permanent spot for him, which is obviously at first.
If he continues to play like he has been in Iowa, it would be hard to imagine the Cubs keeping him out of the lineup every night. 
To say the least, he is destroying things in Triple-A. There should be no worries about the position in the future.
With that future need already filled, the Cubs could look to potentially make moves with pieces like LaHair for pitching, the Cubs' current Achille's heel.
The Cubs currently have the sixth-worst ERA in the league at 4.27, as well as having the second fewest number of saves with just six.
While they won't be able to swing a trade for a star, the Cubs could hang LaHair out there to see if they can get a return that would be more favorable for their future in their weakest position.
It would be tough for fans to see the club trade away a guy who has been playing so well, but at this point he is currently the most movable offensive option—besides Starlin Castro, but that won't happen.
As Levine points out, the option of having two strong left-handed hitters in the lineup could make it hard to pull the trigger on such possible move.
Trading LaHair is a possibility, much more so than moving the hobbled Soriano, who is a candidate for the DL with a sore knee . Finding back-to-back power-hitting left-handed sluggers is a rare happening as in the case of Rizzo and LaHair. That alone should give the Cubs brass some cause for pause before making a move.
That is a valid reason for the team to keep both players, but the opportunity to sell LaHair high with the team already having his successor ready is an opportunity that would be hard to pass up during a rebuild.
The team should be hesitant to deal a player like LaHair, but there is absolutely no reason why they shouldn't at least try to get a feel for how the market would respond if he were made available.
They may be surprised by what they can get for the late-blooming star.