Alabama Football: Meet the Tide's Ridiculously Talented Commitment List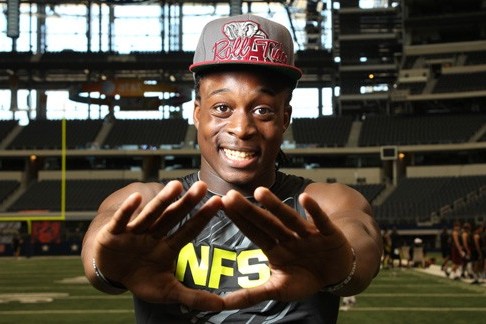 Running back commit, Altee Tenpenny.
February 2013 is a long way away, but Nick Saban is already blazing the recruiting trails. The Tide's commitment list is growing rapidly, especially in terms of talent.
The Tide have only 14 commitments thus far, so Saban is not leading in the total amount of recruits.
But it's not about quantity, it's about quality.
Only time will tell if any or all of these players stay committed until national signing day, but most of them have little reason to chance their verbal commitments to another school.
So far, the class is brimming with 4-star talent while shallow in 3-star talent, and has only one consensus 5-star prospect.
Here's a look at the players already committed with my predictions for the position they will play.
All height/weight/40-yard dash measurements are from Scout.com unless otherwise noted.
Begin Slideshow

»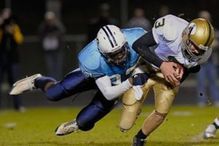 6'3", 240 lbs., 4.5 40-yard
Rivals rating: 4-star
Scout rating: 4-star
247sports rating: 5-star
Jonathan Allen is listed as a defensive end by all the recruiting scouts, but he is destined to play Jack linebacker at Alabama because that position is the primary pass-rusher for the Tide's base 3-4 defense and Allen is a spectacular pass-rusher.
247sports is ahead of the rating game by rating him as a 5-star prospect. I give Scout and Rivals until October to label him as a 5-star as well.
His explosiveness off the line is going to make him one of the most dangerous pass-rushers in the SEC, and few groom their linebackers as well as Alabama does—with or without former linebackers coach Sal Sunseri.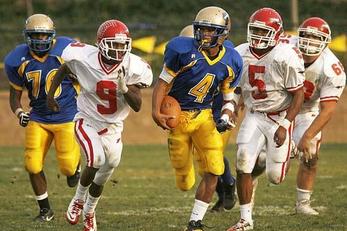 6'1", 178 lbs., 4.45 40-yard
Rivals rating: 3-star
Scout rating: 3-star
247sports rating: 4-star
Some have Anthony Averett pegged to play safety at the next level, but at Alabama he'll likely play cornerback—a position he's comfortable with.
He's a fast player that has a habit of outrunning opponents while on offense, but his speed and size are exactly what Nick Saban wants in his cornerbacks.
His lateral movement and the quickness of his feet could have him see some time in the return game as well.
Oh, and he has a vertical jump of 36", the same that former Tide Safety Mark Barron had. Yikes.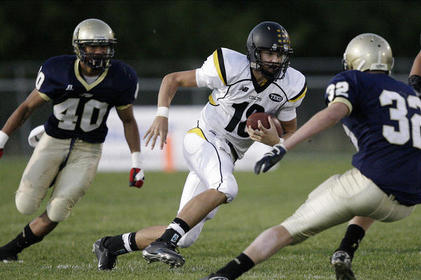 6'3", 205 lbs., 4.7 40-yard (Rivals)
Rivals rating: 4-star
Scout rating: 4-star
247sports rating: 4-star
Alabama's new offensive coordinator, Doug Nussmeier, has already made a big impact for the team before even coaching his first SEC game by landing Cooper Bateman.
He is a top-five quarterback nationally according to numerous scouting agencies and has a lot of potential.
His value to the Tide, however, goes beyond that. He is predicted to be the future starting quarterback in the wake of Phillip Sims transferring.
Scout lists his areas for improvement as running ability/mobility, but Rivals lists his 40-yard time at 4.7 seconds, which is about as fast as NFL quarterback Tim Tebow runs. I suppose he just needs to work on his cuts.
If anything, the only obvious area for improvement for Bateman is his weight, but at 6'3" he has the build to add on 15-20 lbs.
This guy is built a lot like A.J. McCarron in terms of size and talent, but throwing the long ball is Bateman's specialty.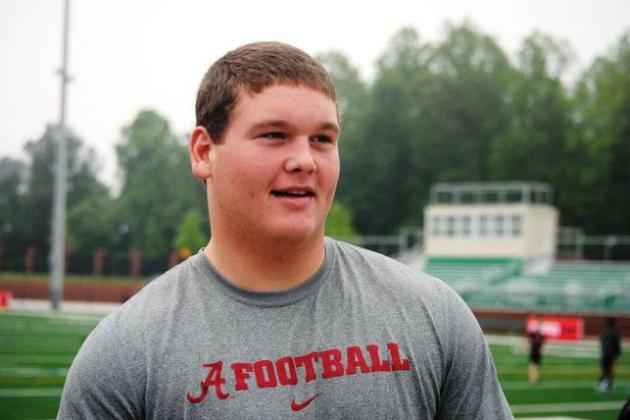 6'5", 315 lbs., 5.3 40-yard (Rivals)
Rivals rating: 4-star
Scout rating: 3-star
247sports rating: 3-star
Bradley Bozeman's commitment to the Tide was important, as the team always needs to add talent and depth to the offensive line.
It's especially important as offensive linemen seem to be more hit or miss than other positions when transitioning to the college game.
Bozeman seems to have good potential, and he will be a fourth-year starter during his senior season. His size has a lot to do with that.
He's big enough to compete for the Tide as a right tackle, but his future seems to be playing guard, or possibly center.
I, for one, look forward to seeing him examined as a center.
Bozeman was also the first committed player of the 2013 class.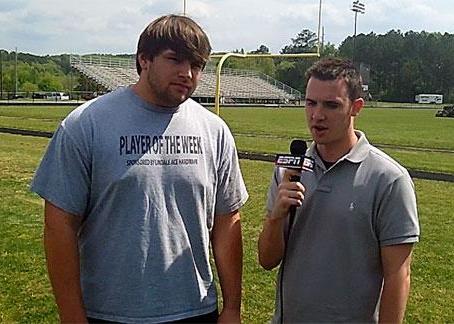 6'4", 305 lbs.
Rivals rating: 3-star
Scout rating: 3-star
247sports rating: 3-star
Like Bozeman, Andy Dodd is filling a depth need at offensive line, but don't let his star rating fool you. Nick Saban doesn't offer 3-star prospects very often, so when he does it's because he sees something in them that others don't.
Scout has Dodd listed at 305 lbs., but Rivals and 247sports both have him listed at over 320 lbs. Either way, he'll be strong as an ox after one offseason with strength coach Scott Cochran.
Also, like Bozeman, he could have potential as a tackle, but he's likely been recruited to play the interior part of the offensive line as opposed to a bookend.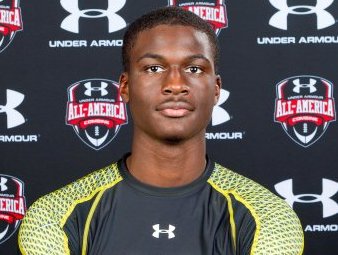 6'3", 190 lbs., 4.5 40-yard
Rivals rating: 4-star
Scout rating: 3-star
247sports rating: 4-star
Raheem Falkins is a tall, lanky and speedy wide receiver, and he's a very welcome addition to the Tide for a big reason.
Alabama's recruitment of stud wide receivers has been off the charts lately, and with a bunch of underclassmen and true freshman wide receivers filling up the depth chart, Nick Saban's task of getting new wideouts will be tough.
Alabama's army of stellar wide receivers has only grown with the addition of Falkins.
Seemingly, the only thing Falkins needs to do is add some weight to those bones.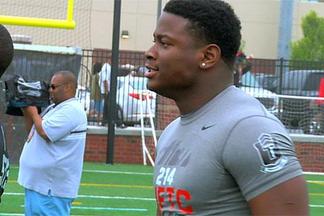 6'1", 240 lbs., 4.65 40-yard
Rivals rating: 5-star
Scout rating: 5-star
247sports rating: 5-star
Reuben Foster is the Tide's sweetest commit so far, and will likely stay that way until signing day.
First, he's the Tide's first and only 5-star commit thus far.
Second, he's earned that 5-star rating as the consensus best inside linebacker in the nation.
Third, and possibly the greatest reason, is he's straight from Auburn, Alabama. Nick Saban snaked this one right out from under Gene Chizik and the Auburn Tigers.
Some might look at his unbelievable stats from 2011 and think that his opposition must have been terrible, but I'm content to let his numbers do the talking for now.
185 tackles, 144 solo, 34 tackles for losses, and 18 sacks.
At a glance, it seems like there is only one better player in the country right now: Robert Nkemdiche.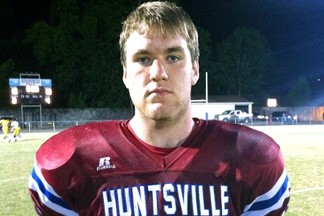 6'5", 310 lbs.
Rivals rating: 4-star
Scout rating: 4-star
247sports rating: 4-star
Grant Hill is the third player in a trio of great-looking offensive linemen, though he seems to be the most capable of the three to play offensive tackle.
Alabama will need some depth at right tackle very soon with D.J. Fluker unlikely to stay for his redshirt senior year (he's already predicted as a first round pick in 2013 by many pundits).
Though he will be looked at as a tackle his future could still be at guard, as he's one of the best trench warriors in the nation.
You know that "nasty streak" that some offensive linemen have? Yea, Hill's got it.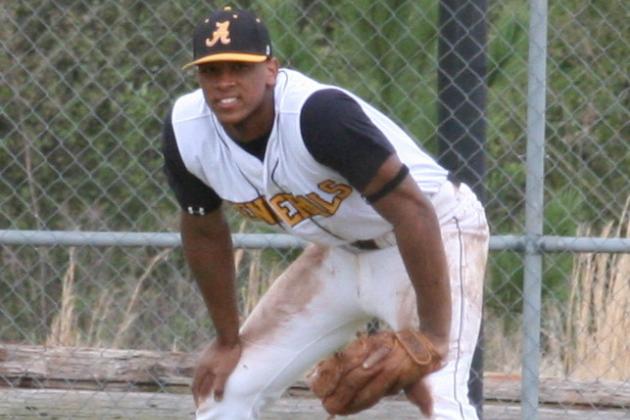 6'5", 225 lbs., 4.64 40-yard
Rivals rating: 4-star
Scout rating: 4-star
247sports rating: 4-star
This is a photo of O.J. Howard suited up in his baseball scrubs, displaying his athleticism, but he's even better at football.
I'm more excited about Howard than any other committed player on the Tide's list, as Alabama has not had a true receiving tight end since Nick Saban arrived (Nick Walker included).
Howard is the kind of tight end that is basically just a really tall wide receiver, so don't let his 40-yard dash fool you. It's actually a good time for such a big guy.
His speed and size will improve while at Alabama, and the weight room will be his first priority.
With Alabama's two-tight end set, Howard is going to find himself with a wealth of opportunity to make plays.
There will be no redshirt for this guy, and he's a lock for 'Bama. He was the second player to commit to the 2013 class.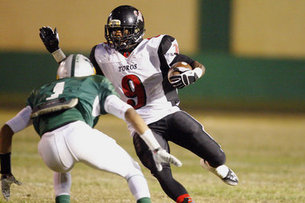 6'1", 185 lbs., 4.32 40-yard (247sports)
Rivals rating: Not rated
Scout rating: 3-star
247sports rating: 4-star
It seems like everybody has Deon Johnson (listed as an athlete) pegged to play wide receiver at the next level, but at the moment Alabama is stacked with receiver talent (though the 2013 class may be a bit slim).
What they need, and always have needed, are more cornerbacks. Nick Saban has gone to the junior college ranks quit a bit lately to get corners.
Nick Saban saw something special in this young man, and it likely had a lot to do with his ridiculous speed.
To me, it looks like Saban is eager to groom this guy into a fine Alabama cornerback.
He already has great size, in terms of both height and weight, and that can only get better.
With his speed he would be an excellent addition to Alabama's secondary, and I'm certain he'll get more than one look in the return game.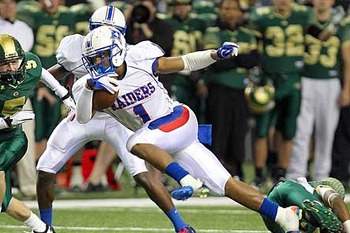 5'9", 197 lbs., 4.57 40-yard
Rivals rating: 4-star
Scout rating: 4-star
247sports rating: 4-star
On paper, Tyren Jones doesn't seem all that impressive, but the paper can often lie. Jones is one heck of a running back.
He is rated as the No. 1 running back in Georgia, and Nick Saban had no trouble stealing him away from the Bulldogs.
He's not the biggest nor the fastest running back in the world, but his incredibly compact frame allows him to shift and wiggle with the best of them and makes him difficult to tackle, much like Barry Sanders.
With his physical measurements he doesn't seem to have great potential at first glance, but neither did this guy (Scout.com).
He'll make a fine Alabama running back.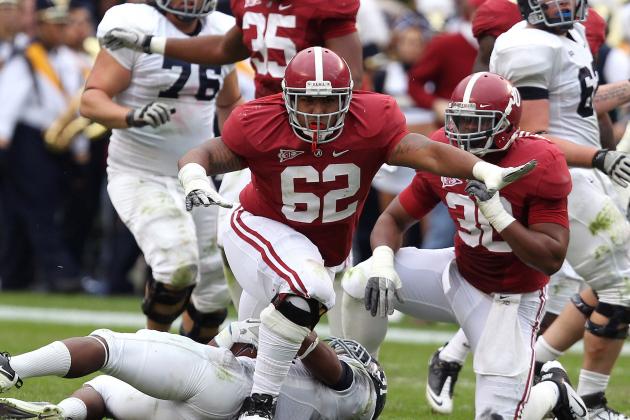 Mike Zarrilli/Getty Images

6'4", 292 lbs.
Rivals rating: Not rated
Scout rating: Not rated
247sports rating: 3-star
Try as I might, I was unable to find a photo of Darius Paige that had more than three pixels. So, I thought I'd use a current Crimson Tide player (Brandon Ivory) that Paige reminds me of greatly.
Paige is in the exact same situation that Brandon Ivory was in not too long ago.
He's a relative unknown, but he has a certain potential that Nick Saban saw. And, like Ivory, he's likely to turn into a player both that fans and coaches are quite curious about.
He could certainly do well to add some weight, especially if he ends up strengthening the nose tackle depth, but I think he could perform well as an Alabama defensive end, too.
He's got some penetrative power, and last season he registered 97 total tackles, 3 sacks, and forced 3 fumbles from a defensive tackle position (where tackles can be hard to come by).
Not bad for a guy that most coaches have never heard of. When Nick Saban and company are done with him, the rest of the SEC will be wishing they had offered him first.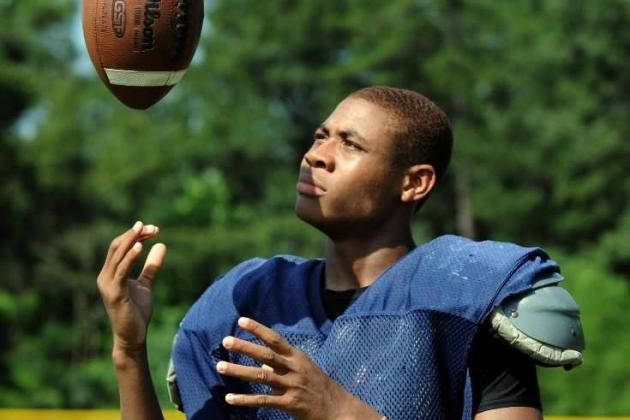 6'1", 185 lbs., 4.4 40-yard
Rivals rating: 4-star
Scout rating: 4-star
247sports rating: 4-star
Like Deon Johnson, ArDarius Stewart is expected to play wide receiver at the next level, and for good reason.
He's quite speedy and elusive, and he plays quarterback in high school. He knows about route timing and all the intricacies of what a wide receiver looks like on the field to a quarterback.
But I'm not so certain about him playing wide receiver.
This guy's size and speed would make for an ideal cornerback in Nick Saban's system, and he has excellent ball skills.
And by excellent, I mean he hauled in 10 interceptions in 2011.
Stewart is a quarterback, and it takes one to know one. He knows how to read quarterbacks and break on the ball to make big plays.
As stated before, Alabama's current receiver corps is incredibly ripe and young. The team needs more depth and youth at cornerback.
His future position is too close to call, but I'm leaning towards defense.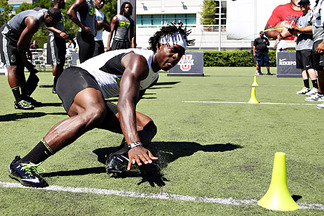 6'0", 203 lbs., 4.42 40-yard
Rivals rating: 4-star
Scout rating: 4-star
247sports rating: 4-star
Alabama doesn't have a 5-star running back this year, and likely won't land one before the recruiting season is over. However, they really don't need one.
Assuming that Altee Tenpenny and Tyren Jones both stay committed, they will have a great future as a running back duo that fills opposing defenses with terror.
He's got much better overall size than Jones, but Tenpenny has outstanding vision as well. Patience and the ability to hit the open hole in that split second is more important for a running back than speed and strength, though those also help.
All Tenpenny really needs to work on is his pad level when running to reduce his center of gravity. After that, it's just some weight room and time on the practice field.
Tenpenny is a complete back and I fully expect him to take the same path as the Tide's newest running back, T.J. Yeldon.
He will start his junior season as a 4-star prospect and be heralded as the best of the best by the time national signing day comes along.