Would the Lakers Have Won a Title with Chris Paul?
May 22, 2012

Harry How/Getty Images
Now that the Los Angeles Lakers have been eliminated from the postseason, it's the perfect time to look back on the season and ask what if.
There are so many questions the Lakers can go back and say what if this went our way?
But perhaps no what if question could define the 2012 season for the Lakers as much as would the Lakers have won a title had David Stern not nixed the original Chris Paul trade.
I think it's safe to make the assumption that at a minimum, they would still be playing.
For those that don't remember what went down before the season began, the Lakers, Houston Rockets and New Orleans Hornets agreed in principal to a trade that would have sent Paul to the Lakers, Pau Gasol to the Rockets and furnished New Orleans with three solid NBA players in Kevin Martin, Luis Scola and Lamar Odom.
In addition, the Hornets would have received an up-and-coming guard in Goran Dragic and a 2012 first-round pick that Houston had acquired from the Knicks.
Of course, David Stern nixed that trade, and Paul ultimately ended up with the Clippers, but how would the Lakers have fared in 2012 if Paul would have been in a Lakers uniform?
It would have filled a season-long weakness at the point guard spot for sure.
While the Lakers would have had to account for the loss of the outstanding production from Gasol (17.4 PPG, 10.4 RPG), they also would have been able to phase out lousy output of Steve Blake and Derrick Fisher in favor of Paul's phenomenal numbers (19.8 PPG, 9.1 APG).
There also wouldn't have been a Ramon Sessions trade, as Lakers fans wouldn't have had to watch him struggle in the postseason.
Reverse all the trades that happened after the Paul trade was nixed, and you would have to like the Lakers chances.
Sure, they would have lost that valuable length in Gasol, but replacing it with a point guard such as Paul that had an MVP-type season, the Lakers would probably be better off.
Paul could have been the facilitator the Lakers were in search of almost all season. He was that outstanding decision maker that could have got the Lakers into their offensive sets effectively and kept everyone involved in the gameplan.
He's also an outstanding defensive guard that likely wouldn't have been exposed by the likes of Ty Lawson and Russell Westbrook in the postseason.
Paul also has the ability to keep defenses honest with his scoring (48 percent field-goal percentage), and that was missing for most of the season on this team.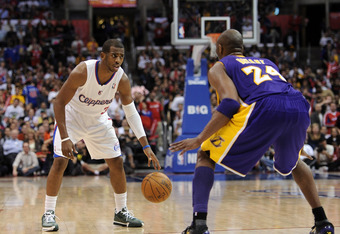 Harry How/Getty Images
To sum it up, the biggest weakness on the Lakers all season was at the point guard spot, and Paul could have turned that into a major strength.
How would the season have played out?
Who knows for sure, but it's safe to say the Lakers would have been better. Would Paul have made them nine games better in the standings considering that's how far behind San Antonio in the Western Conference standings?
That may be pushing it, but the Lakers would have probably competing for the No. 1 seed.
As far as winning a championship, though, I'm going to have to say no.
Gasol's length would have been hard to replace, and who knows how Kobe Bryant would have reacted to a point guard that needs to dominate the ball?
There still would have been a depth issue that a Paul trade wouldn't have addressed.
So while a Paul, Kobe and Andrew Bynum trio could be potentially dominant the next few years, I'm not certain it would have produced a title this season.