NBA Draft 2012: Why Jared Sullinger Will Be a Better Rookie Than Anthony Davis
May 23, 2012

Nick Laham/Getty Images
In the 2012 NBA Draft, Anthony Davis, out of Kentucky, will be the first overall pick.  Jared Sullinger, of Ohio State, will land somewhere in the top 15.  Even though Davis will be the much higher pick, Sullinger will have a greater overall impact as a rookie.
In no way does this mean that Sullinger will have a better career.  It doesn't necessarily mean that Sullinger will even be the Rookie of the Year.  All this means is that, in the coming season, Anthony Davis will not fare as well as Jared Sullinger.
First off, Anthony Davis really is a beast defensively.  His outrageous length will allow him to have an immediate impact on the defensive end of the floor for whichever team receives the first pick.  Davis will likely lead all rookies in blocked shots this season, but it will take time for him to develop his overall game and reach his vast potential.
Jared Sullinger, on the other hand, comes into the NBA Draft already close to his full potential.  That potential is certainly not as high as Davis', but it's still high enough that he should be a star in the league.
There are three main reasons that Sullinger will have a better rookie season.  Right now he has a much more advanced offensive skill set than Davis, he has a much more NBA ready body and last, but not least, Sullinger has much more experience than Davis.
Jared Sullinger is mainly thought of as a dominant force in the low post, which he is.  His ability to use his body, mainly his large rear end, to clear out space and establish position in the post is advanced well beyond his years.  Once he has the ball in the post-Sullinger has also proven to be an adept passer as well as a strong finisher at the rim.  Davis has some solid post moves as well, but his long and thin frame does not scream NBA post player just yet, he will have to fill out in order to make more of an impact offensively.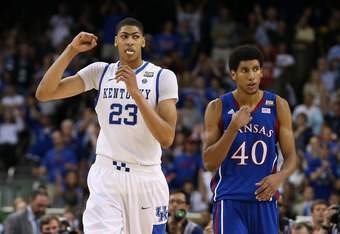 Jeff Gross/Getty Images
Beyond playing in the post Sullinger also has developed a dependable turn-around jump shot and is able to venture out and knock down the occasional three-pointer.  Anthony Davis is also a solid shooter for a big-man, but at this point Sullinger's inside-outside presence on offense is much more intimidating than Davis'. 
Beyond having two full years of college experience under his belt (compared to Davis' one year), Sullinger has also experienced more of the ups and downs that come with playing basketball at such a high level.  Davis' Kentucky Wildcats only lost twice all season, once in non-conference play against Indiana and once in the SEC tournament against Vanderbilt.  The loss to Indiana meant nothing in the long run, and the loss to Vanderbilt, while painful for the Wildcats, was not the end of the world.  Davis had as easy a run as he could have hoped for in college as he played on an absolutely dominate team.  
Sullinger, on the other hand, experienced heartbreaking losses on the biggest stage to finish both of his seasons in Columbus.  As a freshman the top-seed Buckeyes shockingly fell to the four-seed, which happened to be the Kentucky Wildcats (pre-arrival of Davis and his uni-brow), in the Sweet-16.  As a sophomore the Buckeyes lost in the Final Four to the Kansas Jayhawks.  These losses, while painful, will help Sullinger adjust to the NBA because he knows how to handle winning, as well as losing, while Davis never experienced anything of the sort in college.
Since both players will likely land on teams that will not make the playoffs next year, they need to be prepared to play for a team which is not going to win the majority of their games right away.
Again Anthony Davis will be the No. 1 overall pick in the 2012 NBA Draft, and have the better career, but Jared Sullinger will use his offensive skills, NBA-ready body and superior experience to have the better rookie season.