Manny Pacquiao: PacMan Will Knock Out Tim Bradley in Early Rounds
May 22, 2012

Stephen Dunn/Getty Images
Manny Pacquiao will prove his dominance by knocking out Tim Bradley in the early rounds of their fight on June 9 by unleashing a fury of punches right from the start.
PacMan is a better fighter than Bradley and will use his agility and quickness to give Bradley repeated shots to the body in an effort to tire the American fighter.
Pacquiao will be able to use his speed to boost his effectiveness, as well. Bradley doesn't have the power or stamina to withstand an early onslaught from PacMan.
If Pacquiao can damage Bradley's confidence in the first few rounds, this fight will end very quickly. Bradley knows he's overmatched, but being dealt a wake-up call in the first few rounds could prove costly for him.
If Bradley takes a number of punches to the chest early, he will tire to the point where he will become vulnerable to a knockout blow from Pacquiao.
With Floyd Mayweather dominating the boxing headlines recently, PacMan will be eager to get back in the spotlight.
Money May had a strong performance against Miguel Cotto earlier this month and showed why he's the best fighter in the world with a victory after 12 intense rounds.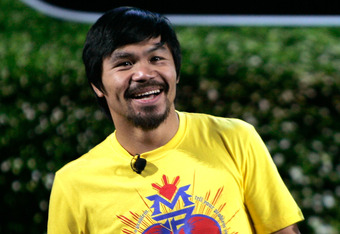 Mike Lawrie/Getty Images
Pacquiao will be eager to prove that he is the best boxer on Earth with a convincing performance against Bradley.
An early-round knockout for PacMan would help prove his dominance and prove to Mayweather that the two of them need to set up a date for a mega fight.
Expect Pacquiao to come out strong against Bradley and destroy him with several strong opening rounds.