Didier Drogba: Ivorian's Exit from Chelsea a Fitting End to a Triumphant Tale
May 22, 2012

Laurence Griffiths/Getty Images
Rare is the occasion that the world of football bears an ending as befitting a storybook as the one that Didier Drogba penned for himself, and for Chelsea, in the UEFA Champions League final against Bayern.
There was the low of Drogba's foul taken on Franck Ribery in the box in extra time. There were the highs of Petr Cech's save on Arjen Robben's penalty kick shortly thereafter, and Drogba's header off a beautiful set piece to equalize just moments before, in the 88th minute.
And, of course, there was the final penalty kick after extra time, the one that secured Chelsea's first-ever European title of any kind.
All of which came just two weeks after Drogba put through a goal against Liverpool that proved to be the difference in the Blues' FA Cup final victory.
It's only fitting, then, that Drogba should ride such a picture-perfect finish out of Stamford Bridge and into the sunset, wherever that may be. He'll be out of contract at the end of June and already has his sights set on the next chapter of his career, perhaps in China with former teammate Nicholas Anelka at Shanghai Shenhua.
Which, in itself, is fitting. After all, Drogba has done so much for Chelsea and is so tightly embedded in the club's history—winning four FA Cups, two Carling Cups, three English Premier League titles and now the Champions League—that it's only sensible for him to be with the Blues at every step along the way.
His journey to 100 goals in Premiership play (and 157 across all competitions) began as a £24 million transfer at the dawn of the Jose Mourinho era in North London in July of 2004. At the time, that made Drogba the most expensive striker in the history of English football.
An expense that the hulking Ivorian rewarded with silverware in each of his first three seasons at Chelsea, and six out of eight overall.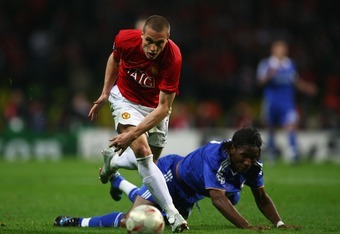 Alex Livesey/Getty Images
Not that Drogba's tenure at Chelsea has always been such a dream. He had a dubious hand in the Blues' most crushing Champions League moments—a red card for slapping Nemanja Vidic in a loss to Manchester United in the 2008 final and a six-game European ban for berating a referee during a semifinal failure to Barcelona the very next year.
Drogba's latest triumph will never erase those moments from the history books, though they will ultimately serve to redeem Didier in the annals of Chelsea lore.
A lore that he had such a strong hand (and foot) in shaping and of which he'll always be a part, no matter where the football may bounce.