L.A. Kings vs. Phoenix Coyotes Game 5: Live Score, Analysis and Reaction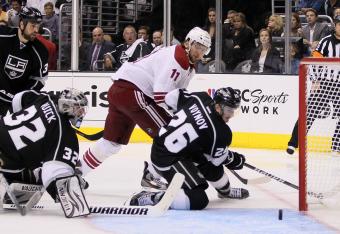 Jeff Gross/Getty Images
The Los Angeles Kings and Phoenix Coyotes will meet in Game 5 of the Western Conference finals, with the Kings up 3-1 in the series. The 2012 NHL playoffs have been a surprise in the Western Conference, with the Coyotes and Kings in the conference finals after being questionable to even make the playoffs in the months leading up to the postseason.
Tonight will mark the second time that Los Angeles has played a Game 5 this playoff season, winning in five games over the Vancouver Canucks and sweeping the St. Louis Blues in the second round.
But this series, although very similar to the Kings' first two series, went a completely different way in Game 4. The Coyotes shut out the Kings, 2-0, with a strong effort from goaltender Mike Smith and two goals from captain Shane Doan.
The Coyotes will need another strong effort from Smith if they have any chance at keeping their season alive and preventing the Kings from advancing to their first Stanley Cup Final since the Wayne Gretzky era.
Tune in to Bleacher Report tonight for continuing coverage of this Game 5 showdown, as I will be keeping you up to date with highlights, reactions and period-by-period breakdowns. I'll be keeping you up-to-date leading up to, and during, the game, so keep it tuned right here for more updates.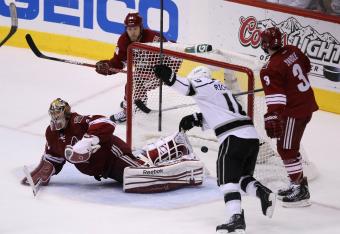 Thanks for tuning in to tonight's game, and for more playoff coverage tune in to Bleacher Report.
For more article updates from me, Follow @isaacesmith91
Hope you enjoyed tonight's game if you were watching, Game 5 of the Rangers-Devils series is tomorrow night in New York, start time is 8pm ET.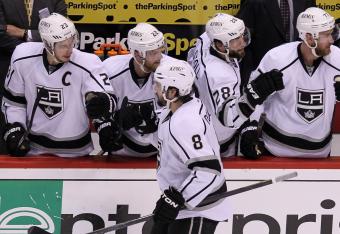 The Kings now move to 8-0 on the road, and have only lost two games in the first three rounds of the playoffs.
If the Kings sweep in the Stanley Cup Finals (still a big if right now), they would be tied for best team record wise in Stanley Cup Playoff history since the NHL moved four rounds and 16 wins to win the Cup.
They would tie with the 1988 Edmonton Oilers that went 16-2.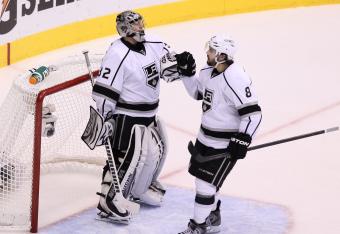 Jonathan Quick and Dustin Brown have really upped their anti on the Conn Smythe Trophy, but Brown might have drawn the ire of voters with that hit.
Rozsival had played a fairly solid game up until that point, despite not factoring in on the score sheet.
His loss clearly distracted the Coyotes enough, as Dustin Penner was left wide open in the slot when he scored the game winner.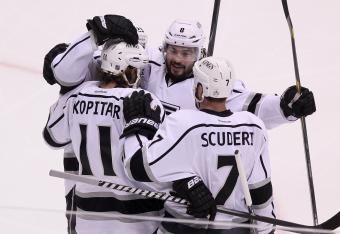 Really tough way to end the season for the Coyotes, but give the Kings credit, they were the better team in this series.
Unfortunately, the Coyotes just weren't good enough in front of their goaltender, Mike Smith.
Ironically, Dustin Brown comes over take a picture with Bill Daly, but doesn't touch the Campbell Trophy.
Kings will take on the Devils or the Rangers on the road, a week from tomorrow.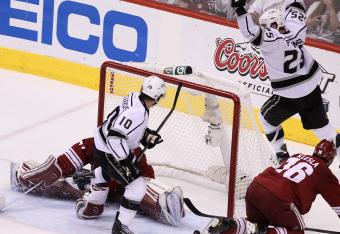 Kings score!
4-3 in overtime, Dustin Penner scores the overtime goal to win.
What a rough way to end for the Coyotes, this handshake line is taking a long time because of the Dustin Brown hit on Rozsival.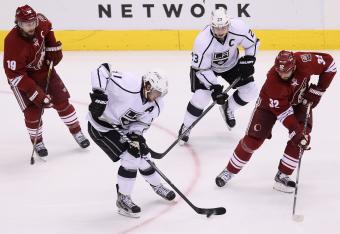 Massive pileup at the line.
Michal Rozsival just took a big time knee from Dustin Brown.
Guess who will be hearing from Brendan Shanahan tomorrow.
Rozsival is leaving the game with heavy assistance from the trainer, looks like a knee or lower thigh collision.
The collision happened after the whistle so Rozsival wasn't expecting it.
Phoenix seems to be dominating the face-off circle 11-5, but they're very lackadaisical in their defensive zone coverage allowing fantastic opportunities for the Kings on odd-man rushes.
Mike Smith continues to bail his team out.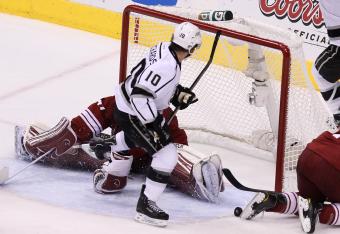 The Kings are doing a fantastic job of killing this penalty and it just ended as Phoenix really could get nothing going.
Under 6 minutes to go in the game here.
Mad scramble here where Mike Smith lost his glove behind his net.
Some how, I repeat some how the puck did not get behind Smith and into the net.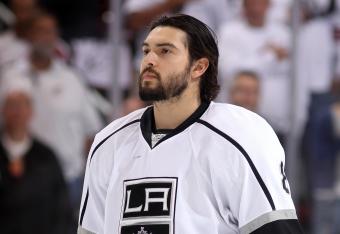 Doughty to the penalty box for interference, banging his stick on the ice emphatically.
He's very lucky that he didn't take an unsportsmanlike penalty, but Doughty did have a bit of a point as his stick was being held so it looked like he was interfering from the perspective of the back referee.
If ever there's a time for a big power play goal/penalty kill (depending on who you're rooting for) this is it.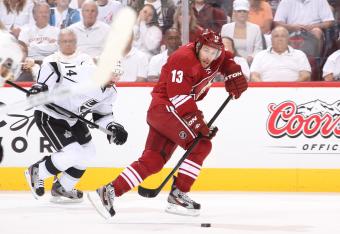 Story of this overtime (and this game) is Phoenix not being able to capitalize on their odd-man rushes.
A 2-on-1 became a 3-on-2 for Phoenix and they didn't even get a shot on goal out of it.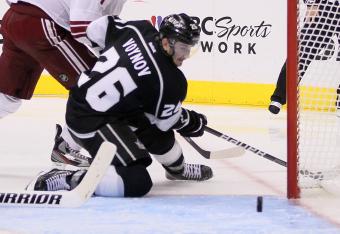 Strange play all around. Phoenix "ices" the puck, the icing is waived off.
Puck deflects off of Voynov's stick and over the glass on the apparent icing touch-up.
But the officials bring the face-off outside the LA zone.
Puzzling.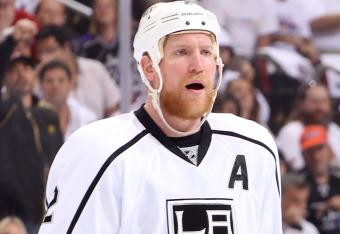 Tightly contested defensive overtime so far, every face-off and shot is so important.
An Matt Greene shot narrowly misses the back of the net and hits the side of the net instead. Mike Smith never saw the shot.
Phoenix fans here are livid at the lack of apparent calls on Los Angeles.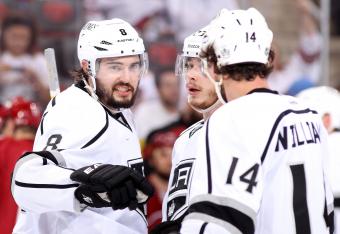 Coyotes kill the power play, overtime continues here between Phoenix and Los Angeles.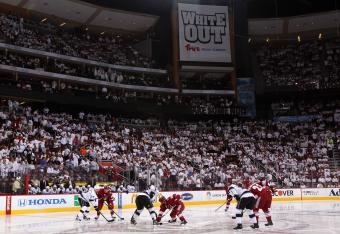 Period analysis:
So here we go.
Phoenix needs a goal to force a game 6. If the Kings score, their next game will be in the Stanley Cup Finals.
The Kings have the power play going into overtime and although their power play goals have been far and few in between, it's not about how bad the power play has been, but more instead about how clutch the timing of it has been.
The Kings beat the Canucks in Game 5 of their first round series on an overtime winner and they seem to have the advantage as far as quality of forwards goes.
Both teams are hurting especially Mike Smith who has taken a few shots off of his head.
The Coyotes really let off the gas pedal in the last minute of play and almost allowed the Kings to win it in regulation.
The shots are 39-35 after three periods and each goalie has been good when called upon, but both goalies have allowed goals that they would like back.
Soft defensive coverage by both teams, tightened up as the third period went on.
The Kings could end the Coyotes season here on the power play in the first couple minutes of overtime.
The Coyotes have also gone eight games in a row without scoring a third period goal.
They'll just have to hope they can score in the extra session(s).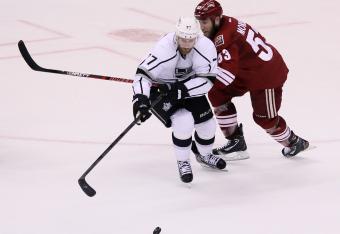 Oliver Ekman-Larson loses the icing race to Dustin Penner and as a result, Derek Morris has taken a delay of game penalty with 26 seconds to go in regulation after Morris flipped it out of play.
We're headed to overtime!
Kings with 1:34 on the power play to start the overtime period.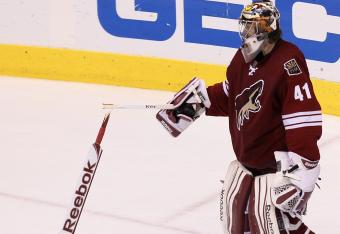 Mike Smith has taken three shots to the head, and stopped a huge chance on Mike Richards.
Less than a minute to go in regulation still tied at 3.
A wild scramble with less than two minutes to go and Mike Smith comes up big again with a big save on Mike Richards.
Three solid shots to Smith's head, I can imagine he'll be taking some pain killers after this game is done.
Just a minute to go in regulation now.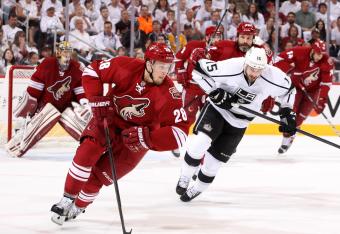 Korpikoski just missed a go ahead goal with 5:02 left in the third.
Korpikoski had the top shelf wide open, but he put it right off of Jonathan Quick's head and into the stands.
Wild scrambles back to back here with a Kings' player ending up in the Coyotes bench.
Fraser ended up in the bench off of a hit by Boedker.
Pretty sloppy play once again, time dwindling on the Coyotes before they have to go to overtime to try and win this one.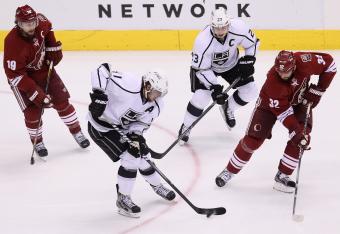 The third period continues on in a defensive stand off. The two teams have come to their senses and are blocking shots and clamping down defensively.
Coyotes with the shot advantage in this period 9-7, and the shots are 33-28 overall right now, but both goalies know their nights are far from done if this defensive standoff continues.
Under nine minutes to go here in the game.
Multiple big hits by both teams.
Martin Hanzal takes a dumb interference penalty, negating the two man advantage with a slew-foot on Kopitar in front of the net.
Senseless penalty for Hanzal.
4-on-3 for under a minute.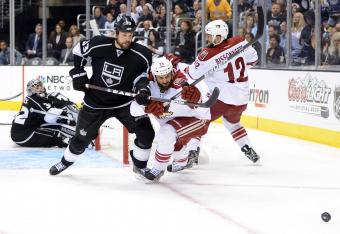 Doughty gets away with a hit from behind on Chipchura, but Jarrett Stoll high sticks his man and is headed to the box.
Then Andy Greene flips the puck out of play.
5-on-3 power play for the Coyotes. Big moment here.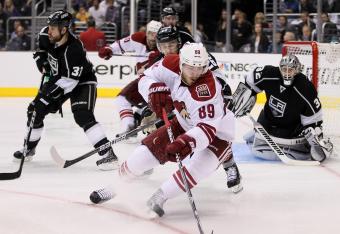 Coyotes kill the power play and have momentum back on their side.
Phoenix barely had to move on that power play as the Kings were very stagnant in their approach.
Boedker creates a great scoring opportunity for Vermette, but Quick says "no" with the glove.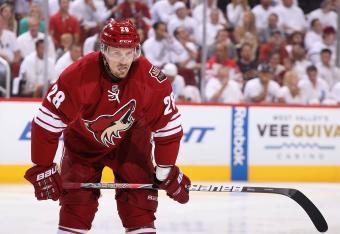 Korpikoski with the holding penalty less than two minutes into the third period.
Kings go back to the power play, searching for a go ahead goal.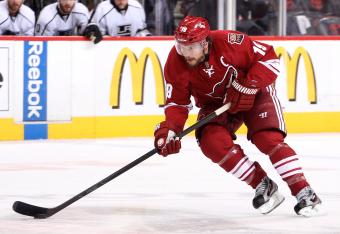 Start of period number three here in Phoenix.
Coyotes looking for their first goal in seven straight third periods.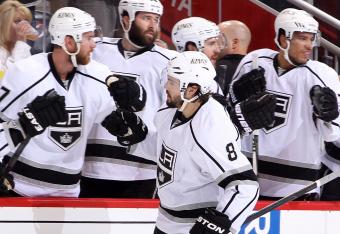 Period Analysis:
Sloppy period for both teams, but both teams have taken advantage offensively.
Lack of coverage in the slot defensively for both teams and both goalies have been unfortunate victims of their teams terrible defensive play.
The Coyotes were absolutely awful in front of Mike Smith.
Smith gave up two goals in the period, but he faced 20 shots in the second period alone and has faced 26 for the game.
Quick only faced 10 shots, but could not come up with a couple of goals that he likely wishes he had back.
Defensemen scoring has been a theme of this game as well: Yandle and Doughty are carrying their teams with goals.
This article is
What is the duplicate article?
Why is this article offensive?
Where is this article plagiarized from?
Why is this article poorly edited?