10 Players Who Must Win Training Camp Battles, or Be Labeled Busts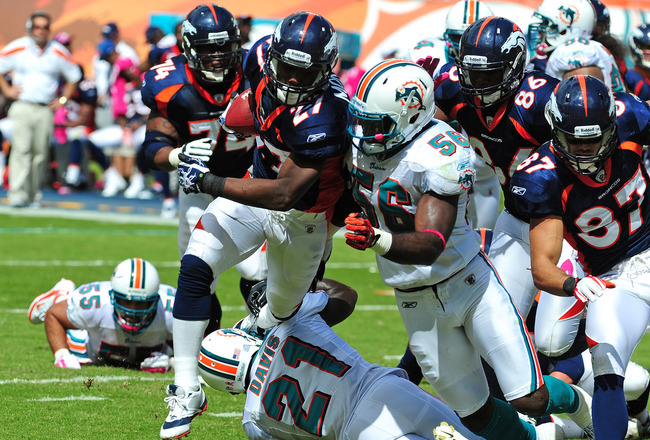 Scott Cunningham/Getty Images
Coaches and decision-makers may deny it, but the reality is that the higher a player is drafted, the longer of a "scholarship" he has to stay on an NFL team, regardless of his production.
Even if a player is cut by their original team, first-round picks will even get second chances simply because of where they were drafted.
Here are players that need to win a job in training camp to avoid the dreaded "bust" label.
Vladimir Ducasse, New York Jets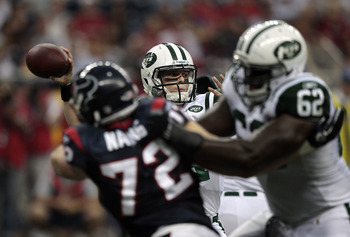 Bob Levey/Getty Images
As the Jets' second-round pick of the 2010 draft, Ducasse was supposed to battle Matt Slauson for the left guard job and eventually take over for Damien Woody on the right side of the line.
So far, Ducasse has done neither.
Slauson won the left guard spot without much difficulty, and Ducasse was unable to convince coaches that he was a better option than Wayne Hunter at right tackle. Based on Hunter's play last year, this is quite an indictment on Ducasse's lack of development.
Ducasse will get one last chance to win the starting right tackle job. If he cannot seize the opportunity, Ducasse's scholarship will expire and the Jets will cut ties with him sooner rather than later.
Armanti Edwards, Carolina Panthers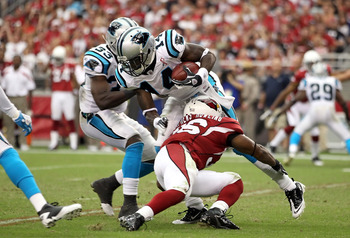 Christian Petersen/Getty Images
Because the Carolina Panthers traded a first-round pick to acquire Edwards, there was a lot pressure on him to convert from a quarterback into a quality wide receiver in a short amount of time.
In any case, Edwards has not turned out to be the dynamic weapon the Panthers hoped he would become.
After drafting Joe Adams in the 2012 draft, Edwards needs to start producing and win a starting job opposite Steve Smith in order to avoid becoming a bust.
Torrell Troup, Buffalo Bills
Rick Stewart/Getty Images
The 41st pick in the 2010 draft, Troup was supposed to be the answer to the Bills' run-stopping issues.
So far, Troup has struggled to stay healthy, and when is he on the field, he is largely ineffective. He averaged just 18 snaps per game as a rookie and totaled just eight tackles in all of 2011.
Troup will not win a starting job with Marcel Dareus and Kyle Williams in the middle of the new-look 4-3 defense, but if he has a good camp, he could get himself a role as a rotational player.
Working against Troup is the fact that he may miss the start of camp because he is recovering from back surgery.
To be blunt, if Troup was not drafted so high, he would probably be off the team by now.
Prince Amukamara, New York Giants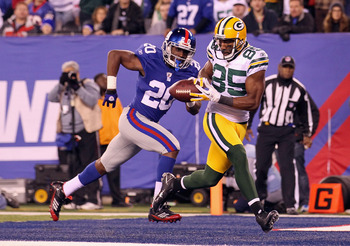 Nick Laham/Getty Images
While it is difficult to make quick judgements on a player based on just one injury-shortened season, New Yorkers are hardly known for their patience.
Prince will certainly have his hands full competing with Terrell Thomas for the starting job. If he should fail, he will also face some heat from Jayron Hosely to be the nickel cornerback.
Jerry Hughes, Indianapolis Colts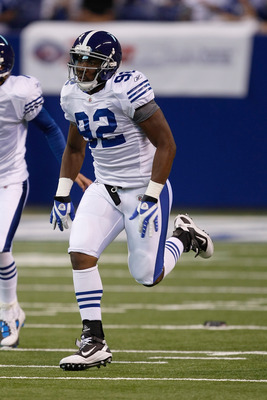 Scott Boehm/Getty Images
The Colts took Jerry Hughes in the first round of the 2010 draft in hopes that he could become an elite "third rusher" in relief of Robert Mathis or Dwight Freeney.
So far, that plan has not come to fruition.
Hughes has simply not been effective enough to get on the field, even on special teams.
Perhaps Hughes, who is listed at 255 lbs, will benefit from a transition to outside linebacker in the Colts' new 3-4 scheme. If he still cannot be effective, the new regime will have no qualms moving on from a player that they did not draft.
Joe McKnight, New York Jets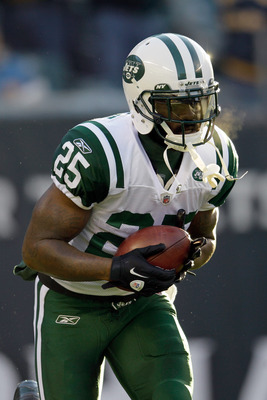 Rob Carr/Getty Images
Joe McKnight may have been an exceptional kick returner last season, but he had the benefit of running behind the best return-blocking team in football. Whether it was McKnight or Antonio Cromartie, the Jets had success returning the ball.
Meanwhile, while Joe had a great performance in a meaningless Week 17 game against the Bills in 2010, the coaching staff has not yet trusted him to take a more meaningful role in the Jets' offense.
With LaDainian Tomlinson out of the picture, this is McKnight's chance to break through and become a legitimate weapon as a third-down back. If he cannot seize this opportunity, it is fair to question if he ever will.
Taylor Mays, Cincinnati Bengals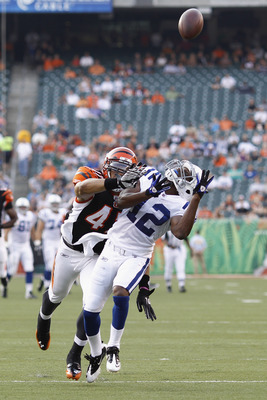 Joe Robbins/Getty Images
Coming out of USC in 2010, Mays enticed a lot of teams with his incredible combine numbers. Despite the fact that he lacked the basic fundamentals to be a quality safety in the NFL, he was taken in the second round by the 49ers.
Mays was traded to the Bengals after just one full season with the team, which indicates how much faith the 49ers had in him to become a starter.
After the Bengals released Chris Crocker, Mays was immediately penciled in as the starter. If he cannot hold off Jeromy Miles (and possibly George Iloka) from taking his job, he may not be able to salvage his disappointing career.
Kevin Kolb, Arizona Cardinals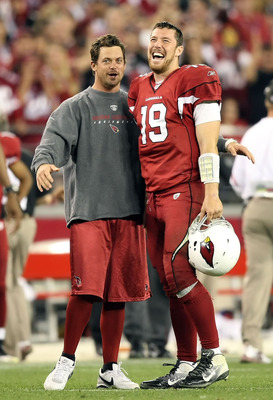 Christian Petersen/Getty Images
After giving him a $7 million roster bonus earlier this offseason, it is obvious that the Cardinals are still holding out hope that Kolb could be their quarterback of the future despite a disappointing 2011 campaign.
As bad as Kolb has looked at times, it is more concerning how John Skelton slightly outplayed him as he sat out with a concussion.
Arizona is going to give Kolb every chance to win the starting job in training camp, but if Skelton emerges as the clear-cut starter, Kolb will undoubtedly receive the "bust" label.
Michael Crabtree, San Francisco 49ers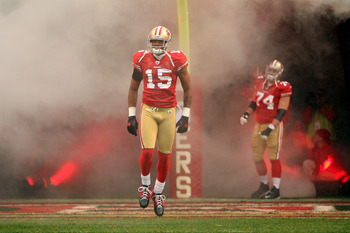 Ezra Shaw/Getty Images
A former top 10 pick in the 2009 draft, Crabtree has yet to live up to the hype.
Last year, he had just 874 yards and four touchdowns. Not terrible numbers, but not the kind of results you are looking for from a top 10 draft pick.
The 49ers responded with their lack of production at the receiver position by bringing in Randy Moss and Mario Manningham. They also used a first-round pick on A.J. Jenkins.
Crabtree will be the favorite to keep his spot, but with so much competition coming in, he will have to step up his game to keep his starting spot and avoid the "bust" label.
Knowshon Moreno, Broncos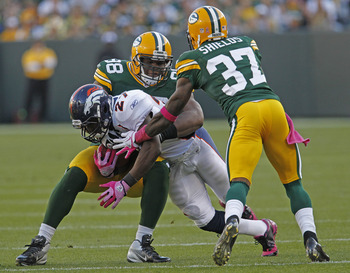 Matt Ludtke/Getty Images
Slowly but surely, Moreno is starting to ease his way out of favor in Denver. A first-round pick in the 2009 draft, the wideout has not produced at the level the Broncos were hoping for.
Moreno has yet to bang out a 1,000 yard season, and in seven games last year he had just 37 carries for 179 yards. Willis McGahee proved to be far more effective throughout the season.
Knowshon has also struggled to stay healthy, and has not played a full football season since his senior year.
Oh, and he was arrested with a DUI in Feburary.
The current Broncos regime was not responsible for drafting Moreno. As a result, they had no problem taking Ronnie Hillman in the third round of this year's draft, putting Moreno on notice.
If the running back competition is even close this summer, the Broncos may just decide to cut ties with Moreno.
Keep Reading