Russell Westbrook and the 25 Most Unguardable Players in the NBA Today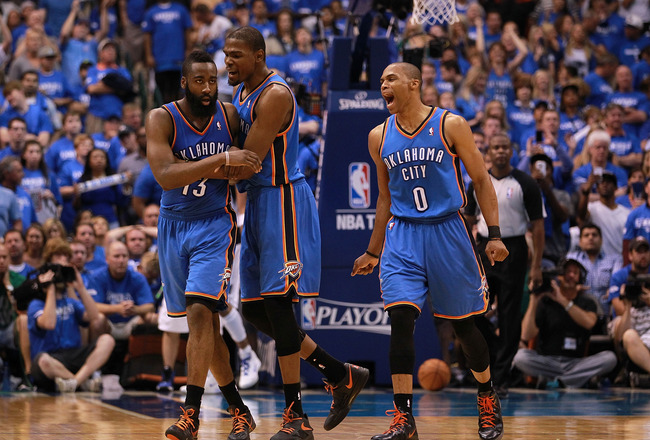 Ronald Martinez/Getty Images
It's not fair, but there are actually some NBA players who are unguardable.
That's right; there are players currently playing in the NBA who are next to impossible to stop in a one-on-one or even a team setting at times. It may seem unlikely for that to be true, but there are a few players who simply cannot be stopped. It's not the defense's fault, it's just the fact that the player cannot be limited by any means.
What makes a player unguardable? They could either be unguardable from a scorers standpoint or a passers standpoint. The scoring seems obvious, but the passing is a bit more complicating. What I'm attempting to convey is that the unguardable passer is so efficient at what he does that he ends up making his teammates just as unguardable as he is.
You'll see what I mean in a moment.
Most of these unguardable players, however, have the same attributes. They're all either quick, agile, athletic and/or know how to use their size to their advantage. As long as you're a player who goes through scoring bursts where you seemingly can't be stopped by any physical force, you will end up on this list.
Let's take a look at the 25 most unguardable players, which are ranked by order of how difficult it is to stop the player in question.
25. James Harden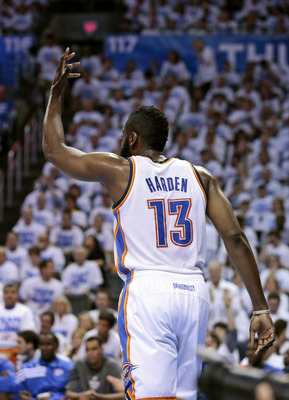 Brett Deering/Getty Images
If James Harden is comfortable as a sixth man, he and the Oklahoma City Thunder will win multiple titles, and it's extremely difficult to argue against that.
However, Harden is now coming into his own and realizing the type of player he is capable of being. He's not your everyday sixth man. He can either go the route of Manu Ginobili and continue to come off the bench in OKC or become a primary scoring option on a developing team looking to add a versatile scorer.
I hope Harden realizes that Ginobili has won three titles as a sixth man, because the work he's been putting in for the Thunder has been phenomenal over the past three seasons. He's the most recent recipient of the Sixth Man of the Year award—an award he won in a landslide—after averaging 17 points, four boards and four assists per.
He also shot a career-high 49 percent from the field and 39 percent from deep. The two three-pointers per he converted was also a career best.
Harden contains the special ability to play on or off the ball, which is saying a lot considering that he could easily play either the one or two. He's extremely athletic and creative on his drives and has one of the most feared jump shots in the league.
Oh, and he's 22 years old. It's going to be extremely interesting to see how his career pans out.
24. Roy Hibbert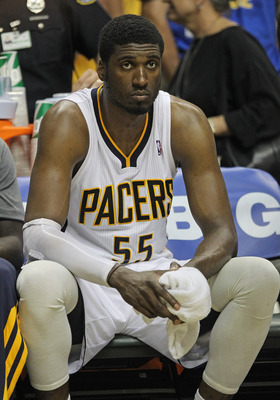 Jonathan Daniel/Getty Images
Not quite the tallest player in the NBA—Hasheem Thabeet holds that distinction at 7'3"—Roy Hibbert at 7'2" has quietly become one of the league's most effective offensive centers.
Hibbert has seen his point total rise yearly with this past season being his best after averaging nearly 13 points per game. He also managed to drastically improve his shooting percentage to nearly 50 percent—a year after he shot a mere 46 percent which is disappointing by a center's standards.
There have been plenty of players at Hibbert's size to take part in the NBA, but not many knew how to use the size.
Hibbert is getting a greater understanding of his size year in and year out. He has great footwork, a terrific back to the basket game and even a 10- to 15-foot jumper that's there to keep defenders on their toes. At only 25 years old, the sky is the limit for Hibbert, who will only continue to improve his offensive capabilities.
23. LaMarcus Aldridge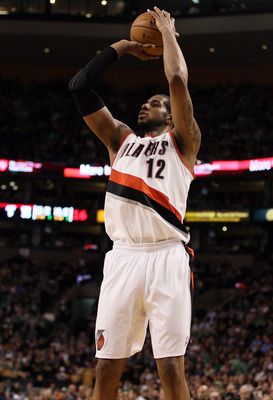 Elsa/Getty Images
It's truly a shame that the Portland Trail Blazers 2011-12 season had to end the way it did.
The Blazers shouldn't have been reduced to tanking. In fact, they should be contending for a championship at this very moment. However, when devastating injuries mix with bad luck, you find yourself taking and firing your coach who probably didn't deserve to get fired in the first place.
I hate to bring this up, but doesn't a team led by Brandon Roy, Kevin Durant and LaMarcus Aldridge sound really nice at this moment? Hell, Roy, Aldridge and Greg Oden would be even better because the Blazers would have a huge advantage in the middle.
Alas, that's not how things panned out. Luckily for the Blazers, however, they've been able to rely on Aldridge, who has quickly shot up the ranks as arguably one of the top power forwards in the league.
Aldridge is a strong and athletic big man with the footwork to thrive inside. On top of that, he has an excellent mid-range game that defenders must constantly be aware of. With the ability to score with his back or front to the basket, it shouldn't be an surprise that Aldridge is one of the top five power forwards in the league.
22. Marc Gasol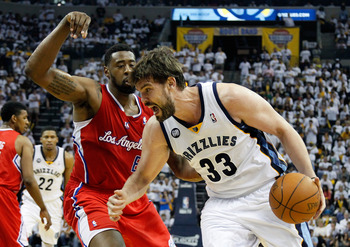 Kevin C. Cox/Getty Images
With his size, footwork and defense, Marc Gasol could easily become one of the NBA's top centers—if not, the best.
So, what's holding him back? He doesn't assert himself as much as he should and looks more to throwing up hook shots, instead of backing down and throwing down a slam from time to time. While there's absolutely nothing wrong with Gasol's offensive methods, he should be using his size more to his advantage.
Still, averaging 15 points this season isn't too bad for Gasol, who was coming off an excellent first postseason run. He's only in his fourth year, and even at 27 years old, Gasol still seems as if he's got plenty in the tank. While being physical may leave the games of players when they get older, Gasol will still be able to rely on his footwork and continue to thrive.
Gasol has some of the best in the league for a player his size and also has a decent mid-range game to accompany it.
21. Paul Pierce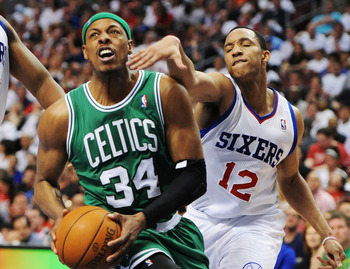 Drew Hallowell/Getty Images
Evan Turner either looks like he's jamming to some Isley Brothers, pretending to scratch some records or is doing the macarena and can't remember the words.
But back to the subject at hand, with that subject being 2008 finals MVP Paul Pierce, who surprisingly averaged more points per than he has in the past two seasons. The 19 points he posted up was the most since the 2008-'09 campaign and the near two three-pointers he posted up was his highest total since the 2007-08 season.
This Boston Celtics team is ageless. At 34 years old, Pierce is running the Celtics as if Kevin Garnett and Ray Allen were still in Minnesota and Seattle. This season was a complete change of pace from the past two seasons where it appeared that Pierce may finally be slowing up.
How badly we are mistaken. What we forgot is that Pierce is still an incredible jump shooter, especially in late-game situations, has great footwork and some untapped athleticism that he is still using to dunk over the top of members of opposing frontcourt's everywhere.
20. Chris Bosh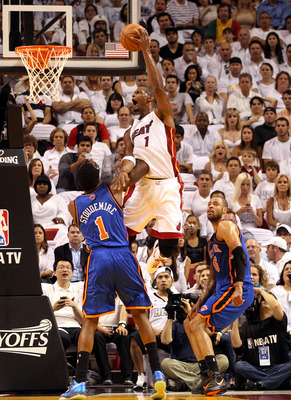 Marc Serota/Getty Images
It's funny how this whole Chris Bosh saga is going down.
Weeks ago, Chris Bosh was a source of hilarity as the Heat's biggest critics continued to rain down insults upon the power forward. The claims of him being soft and passive were relentless, and it's carried on ever since last year.
However, what happens when Bosh goes down? Suddenly, he's the most significant player on the entire Heat team, and there's no way the team can make a championship run without him. Without Bosh, the Heat were suddenly lost and could not survive without this player who's known as a passive competitor by the uneducated masses.
What they didn't realize is how important Bosh is. His versatility at the 4 is incredible and among the best in the league. His jump shot is on par with that of Dirk Nowitzki's, but he also has the quick first step and ball-handling skills to get to the rim. He's too quick for the majority of the league's power forwards or centers to keep up.
The Heat are struggling with the Pacers because they lost their most versatile player. Bosh is a big man who can help stretch the floor with his jump-shooting ability, which would lead to an open lane for James and Wade to drive and the ability to drive where he would excel against players like Roy Hibbert and David West.
19. Rajon Rondo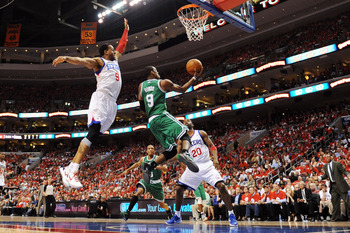 Drew Hallowell/Getty Images
You might be wondering as to why a player with absolutely no jump shot could be on this list.
I'm not taking just scoring into account. Aside from how well the player involves themselves as a scorer, I also throw in how well these players are able to constantly involve their teammates. Rajon Rondo is a perfect example of that because even though he isn't a good scorer, he still finds ways to score and involve his teammates.
Rondo's unguardable because he makes his teammates unguardable. He is so quick off the dribble and is so efficient at using the pick-and-roll to perfection that he's able to have a broad canvas to look at upon entering the lane. Once defenders begin to converge on him, Rondo begins painting his picture which usually ends up in an easy shot for one of his teammates.
Rondo's jump shot is horrid, but he still finds plenty of ways to score around the rim. He is an extremely creative player when he gets near the rim and finds ways to put in shots from impossible angles, which is a must, considering he has no other part of his game to rely on when it comes to offense.
18. Al Jefferson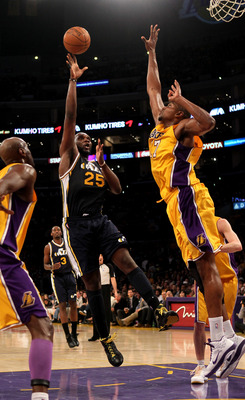 Stephen Dunn/Getty Images
If you want to watch the league's top offensive center go to work, take in a Utah Jazz game one of these days.
In a day and age where footwork from your big men are a practice from long ago, Al Jefferson is attempting to keep the era of gifted offensive centers alive. With two seasons of 20 points per game or more and this past season where he dropped in 19 per, it's safe to say that Jefferson knows what he's doing on offense.
Jefferson isn't athletic like Dwight Howard. Actually, he's undersized at only 6'10". Despite being unathletic and undersized, Jefferson is constantly finding ways to score around the rim thanks to his feet. The majority of Jefferson's points come off him using his feet in the post, pirouetting and scoring against defenders that will usually have a size advantage on him.
To top that off, he's also equipped with a solid mid-range game. Jefferson's shot attempts fall into the hoop as if they were a feather.
17. Tony Parker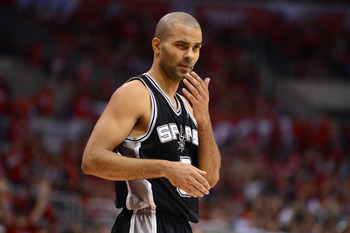 Harry How/Getty Images
We should all be disgusted with ourselves for not appreciating Tony Parker more this year.
With all this talk of Derrick Rose's injuries, Dwight Howard's drama or the Miami Heat, we completely missed seeing out on Tony Parker emerge as one of the league's top point guards. In fact, he is arguably the best point guard in the league at the moment after dismantling Chris Paul and the Los Angeles Clippers in a sweep.
If one elite point guard bests another elite point guard by way of a sweep, it should be safe to say that the winner between those two point guards should be dubbed as the top dog. I completely understand that this is a team game, but Parker flat-out had a better series than Paul.
Parker isn't athletic, you can't remember the last time he dunked, and he just shot 23 percent from deep, so what exactly makes him one of the toughest players to defend in this league?
An excellent crossover, for one. Parker is extremely quick and has great ball-handling skills. He's smart enough to know how to use his teammates, and he's also smart enough to know when to throw up that patented floater over the outstretched hands of 7' centers.
Parker may only be 6'2", but he's also constantly among the league leaders in points in the paint. In fact, he was at the top for half of the 2005-06 campaign ahead of guys like teammate Tim Duncan, LeBron James, Shawn Marion and Carmelo Anthony.
16. Steve Nash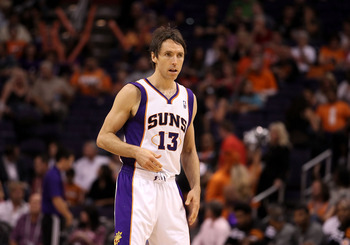 Christian Petersen/Getty Images
As far as I'm concerned, it's absolutely impossible to defend Steve Nash.
How do you stop him? He's Rajon Rondo with a pure jump shot that exceeds the three-point stripe. Let's also not forget that he has the court vision of Magic Johnson, excellent ball-handling skills and more creativity in his head than every reader of this article put together.
That's not an insult to you, dear readers, but more of a compliment to Nash and his ability to create plays where no other player would see it.
Nash's stats took a hit this year as he only averaged 13 points per, his lowest total since 2000, and failed to lead the league in assists for the third consecutive season. Of course, a little less than 11 assists per on a hodgepodge of a Phoenix Suns team is still incredibly impressive by itself.
Just think about that for a second. Nash averaged 11 assists per and nearly led a Suns roster where the second-best player on the team was Marcin Gortat to the playoffs in a tough Western Conference.
How could we also forget that he somehow tied a career-best 53 percent shooting from the field and 39 percent from deep? Everything Nash touches turns to gold, and the team that ends up picking him up next year will immediately become a playoff contender.
15. Kevin Love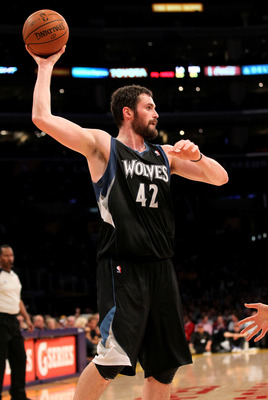 Stephen Dunn/Getty Images
Guarding Kevin Love one-on-one isn't the most difficult achievement to complete.
Love is still slow, doesn't have the greatest mid-range game and his footwork could still use some work. All of those aspects weighing against him, yet he just averaged 26 points per game and was a legitimate MVP candidate before injuries took their toll on his Minnesota Timberwolves. What exactly did we miss?
Love can be considered unguardable, however, because of how intelligent he is when it comes to grabbing rebounds. After leading the league in rebounds the year before at a little over 15 per, Love took a step back and managed to average a mere 13 boards. Four of those 13 boards were coming off the offensive glass, and that's exactly where Love excels.
When Love grabs his offensive rebounds, he's extremely quick to put it up. He doesn't give defenders time to react in order to regroup and block the shot. By the time they're back down on the floor, Love has already grabbed the rebound and made his easy layup. You're not sure how it happened, but it happened in such little time that you begin to ponder if Kevin has a time traveling device and managed to stop time in order to grab the board.
Love is also an excellent three-point shooter and recently shot 37 percent on nearly five attempts per. With his rebounding ability inside, the perimeter game and the always-improving post game, Love is already recognized as arguably the top power forward in the league at the age of 23.
14. Manu Ginobili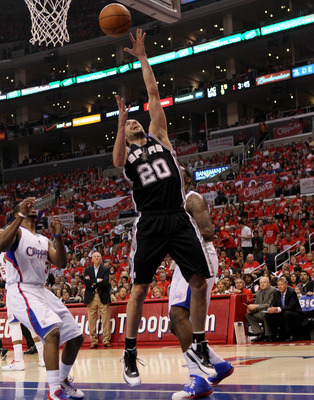 Stephen Dunn/Getty Images
When he isn't injured, Manu Ginobili is probably the third-best shooting guard in the league behind Kobe Bryant and Dwyane Wade.
Sadly, he's dealt with injuries over the past two seasons so it's taken away from his game. We haven't been able to see the incredible scoring prowess that we usually take in from watching Ginobili. His jump shot has still been on point, but his driving and ability to finish around the rim took a hit on account of the injuries and being 34-years-old.
Nevertheless, Ginobili is still finding ways to score and is still one of the most significant components on a team that has a strong chance at winning a title.
What separates Ginobili from so many other shooting guards isn't just his ability to shoot as well as he can drive, but how creative, crafty and intelligent of a player he is. Manu was one of the pioneer's of bringing the "eurostep" into the NBA, and it can now be regularly seen from any other player looking for an easy way to score without creating contact.
It's a shame Ginobili had to deal with injuries this year; he was shooting 53 percent from the field and 41 percent from deep in 34 regular-season games.
13. Deron Williams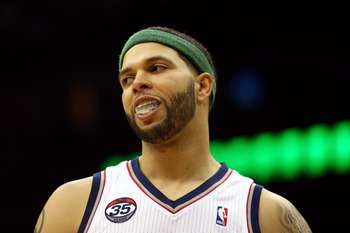 Chris Chambers/Getty Images
You may have forgotten about him once he jumped ship to New Jersey, but Deron Williams is alive, well and playing just as efficient as he ever has.
I think that 57-point game against Charlotte was enough to remind us why Williams is still arguably one of the best point guards in the league. Even if it was against the Bobcats, scoring 57 points is still an incredible accomplishment, especially for a 6'3" point guard on a team like the Nets.
In case you haven't heard, Williams actually averaged a career-high 21 points per game while also hitting a career-best two three-pointers per. His shooting percentages and turnovers per were in the tubes, but it's tough for any star player to get used to playing alongside MarShon Brooks and Kris Humphries as your best teammates.
What makes Williams such a nightmare to defend isn't just his jump shot which can extend out to the three-point line, but his strength. Yes, Williams is incredibly strong for a player his size and it gives him a considerable advantage over the smaller point guards of the league. Even with that strength, Williams still has the speed to keep up with just about any other point guard.
Oh, and he can do this.
Either New Jersey gets Dwight Howard or Deron plain leaves because it's not fair that he's wasting valuable talent on a horrible roster.
12. Monta Ellis
Chris Chambers/Getty Images
If Brandon Jennings stays with his current team, then the Milwaukee Bucks may end up having one of the most exciting teams to watch next season.
Didn't think I'd ever have to say that again, but that's what happens when you throw a high-volume scorer like Monta Ellis into a backcourt with another terrific scorer in Jennings.
Ellis has been long underrated as one of the league's top scorers. Even though he has a suspect perimeter game, Ellis still finds ways to score thanks to a quick first step, a surprising amount of athleticism and a solid mid-range game. Mostly, however, it's Ellis' ability to drive the lane and find ways to score around the basket in ways you didn't think were possible.
That's what Monta Ellis is good at—making things you thought were impossible, possible.
Ellis' numbers took a hit in the 21 games he played with the Bucks last year—he only averaged 18 points on 43 percent shooting—but he should be able to find ways to score on a Bucks team that is usually anemic in the offensive department.
11. Chris Paul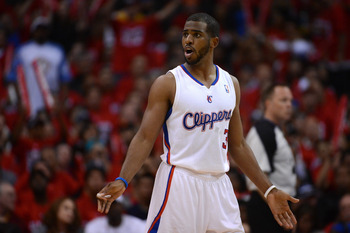 Harry How/Getty Images
It didn't take long for Chris Paul to get adjusted to his new surroundings with the Los Angeles Clippers.
Of course, it also didn't take long for Chris Paul to feel right at home by getting knocked out in the second round. By the end of the series, you could see it in his Paul's face how he wished that this team had a David West to pass to who can actually stretch the floor. Instead, he had Blake Griffin who won't be making any jump shots anytime soon.
Paul had a standout year with the Clippers, and it was enough to earn him third place in MVP voting behind LeBron James and Kevin Durant. CP3 averaged 20 points, nine assists and four boards, while also leading the league in steals per for the fourth time in five seasons.
While his defense is on another planet by itself, Paul's offensive capabilities are incredible to watch. There's no player in the game who has the appearance of playing more comfortable than Chris Paul when he has the ball in his hands. He's leading the offense, and the defense is simply following him and wondering what he'll do next.
Can you blame them? Paul has excellent ball-handling skills, can get into the lane with ease and has an excellent jump shot. He's as tough to guard him inside as it is to defend him outside, so as a defender you're really left hoping that he'll make a rare miscue.
Those odds are weighed heavily against you.
10. Andrew Bynum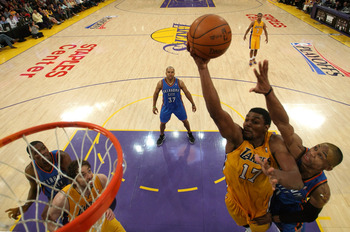 Stephen Dunn/Getty Images
In the present-day NBA, if you're tall and have footwork, the chances are likely that you are going to have an extremely productive career.
Andrew Bynum happens to be one of those players. He's a pure 7' with one of the longest wingspans you'll see. In the Lakers offense, all Bynum has to do sometimes is throw his hands in the air, grab the pass thrown to him and simply lay it in. I'm not sugarcoating it, either, it really is that easy sometimes, especially when Pau Gasol is throwing the passes in the interior.
Bynum recently played in his first full since the 2006-07 campaign and showcased tremendous improvement. He averaged 19 points, 12 boards and two blocks per, while showing off great feet in the post and an ability to hit a short jumper from as far out as 10 feet.
As long as Bynum stays healthy and continues to improve, he'll easily begin to rival Dwight Howard as the league's top center.
9. Derrick Rose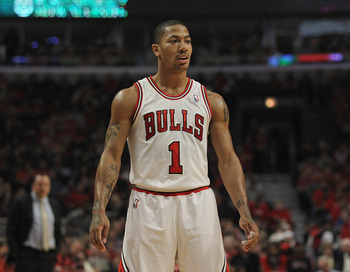 Jonathan Daniel/Getty Images
The Chicago Bulls may have been able to persevere through the regular season without Derrick Rose, but they were only a shell of themselves once they knew they'd be playing without him for the rest of the postseason.
It's only a year missed, and it was a dreadful one, at that, for the majority of the league. However, a torn ACL could be serious to a player like Rose, whose ability to cut and explode into the lane could be affected considering the wear and tear on the knee area.
Here's hoping that all goes according to plan, because it would be a tragedy if we were going to miss out on a 6'3" point guard dunking over power forwards and centers as if he was a small forward.
Rose's athletic ability is astounding by itself, but it's his quickness, agility and creativity that truly allows him to thrive as a scorer from the high-percentage areas. Even though his jump shot is suspect, he's added in a floater that's effective from as far out as 15 feet.
Defense's aren't wary of the floater, however. They're willing to give that up before Rose gets any sort of momentum in an attempt to drive to the rim.
8. Russell Westbrook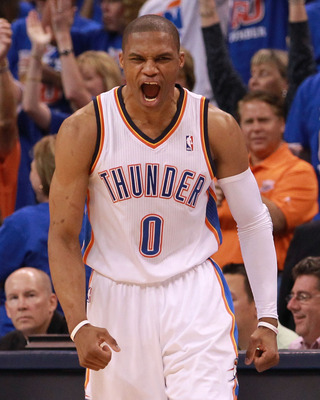 Ronald Martinez/Getty Images
Much similar to Derrick Rose, but with a jump shot, Russell Westbrook is quickly becoming one of the most feared players in the NBA to defend.
Why? Because he can dunk after only needing a few steps to get within 10 feet of the rim, has the agility to beat you off-the-dribble 10 times out of 10 and has the mid-range jumper to make sure that you're not always guarding your drive.
All of that and he's only 6'3" and 23 years old. Maybe LeBron James was talking about the Oklahoma City Thunder winning all those championships, because it seems more and more likely that this athletic bunch in OKC is capable of winning multiple titles over the next few seasons.
Westbrook will be there leading the way alongside his two superstar comrades. Russell's athleticism and vertical leap is absolutely astounding and is capable of dunking over defenders who are far larger than he is, such as Chicago Bulls center Omer Asik, who received a rousing spectacle of Westbrook's athleticism.
Everything about that dunk is insane. Westbrook started with the ball at the perimeter and only needed one dribble and a hop-step to get the leap needed to dunk over a strong center.
There are so few point guards in the league who can do that, have ever done that or will ever do that.
7. Dwyane Wade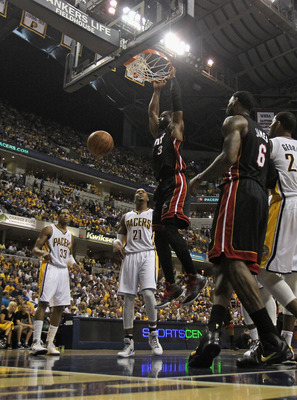 Jonathan Daniel/Getty Images
At 6'4", Dwyane Wade may spend more time in the paint than your average power forward or center.
Ever since Wade's jump shot went downhill on account of a few surgeries he required in 2008, he's made it a point to attack the rim at all costs. It's incredibly risky for a player like Wade. He's quick enough to avoid contact on his drives most of the time, but he will encounter some hard collisions between himself and someone twice his size.
That's why Wade needed those surgeries in the first place. He was playing with such reckless abandon going to the hoop that all the bumps and bruises eventually took a significant toll on his body. Wade may not even be in the league—he could have gone the route of Brandon Roy—if it wasn't for the successful surgeries and training that got him back into basketball shape the very next season after the surgeries.
Wade is extremely quick and has the athleticism to power it in over those trees in the middle, which explains why he's so effective at getting to the rim and finishing. Throw in the fact that he's incredibly strong and has an elite post game for a guard and you have one of the scariest players to take on in a one-on-one setting.
6. Dirk Nowitzki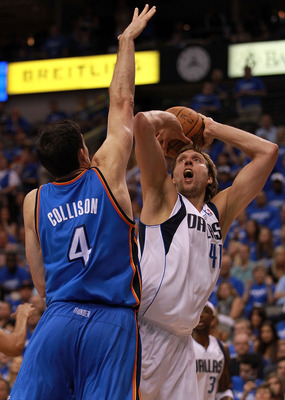 Ronald Martinez/Getty Images
What more is there to say about Dirk Nowitzki and being virtually impossible to defend.
Seriously, the only player in the NBA capable of stopping Dirk Nowitzki is Dirk Nowitzki. You're not going to affect his jump shot in any conceivable way, and playing physical isn't going to do much since it seems that Nowitzki actually practices shooting wayward, off-balance jump shots.
Nowitzki may have had a down year, but it doesn't take away from the decade's worth of shooting he had prior. He's been averaging at least 20 points per game since 2001 and has never shot below 45 percent outside of his rookie year. That's an incredible achievement for a power forward who shies away from physical basketball and doesn't play like a traditional big man.
Nowitzki was the first incredible big-man shooter and is the reason why you're starting to see so many big men attempt to add mid-range jumpers to their game. They want to be as prolific as shooters as Nowitzki. They want to be as feared as Nowitzki is when he receives the ball within half court. They want the respect that Nowitzki commands from as far out as 30 feet.
There's only one Dirk Nowitzki, however, so start taking it inside, Andrea Bargnani.
5. Carmelo Anthony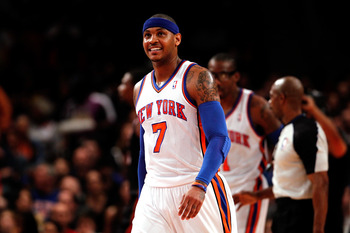 Jeff Zelevansky/Getty Images
With everyone already dubbing Kevin Durant as the league's best scorer, I don't think it's right that we have quickly forgotten just how prolific of a offensive threat Carmelo Anthony is.
Throughout his time with the Denver Nuggets, and in instances with the New York Knicks, Anthony has put on some of the greatest offensive displays you'll ever witness. The quick release on his jump shot, and the lift he gets on the shot attempt makes him nearly impossible to defend from anywhere. He can make a jump shot at any time and any place, which is a problem because he does it too much.
When he's not shooting lights-out, he's also capable of taking it inside and throwing it down. Anthony's athleticism isn't among the best in the league, but he has excellent footwork which makes him a huge threat down low in the post.
As good as Carmelo's game is when he's facing the basket, he's just as dangerous when he has his back to it, and that should be enough to give him an edge over Durant in the pure scoring department.
4. Dwight Howard
Sam Greenwood/Getty Images
As much as we drool over Dwight Howard's athleticism and stature, it doesn't seem to impress me as much as others because it seems like there's so much untapped potential.
After averaging 23 points on 59 percent shooting the year before, Howard saw his offensive stats take a minimal hit as it dropped down to 21 points on 57 percent. It's still impressive that Howard is maintaining his scoring output above 20 points per game, but it's also incredibly disappointing that Howard could not build off that 2011 campaign with a far more polished and refined game in 2012.
Instead, Howard was still incredibly limited from an offensive standpoint. He still has the running hook and the size to simply back down and dunk over someone, but he lacks the footwork and the consistent short jumper that would greatly expand his game.
As big as Howard is, he should be averaging far more than 21 points per against the centers he faces off with on a nightly basis.
3. Kobe Bryant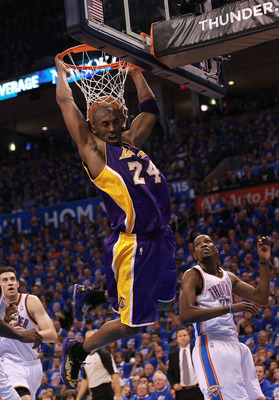 Ronald Martinez/Getty Images
Forget unguardable, Kobe Bryant finds himself on the level of unstoppable.
That is a level reserved for the all-time greats. A level occupied by the likes of Wilt Chamberlain and Michael Jordan. That's not to say Bryant is on the level of those two, it's more of a testament as to how difficult it is to defend Kobe when he is feeling it. Let's not forget that this is a guy who scored 81 points.
"But it was against Toronto, John!" It doesn't matter what team he was going against. Isn't scoring 81 points enough of an accomplishment?
Even today where Kobe is dealing with all sorts of injuries and ailments, Bryant still finds himself as one of the league's most feared offensive threats. Despite not having the type of athleticism and quick first step that allowed him to get to the rim with abnormal ease, Bryant is still scoring at a high volume, thanks in part to a mid-range game that is second-to-none.
Bryant is feared throughout the game, especially when it comes to the waning moments where he always seems to have foam dripping out of his mouth. It's probably a result of thinking how he's going to tear the heart out of his opponents and then holding it in front of him.
Grotesque, you say? That's Kobe Bryant basketball.
2. Kevin Durant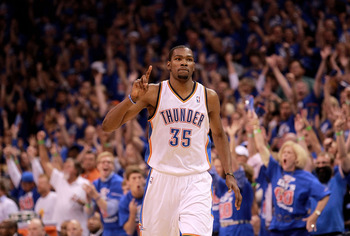 Ronald Martinez/Getty Images
The Oklahoma City Thunder, like the Miami Heat, have a big three composed of players that are nearly impossible to defend.
As good as Russell Westbrook and James Harden are right now, they can barely hold a candle to what Kevin Durant is capable of.
Durant is incredibly long and a lot stronger than he appears to be, which aids him on his drives. However, he'll restrict himself as a jump shooter too much. When Durant limits himself to a jump shooter, he's taking the versatility out of his game and allowing defenders to relax since they need not worry about a drive.
That would be bad and all, but Durant is arguably the best jump shooter in the league and is nearly impossible to defend. His quick release gives little time for defenders to react and his length makes his shot impossible to block. The silky smooth jump shot that Durant possesses is one of the most feared parts of any elite player's game, as it has unlimited range.
Also, that jump shot always seems to fall at the worst possible time for the opposition. It doesn't even matter that you restrict his drive and force him into a jump shot; the chances are still highly favorable that he'll end up making it anyway.
1. LeBron James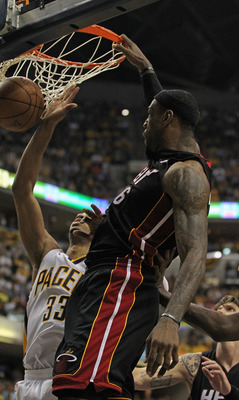 Jonathan Daniel/Getty Images
The definition of unguardable, LeBron James is as close as you can come to an NBA player being near impossible to defend.
James knows how to score points. By any means, LeBron is ending up in the scoring column and is ending up with 25 points by the end of the third quarter before you know it. You're not sure how it happened, but it happened over the course of James' mid-range jumpers, free throws and freight-train drives.
When you're built like a tank with the engine of a Ferrari, you're going to have an obvious advantage over just about every defender you take on.
In fact, there isn't one sole defender in this league that can boast being anything near a "LeBron stopper" of sorts. It takes a team, which explains why the Dallas Mavericks bested James in last year's NBA Finals.
Nevertheless, LeBron is just about as good as it gets. You attempt to cut off his drives, but once he gets his jump shot in working order, you may as well just call it a night and look on to the next game. LeBron is notorious for making elite defenders look as if they have never been on a basketball court before.
Keep Reading