Milwaukee Brewers 2012: Is It Time for the Fans to Start Panicking?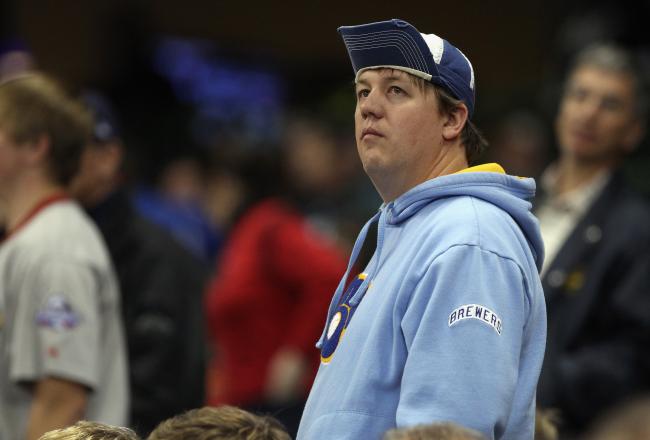 Christian Petersen/Getty Images
Last year, the Milwaukee Brewers looked like a Cinderella Story in the making: A small-market team with a big-time fanbase getting the headlines on ESPN and making noise around the MLB, and for all the right reasons. The One-Two Punch of Ryan Braun and Prince Fielder was the stuff of legends, nobody else had a better tandem in the league. The only tandem that could rival them was the other One-Two Punch in Milwaukee, set-up man Francisco Rodriguez and closer John Axford (or as they're known around the city of Milwaukee, K-Rod and the Ax Man). The team had a loveable and crazy fan favorite in Nyjer Morgan, not to mention that All-Star AND Home Run Derby participant over there at second base named Rickie Weeks.
So what happened this year?
For starters, we'll go with the obvious. The elephant in the room (and no that was not a poke at his size) was Prince Fielder. Everyone knew he was going to leave, the Brewers just didn't have the money to keep him. And why should they? They were already paying Braun a lot of money to play there, and being a small-market team, it doesn't make sense to throw all your money into two guys and hope the rest of the team just figures it out along the way. So they knew that Prince was going. But that shouldn't be of concern to them, the front office did an outstanding job in the offseason getting exactly what they needed.
With Jerry Hairston Jr gone, the team needed a third baseman that could actually get some offense going. Aside from his three-home run game last year, Casey McGehee was about as productive as a car with no gas stuck on the side of the highway. So the front office went out and signed two-time All-Star Aramis Ramirez. And it didn't stop there. The team added Alex Gonzalez at shortstop and put Mat Gamel at first base.
All looked to be right with the team, especially with Albert Pujols finding 240 million reasons to leave St. Louis; the Cardinals were no sure fire to win the NL Central. The Brewers looked poised and ready to make another deep run into the postseason and hopefully win back-to-back division titles.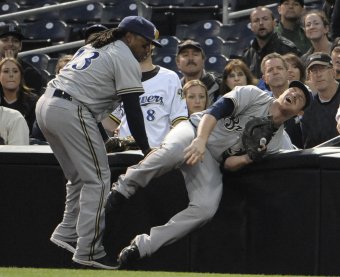 First Baseman Mat Gamel screams in pain as he hits his knee
Denis Poroy/Getty Images
However, things don't always go as planned.
Mat Gamel was playing above and beyond expectations, but the wall in Petco Park had different plans. MRI results showed that Gamel had a torn ACL after running into the wall trying to catch a ball, and would be out for the season.
So one player goes down, and a replacement is found. Life moves on, right?
Well, just four days later, the Brewers got some even more bad news. Shortstop Alex Gonzalez (who was batting .259 on the year with 15 RBI) also tore his ACL while sliding into second base, and No. 5 starter Chris Narveson tore his Rotator Cuff, requiring surgery and knocking him out for the year.
The problems don't end with injuries.
Rickie Weeks, the All-Star from last year is currently batting .155. John Axford, one of the best closers in the big leagues, currently has a 4.40 ERA and an 0-2 record. Set-up man Francisco Rodriguez has a 4.91 ERA and an 0-3 record, and the ace of the pitching staff Yovani Gallardo has a 4.62 ERA and a 2-4 record. Clearly, it's not all about injuries.
Yes, injuries do affect a team, there is no doubt. But there has to be a point where the blame game is stopped, and accountability needs to start. The players that were affected by injury won't be coming back this season, so the Brewers need to be realistic about what they can do to get back on the right track. This is certainly no time to panic, the Brewers at this time last year were also under .500. But the warning sirens are starting to go off. If things don't get fixed and figured out soon, it could be a long season for the Milwaukee Brewers and their loyal fans.
This article is
What is the duplicate article?
Why is this article offensive?
Where is this article plagiarized from?
Why is this article poorly edited?

Milwaukee Brewers: Like this team?