Preakness 2012 Results: Epic Finish Sets Incredibly High Standard for Belmont
May 22, 2012

Rob Carr/Getty Images
The 2012 Belmont Stakes is lucky to have a Triple Crown contender in its field because there is no way the race itself can live up to the finish of the 2012 Preakness Stakes.
Although absent of the pageantry of the Kentucky Derby, I'll Have Another's come-from-behind win over Bodemeister—for the second straight race—was one for the ages.
Bodemeister took to the lead out of the gate and looked like he was going to hold off the Derby winner, but jockey Mario Gutierrez reeled in jockey Mike Smith and Bodemeister to win the second leg of the Triple Crown.
Everyone expected the two horses to run together for the wire, but the drama they produced was the highest of calibers.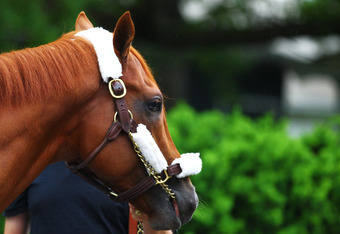 Al Bello/Getty Images
So with the Belmont looming, is there any chance the New York race can elevate its game to Preakness level?
Should I'll Have Another take the Triple Crown it'll be one to remember, but there are no horses like Bodemeister setting the pace and no one to truly challenge him in this race.
The biggest potential threats to I'll Have Another's run are all Derby runners; horses I'll Have Another's already defeated.
Dullahan, Union Rags and Alpha are potential starts, as is Derby and Preakness runner Optimizer.
These four, as well as one potential entry who did not run in the Derby nor the Belmont, Paynter, are considered to be the biggest threats to I'll Have Another, according to the odds on Sportsbook.ag.
"The Test of Champions" is a race designed for the closers—there will be no gate-to-wire winner here—and no horse has been better at that than the Triple Crown contender I'll Have Another.
When all is said and done, the Preakness will stand out as the most exciting race of this year's run.