Why Taylor Mays Will Have a Breakout Year for the Cincinnati Bengals
May 22, 2012

Joe Robbins/Getty Images
The Cincinnati Bengals have a hole to fill at starting strong safety after releasing Chris Crocker earlier this offseason. Though the competition is going to be fierce, it appears the job will likely go to Taylor Mays, who spent 2011 with the team after being traded by the San Francisco 49ers.
Mays entered the league with a lot of hype, but he has yet to show the skills that produced it. He'll get his chance as the likely Bengals' starter this year. Though Mays has been criticized for his relative lack of speed, he fits the prototype of a Bengals safety—larger, almost linebacker-sized, and terrifically physical—and as such, will have quite the opportunity to succeed.
The Bengals, like many teams in the league, will operate out of the big nickel defense (three safeties) with greater frequency this season in order to stop the recent upturn in two-tight end passing. This will play to Mays' strengths and allow him to have the kind of season he was projected to have when he entered the league in 2010.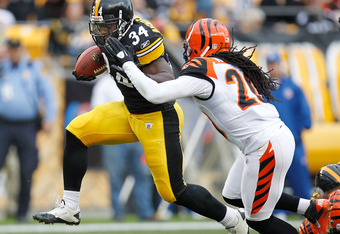 Gregory Shamus/Getty Images
Mays played about 60 snaps last season and missed time at the end of the season with hamstring issues. However, his development was evident last year and he should make a major impact as a full-time starter in 2012.
Playing alongside Reggie Nelson will be a major help for him. Nelson is the more dynamic safety, which makes him more effective in man coverage, but Mays' power is an excellent complement to Nelson. 
Mays didn't catch on in San Francisco because his skill set wasn't what they were looking for, but for the Bengals, he's perfect. The Bengals were high on Mays in the 2010 draft and managed to pick him up for a pittance last year with the goal of ultimately starting him.
With a home that suits him, Mays' potential will be maximized. With Mays and Nelson on the field this season, the Bengals will have quite the dangerous safety tandem highlighting their secondary.