Jared Sullinger: Highlights, Analysis and Pro Projections
June 13, 2012

Jared Sullinger is a solid low-post scorer, but his upside is hindered by some physical limitations. The sophomore forward led the Ohio State Buckeyes to a Final Four appearance this past season.
He averaged 17.5 points and 9.2 rebounds per game, leading the team in both categories. He is a thickly built, 6'9" post player, and he was very productive in both his freshman and sophomore years in college. He made himself eligible for the draft on April 4. 
Almost no one doubts Sullinger's skills or his desire, but there are some questions as to how he will fare in the NBA because of his lack of athleticism. ESPN's Chad Ford has Sullinger listed as the fourth-best PF in the draft.
I don't find that ridiculous, but I can easily see players like Arnett Moultrie vaulting over him because of their upside.
Here is a scouting report on Sullinger highlighting his strengths and weaknesses.
(Height, weight and stats per statsheet.com)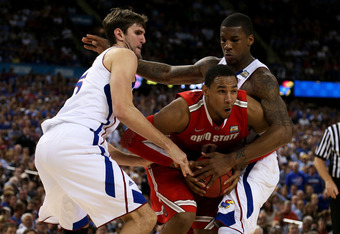 Chris Graythen/Getty Images
Profile
Height: 6'9"
Weight: 265 pounds 
School: Indiana
Date of Birth: March 4, 1992
Best NBA Position: Power Forward
College Stats (key stats italicized) 17.5 PPG, 30.4 MPG, 51.9 FG%, 40 3FG%, 76.8 FT%, 1.2 APG, 9.2 RPG, 1.1 BPG, 1.2 SPG
Skill Grades
Athleticism: C-
Size: C+
Intangibles: A
Rebounding: A
Ball Handling: B
Defense: B-
Shooting: A
Passing: A
Post Game: A+
Basketball IQ: A
Upside: C+
Strengths
Sullinger is strong as an ox, and he has great footwork. He understands how to get position, and he has a nice touch around the basket. He has the skills and width to be a solid low-post scoring threat.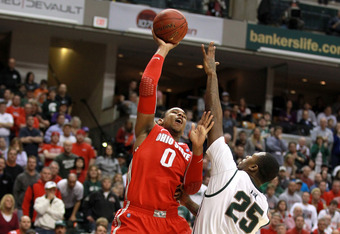 Andy Lyons/Getty Images
He uses that width to get great position for rebounding as well. He has long arms, and that is why he has been a productive rebounder. In his sophomore season Sullinger showed he had some range on his jump shot.
He made 40 percent of his three-point shots. He only took 40, but it will be a valuable weapon for him on the next level. He could be a trailing big able to stop at the top of the circle to nail threes. He should continue to develop this skill.
Sullinger is smart and unselfish. He is a willing passer from the post, he understands ball movement and team defense. 
The following video shows Sullinger doing work:
Weaknesses
Sullinger is far from an elite athlete. He has limited explosion in his first step and in his leaping ability. I also question whether he's actually 6'9". That is already right at the minimum height requirement for a PF, especially one that isn't explosive, but if he measures shorter, it will hurt his draft stock.
His lack of length, and leaping ability will make it difficult for him to excel against long and athletic bigs. In the NBA, he'll see plenty of guys with this combination. 
Because he is limited physically, Sullinger doesn't present much upside. He is what he is. He can and will be a productive payer, but I think anyone who believes he'll be an elite PF in the NBA is mistaken.
NBA Player Comparison
Ronald Martinez/Getty Images
Less Athletic Paul Millsap
Paul Millsap is an undersized PF who has made his career on hard work, strength, good footwork and a good jump shot. This is the exact path Sullinger can take to a successful NBA career. In Millsap's six-year career he has averaged 12 points and seven rebounds per game, but he's averaged 17 points per game in his last two seasons.
I wouldn't call Millsap an elite PF, but he is certainly a solid one. He is listed at 6'8", 245, and that is about where Sullinger needs to be. Millsap is in good physical shape for his frame; if Sullinger wants to duplicate Millsap's success, he could stand to drop 20 pounds.
It would help maximize Sullinger's potential; when you're not a gifted athlete you must stay in peak condition to get the most out of what you have. If Sullinger does this, he'll have a solid career.
Draft Projection
Late Lottery: Mid First Round
Follow Brian Mazique and Franchiseplay.net for reactions, analysis and news from the world of sports and sports video games.