17 NHL Coaches Past and Present Who Could Double as Comedians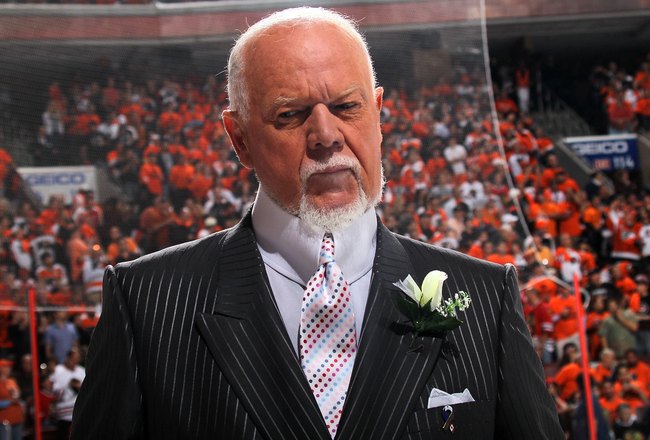 Bruce Bennett/Getty Images
The NHL has been fortunate to have many colorful coaches with a great sense of humor that makes them funny to watch and listen to.
Some coaches are sarcastically funny, while some just like to have a good time and joke around. Whatever their method of comedy, it makes for great entertainment.
Let's look at 17 coaches past and present who could double as comedians. If you know a coach I have not included here, please share it in the comments section.
John Tortorella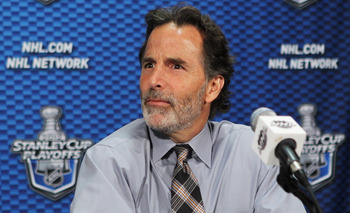 Bruce Bennett/Getty Images
John Tortorella isn't the funniest coach in the NHL, but his outbursts and temper tantrums would certainly make for great television.
Bruce Boudreau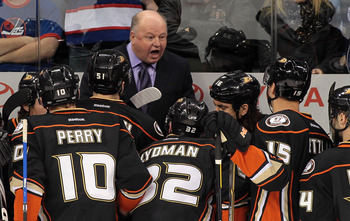 Marianne Helm/Getty Images
Now the head coach of the Anaheim Ducks, Bruce Boudreau was very funny on HBO's "24/7" series leading up to the 2011 Winter Classic when he was in charge of the Washington Capitals.
Alain Vigneault
The Vancouver Canucks head coach is a nice guy, an intelligent man and even likes to share a laugh during actual regular season games.
He would make a great comedian.
Lindy Ruff and Ken Hitchcock
Lindy Ruff and Ken Hitchcock are two of the more experienced head coaches in hockey, and they aren't afraid to speak their minds to reporters. Hitchcock also isn't afraid to get into a war of words with other coaches.
Jacques Demers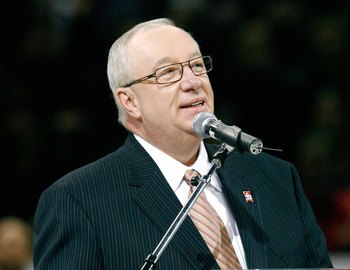 Richard Wolowicz/Getty Images
Jacques Demers is a very colorful guy, and was a talented NHL head coach as well. He wasn't afraid to crack jokes, including this one, "Trade Steve Yzerman? That's like asking me if I want to trade my son Jason for the kid next door."
Jim Schoenfield
Former New Jersey Devils head coach would be a great comedian, as evidenced by his "have another donut" remark towards an official during the 1988 NHL playoffs.
Paul MacLean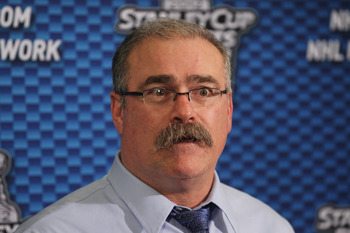 Bruce Bennett/Getty Images
Paul MacLean did a wonderful job with the Ottawa Senators this season, and is a very smart coach who would be able to write quality comedy pieces. His mustache would certainly add to his comedic repertoire.
Toe Blake
Former Montreal Canadiens coach Tom Blake was a very successful NHL coach, and he had a good sense of humor. He made reporters' jobs easy by giving colorful quotes.
Mike Milbury
Whether you like Mike Milbury, the former Boston Bruins head coach and current NBC analyst would be a good hockey comedian with his knowledge of the sport and willingness to speak his mind.
Terry Crisp
Joe Patronite/Getty Images
Former Tampa Bay Lightning head coach Terry Crisp was willing to joke about his team, and gave us this awesome quote, "The only difference between this and Custer's last stand was Custer didn't have to look at the tape afterwards."
Michel Therrien
Former Pittsburgh Penguins coach Michel Therrien isn't afraid to speak his mind, and that would make him a fine comedian.
Claude Julien
Claude Julien probably doesn't strike you as a funny coach, but he does have a good sense of humor and enjoys having a good time with his players.
Harry Sinden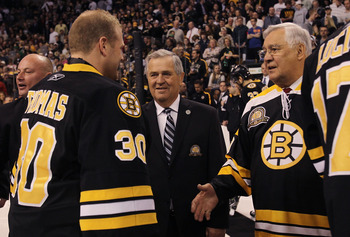 Bruce Bennett/Getty Images
Former Bruins coach Harry Sinden wasn't afraid to let his comedic side show, evident by his famous quote,"The remedy, right now, is two scotches and an aspirin, I think."
Jim Playfair
Former Calgary Flames head coach Jim Playfair is a passionate guy who shows a lot of emotion on the ice, and would certainly be a funny guy to watch on television.
Larry Robinson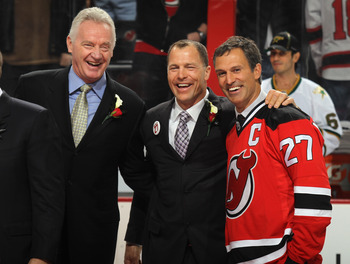 Bruce Bennett/Getty Images
Larry Robinson has enjoyed a very successful hockey career both as a player and head coach at the NHL level. He is also a very funny guy and good in front of a camera as well.
Don Cherry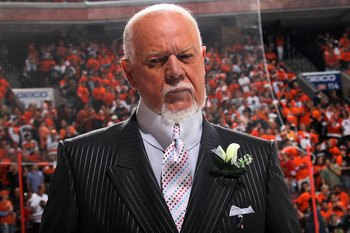 Bruce Bennett/Getty Images
Former Boston Bruins coach and current CBC personality Don Cherry is very opinionated and would be a great hockey comedian with the wealth of knowledge and great stories he has.
His incredible suits would also add to his comedic value.
Keep Reading