Eastern Conference Finals 2012: Pivotal Game 5 Will Decide Rangers-Devils Series
May 22, 2012

Bruce Bennett/Getty Images
The winner of Game 5 of the Rangers-Devils Eastern Conference Finals will ultimately be playing for the Stanley Cup.
The New York Rangers return to Madison Square Garden after their worst loss of the postseason while the New Jersey Devils remembered how to score goals on Monday.
Devils captain Zach Parise woke up for the first time in this series, scoring two goals and assisting on another. He had only one assist and zero goals in the previous three games.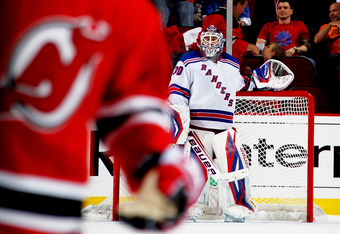 Bruce Bennett/Getty Images
Now the question is whether or not he and Devils can keep it going when they return to the World's Most Famous Arena, or, better yet, can the Rangers stop them in their return home?
New York was out-hustled, out-skated and simply out-played in Game 4. A win in Game 5 would not only be huge for its momentum, but it guarantees the team a return to the Garden for Game 7 at the very worst.
The Rangers have already won two Game 7's this postseason, and we know how they love the Garden in that atmosphere.
The Devils, ironically enough, have closed out both of their previous series on the road, including a Game 7 win in overtime at Florida.
But Florida isn't New York and even the Flyers aren't the Rangers as neither team boasts Henrik Lundqvist in the net.
This series has been everything we've hoped for and more. There is no lack of physicality or drama, and even the two coaches have been seen yelling at one another from the bench.
The winner of Game 5 will hold a distinct advantage, and if that team fails to ultimately win the series, it would be a huge surprise.