Kellen Winslow and 3 Disgruntled Vets Who Will Rebound on New 2012 Rosters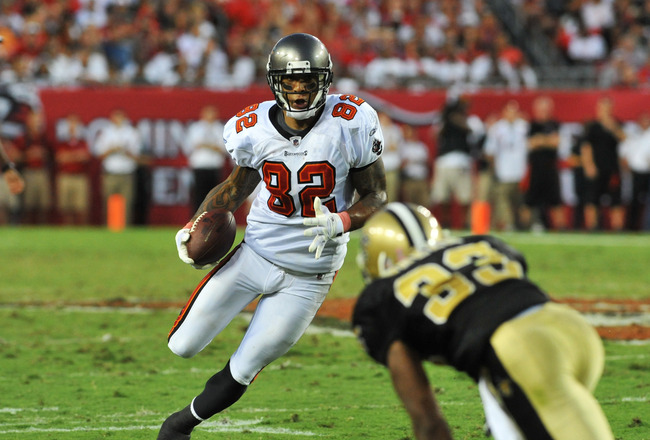 Al Messerschmidt/Getty Images
The Tampa Bay Buccaneers finally had enough of tight end Kellen Winslow's difficult personality, and they shipped him to the Seattle Seahawks in exchange for a conditional draft pick, according to ESPN.com. Winslow is an incredibly talented player, and he could thrive in the low pressure environment in Seattle.
The 28-year-old Miami product is one of several disgruntled veterans who will rebound with new teams in 2012. Here is a breakdown of a few guys who will benefit from a change of scenery next season.
Kellen Winslow, Seattle Seahawks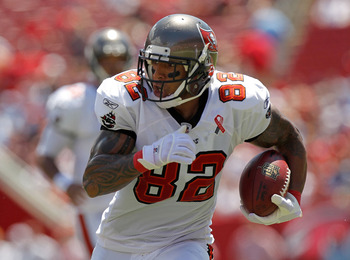 Mike Ehrmann/Getty Images
After three seasons Kellen Winslow wore out his welcome in Tampa Bay. The Buccaneers shipped him to Seattle in exchange for a draft pick Monday, giving the 28-year-old former Pro Bowler a chance to flourish with another team.
There is no doubting Winslow's ability to catch passes. During his three years in Tampa, he averaged 72.7 receptions, 792.3 yards and four touchdowns. The guy knows how to get open, has outstanding hands and can do damage after the catch.
The Miami product was the No. 6 pick in the 2004 NFL draft, but he lasted just four seasons in Cleveland before landing in Tampa Bay. His difficult personality has made him expendable twice.
In Seattle with a laid back coach in Pete Carroll, Winslow could thrive. He will give presumed starting quarterback Matt Flynn another athletic target and will battle with Zach Miller to be the team's No. 1 tight end.
Don't be surprised if Winslow actually finds a great home in Seattle and becomes a big part of the Seahawks.
Peyton Manning, Denver Broncos
Justin Edmonds/Getty Images
Calling Peyton Manning disgruntled might be a little harsh, but he was certainly not happy with how the Indianapolis Colts handled his situation last season. Owner Jim Irsay and Manning were sniping at each other in the press before finally working things out and parting on reasonably good terms.
Manning is now in Denver, and with the Broncos, he should flourish if he can stay healthy. He missed the entire 2011 season after several neck surgeries and now has a chance, at 36 years old, to rebound with a new team.
The four-time MVP may not be in peak physical condition, but he is throwing the ball well at Broncos minicamp, according to the Associated Press via Boston.com.
With a new offense tailored to his strengths, Manning should thrive in Denver as long as receivers Demaryius Thomas and Eric Decker stay healthy and continue to develop.
Vincent Jackson, Tampa Bay Buccaneers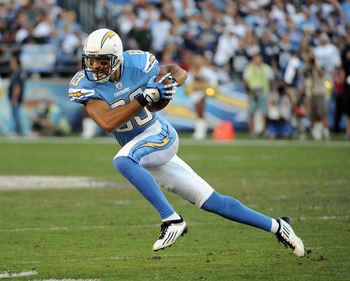 Harry How/Getty Images
Vincent Jackson and the San Diego Chargers had a rocky relationship over the past few seasons. When free agency kicked off, Jackson high-tailed it out of "America's Finest City" and landed in Tampa Bay on a huge contract.
The Buccaneers signed Jackson to be their top receiver and the 29-year-old, two-time Pro Bowler will immediately be quarterback Josh Freeman's top target.
In his seven-year career, Jackson has 272 catches for 4,754 yards and 37 touchdowns.
Now that he has the long-term, big-money deal he has been looking for, maybe Jackson will finally focus and just worry about making plays on the field. He is one of the NFL's best deep threats and now will have a chance to develop into a legitimate, all-around No. 1 receiver.
Randy Moss, San Francisco 49ers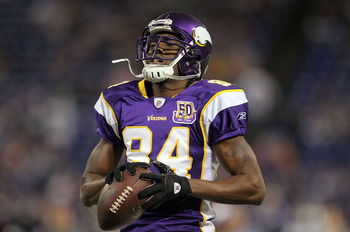 Jeff Gross/Getty Images
Randy Moss sat out the entire 2011 season after essentially being drummed out of the NFL following the 2010 season. In Moss' last year in the league, he played for three separate teams and caught just 28 passes.
The San Francisco 49ers signed Moss a few months ago after a workout. They are hoping the 35-year-old can bounce back and show the form that sent him to seven Pro Bowls. Considering how average San Francisco's receiving corps is, Moss has a chance to earn a lot of reps.
Now that Moss has spent a year out of the league, he knows that he'll be playing to keep his career going. He knows this will be his last chance in the NFL, and if he screws it up, no one will ever sign him again.
Maybe Moss will finally focus, keep his mouth shut and just perform on the field. I think he'll surprise everyone and have a great season.
Keep Reading