The Orlando Magic: Dwight Howard and the Demise of Stan Van Gundy
December 23, 2016
Christian Petersen/Getty Images
There's a new villain in town, and his name is Dwight Howard.
This past NBA season has been marked with Howard's constant indecision about staying with the Orlando Magic. He wants out, he wants in, he's not sure, and so on. Then came the news that if he should stay, he would be given the green light to request the firing of his coach, Stan Van Gundy, and GM Otis Smith. You didn't need a crystal ball to see what was coming next.
So Van Gundy and Smith are now out.
Of course, Howard is denying he had anything to do with the firings and CEO Alex Martins is backing Howard's claim. However, with all that we have heard this season from the Howard circus, can we really be sure that he didn't request it? And what does this do to the credibility and liability of Howard?
If there's one thing we have seen in professional sports, it's how a "Decision" can change the public's perception of athletes. They can go from being a fun-loving fan favorite to the most hated person on the planet. LeBron James knows this all to well.
If James' decision caused his fall from grace in the eyes of many, then what will Howard's "indecision" do to his legacy? Let's face it, whether Howard admits to requesting the firing of his coach and GM or not, the damage was done and the groundwork was laid. I suspect Howard will face the same scrutiny that James faced. How can he not?  It's inevitable.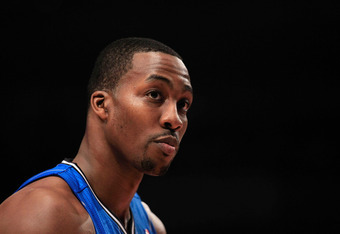 Chris Trotman/Getty Images
Where does this leave Howard and the Magic? This situation has to be a sticky one for any coach to come into. Yes, this is a league where superstars are given many privileges and we all know there were rumors of superstars refusing to play for a coach and that coach being run out of town.
This is different, however. This was a powder keg waiting to explode. The fuse was lit months ago with the news of Howard's bargaining chip.
So if Howard stays, it may be hard to pull in a new quality coach ready to take the risk of upsetting "the man."
And if Howard should go? What was the point of all of this? Why send Van Gundy packing when he was a good coach for this team?
If Howard skates out of Orlando, this may have really left the Magic fans in dire straits for some time.