NFL Players Whose Stock Has Fallen Since Rookie Camps
May 22, 2012

Jared Wickerham/Getty Images
Rookie camps have been unkind to some NFL prospects who were highly touted coming out of the draft. Certain draftees have had their conditioning questioned, while others have had to answer questions about work ethic.
The positive first impressions created by some rookies has also damaged the stock of certain established veterans. Here are five players whose stock has fallen the most since rookie camps:
A.J. Jenkins, WR, San Francisco 49ers
San Francisco 49ers first-round draft choice A.J. Jenkins did little to endear himself to his new employers by turning up for rookie camp out of shape. Head coach Jim Harbaugh was quick to voice his disapproval, per NFL.com's Gregg Rosenthal.
That's hardly good news for Jenkins given the presence of Mario Manningham, Randy Moss and Michael Crabtree. The former Illinois standout will have to work hard to reverse his bad start and even stand a chance of competing for a starting spot.
Tarvaris Jackson, QB, Seattle Seahawks
Tarvaris Jackson already faced a tough enough challenge to retain the starting job in Seattle, after the Seahawks signed Matt Flynn in free agency. Now it seems Jackson can also expect to have to overcome third-round rookie Russell Wilson.
The ex-Wisconsin star saw his draft stock damaged by concerns about his lack of height and slight frame. However, Wilson is certainly a talented passer and has wasted no time impressing head coach Pete Carroll, via NFL.com.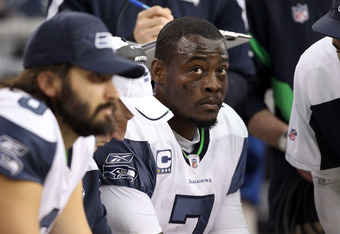 Christian Petersen/Getty Images
Alshon Jeffery, WR, Chicago Bears
It's disappointing that reports have already surfaced raising doubts about Chicago Bears second-round draft pick Alshon Jeffery's ability to supplant Devin Hester as a starter, via CSN Chicago.
Jeffery would form a physically intimidating partnership with Brandon Marshall and is more of a natural flanker than Hester.
Having used a second-round choice to land him, the Bears have the right to expect Jeffery to make a stronger impression as the new season gets closer. Chicago needs more weapons for Jay Cutler, and Jeffery has to emerge as a viable option.
Jerel Worthy, DT, Green Bay Packers
Jerel Worthy can't have endeared himself to Green Bay Packers fans when he admitted to taking plays off, according to the National Football Post (h/t Yahoo! Sports). Despite the honesty of this revelation, it's hardly the most encouraging admission from a player the Packers traded up to get.
Worthy is expected to play a key role for Green Bay's reeling defense this season. However, the issue of consistent effort blighted the college career of arguably the most talented defensive tackle in this draft class.
Worthy has a lot to do to ease concerns about his long-term work rate.
Colt McCoy, QB, Cleveland Browns
Yesterday's NFL.com report indicating that the Cleveland Browns may have already settled on Brandon Weeden as their starter is bad news for Colt McCoy.
The 25-year-old former Texas product threw 14 touchdowns and 11 interceptions as the starter last season. However, it seems that Tom Heckert and Mike Holmgren have wasted little time deciding that McCoy is not the best way forward for the Browns.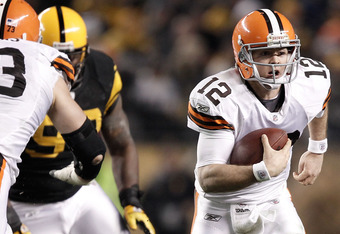 Jared Wickerham/Getty Images
This is a bold move by the franchise, but probably the right one, given the decision to use a first-round pick on Weeden.
Conclusion
Each of the players on this list have seen their stock damaged to some extent by the developments at rookie camps.
The likes of Worthy and Jeffery should be able to reverse their fortunes, but Jenkins has a lot to do after a poor first outing for his new team and with plenty of competition ahead of him.
The quarterback competitions in Seattle and Cleveland still bare watching.
Wilson has steal potential and should be able to outplay Jackson. Weeden appears to have the inside track with the Browns, but the need and expectation in Cleveland only increases the pressure on the 29-year-old to deliver immediately.