Yu Darvish's Struggles Against Compatriot Ichiro Suzuki Continue
May 22, 2012

Kevork Djansezian/Getty Images
Texas Rangers phenom Yu Darvish has taken America's pastime by storm this season. Even after a rough outing in Monday's matchup versus the Seattle Mariners, Darvish is in the driver's seat to win AL Rookie of the Year honors.
Currently, the 25-year-old right-hander is 6-2 with a 3.05 ERA. His 63 strikeouts are sixth in the major leagues. The closest any rookie comes to Darvish's gaudy strikeout numbers is Detroit Tigers lefty Drew Smyly. He has 44 punch outs.
Yet, for all of Darvish's success so far this memorable big league season, he does have an Achilles heel.
Besides his own wildness, Darvish has gotten shelled by his own countryman.
His name is Ichiro.
Simply put, Ichiro has given Darvish fits this year.
In two games against Darvish, Ichiro has hit .714 (5-for-7) with two RBI.  Of these five hits, Ichiro has a double and a triple.
The Seattle right fielder's onslaught began during Darvish's big league debut in Texas on April 9, 2012. Ichiro went 3-for-5 with a double. Yet, Texas unleashed offensive hell of its own, pounding out 11 runs on 12 hits while helping Darvish to his first major league victory.
But Monday, the Mariners got revenge. Behind eight dominant innings by Felix Hernandez, Seattle crushed Josh Hamilton and company 6-1 in Seattle. Ichiro went 2-for-4 with two RBI, a walk and a triple and a walk in Seattle's win. Darvish surrendered four earned runs on four hits and six walks in just four innings of work.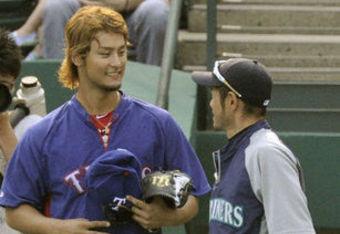 While Ichiro is climbing in age, watching him battle such an outstanding young pitcher is not only good for the AL West, but it is great for baseball worldwide.
It almost makes me wonder if a light-hearted divide exists in Japan between these two stars when they face off against one another.
Related Articles:
Rangers Fast Becoming MLB Version of New Orleans Saints