Who Will Survive the Wild West Race?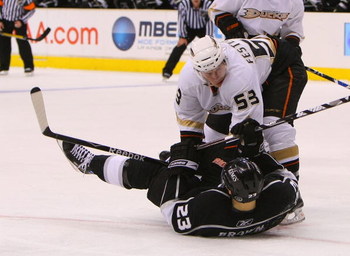 The NHL's Western Conference is up for grabs slightly past the midway point of the season. Some teams are finding their second half form, others are just trying to maintain their first half momentum. Only five points separate the teams ranked 5 through 11. Which teams stand a chance and which teams are most likely to falter down the stretch?
Anaheim (current standing: 5th, 57pts)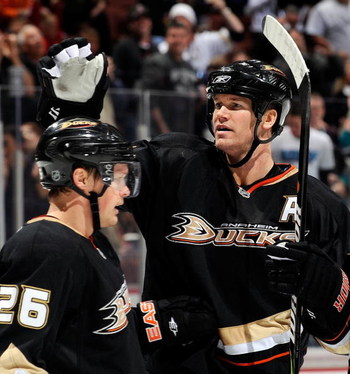 They need to find a way to win at home, where a record of 14-11-3 could slowly creep up and cost them. They had only 9 losses in '07-'08 and just 6 in '06-'07 when they won the Cup. Home ice has been a big factor in the Ducks success the past few years, it's important to improve the last couple months of the season.
How is Teemu Selanne STILL leading the league in power play goals with 13 after missing 16 games? That's incredible. Almost as incredible as JS Giguere starting the All-Star game even though his backup has been the better of the two all year.
The Ducks still have that grit and toughness that will make them a non-favorite opponent come playoff time. Chris Pronger and Steve Montador, a combined 168 PIM, will bring the hurt and probably a couple suspensions with them en route to the playoffs.
Ryan Getzlaf amazingly keeps producing with little help on offense. Corey Perry, Bobby Ryan, and Selanne can only help so much, but the lack of anything past one-and-a-half lines can only go so far.
The Ducks will hang in the playoff race as the 6th seed
Dallas (current standing: 6th, 53 pts)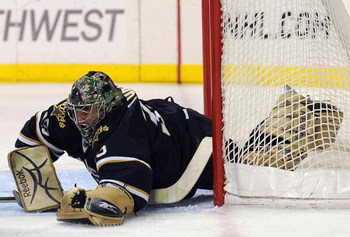 It was A-Very strenuous beginning of the season for Western Conference runners-up. (Like that lame-duck joke geared towards Sean Avery? He was a cancer to this team and only a poor joke could exemplify just how bad he made an already under acheiving team.)
Of course, losing all-star defenseman Sergei Zubov didn't help. And who'd have thought Jusi Jokinen's presence would be missed? Brad Richards, who Jokinen was traded for, has struggled to regain his form from a few years ago in Tampa Bay. He needs to reaquire that form for the Stars to make a serious playoff push. 42 points isn't a bad total, but not typically what they were expecting when they signed him to a contract.
Some of the worst goaltending in the league by Marty Turco handcuffed the Stars from finding any stable groove to get them going at the start. The Stars go as Turco goes. He's 6-2-2 with 2 shutouts in his last 10 starts. Coincidently, the Stars are back from the cellar of the West chasing teams, to looking in their rear view mirror at the teams trying to catch them for a change.
They have found some surprising gems in Luoi Eriksson, leading the team with 24 goals, and rookie James Neal, second with 15 goals.
They should find a way to leap frog Anaheim for the 5th seed.
Minnesota (current standing: 7th, 53 pts)
The only thing lower than their disgraceful team scoring, is their impeccably low team goals against. At only 114 GA, this Minnesota Wild team sure is missing that speedy little injury mobile, Marian Gaborik. While oft injured, he still made the team move. Mikko Koivu has done a spectacular job and is a fresh breakthrough for this offense, 48 points, but even that isn't enough.
Without a scoring presence on a nightly basis, the Wild have been unable to win consistently. Niklas Backstrom has done his part. He's put together a Vezina caliber season. Or is it that suffocating defense that has been ingrained into the Wild organization for yeas by Jacques Lemaire?
Either way, without that scoring, the Wild will drop fast and hard. They sit in the playoff race now, but if they can't find a way to score, look for them to fall out of contention with still 30+ games left.
End of season prediction: 11th place
Edmonton (current standing: 8th, 53 pts)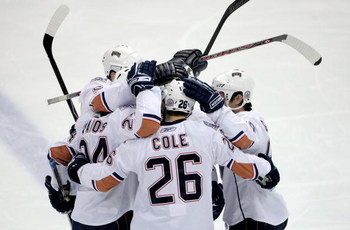 Has there been a team with more ups and downs all season? They're like the pregnant hormonal woman of the NHL, no one can guess WHAT mood they are going to be in on a given night. They'll win (4-3 over Columbus), then get obliterated (10-2 by the Buffalo Sabres).
They have the talent to put up goals, and have two all-star and former all-star defense men to lead their group. Sheldon Souray and Lubomir Visnovsky are two great puck moving defense men and not many goalies enjoy getting in the way of their shots.
Off season addiction Eric Cole has been a BUST with only 12 goals and 22 points on the season. A top line forward in Carolina, now pulling duties on the third line. Speaking of bust, what about Dustin Penner? Can Edmonton spell o-v-e-r-p-a-i-d?
If these two can get on a roll, and help compliment the sensational season Ales Hemsky is having, then this team can squeak in. Dwayne Roloson hasn't been phenomenal, but they have no one else waiting in the wings and he is playoff tested.
They will take the 8th seed, as long as they decide not to go for that pint of AmeriCone Dream and play consistent hockey.
Columbus (current standing: 9th, 53 pts)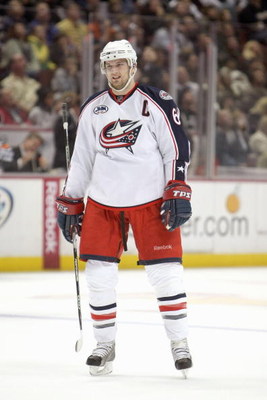 Rick Nash and crew have come so far, and yet, will still fall short. They will remain the only team in the NHL without a playoff berth in league history. It's a shame too, because rookie goaltender Steve Mason is playing at Vezina caliber levels. He should win the Calder trophy for top rookie, but the fact is that there just isn't enough on this team to compete night in and night out for the Jackets to creep in. They are one injury away from having no chance at all.
Kristian Huselius turned it up a notch with 12 points in 10 January games, but unless other off season signee R.J. Umberger picks it up, this team doesn't have more than half a line to compete with on any given night.
That long term contract and current injury for Pascal Leclaire will make it tough to move him at the trade deadline, leaving the Blue Jackets in limbo over whether they will be buyers or sellers and serious playoff contenders.
A strong home record has kept them in the hunt, but a woeful road record (9-13-4) will haunt them until the last day of the season. They are a piece or two away from the playoffs, but they will wear out and fail, quite possibly on the last day of the season.
Prediction: 10th seed
Phoenix (current standing: 10th, 53 pts)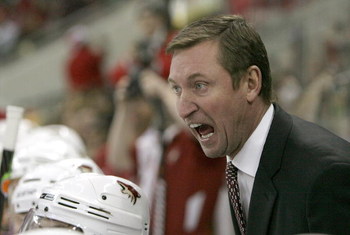 Wayne Gretzky has a lot to yell about. This team is not performing near expectations, minus captain Shane Doan. Illy Bryzgalov was a savior last year for the Yotes; this year, he's been harmful some games. He can't be completely blamed as the defense isn't the greatest in the NHL (5th in Goals Against in the West).
Peter Mueller, a rookie sensation last year, has digressed. Currently, he's snacking up in the press box, out with a concussion. The team needs him to come back strong when he gets healthy. Olli Jokinen isn't exactly lighting the lamp as he did in Florida that made him such a perennial scoring threat. He was injured early on, but his game needs to pick up with only 34 pts in 45 games.
However, they have won some big games (1/10 vs Dallas 1-0, 1/17 vs Calgary 4-3, 1/20 vs Detroit 6-3) and Coach Gretzky could just get enough out of this rag tag group to push them over cutoff line.
The Coyotes could be that one team that will make the playoffs and be considered a cake walk. WRONG. This group has the ability to hang around with the pack and an unsuspecting team will feel it come playoff time.
Prediction: They take the 7th seed.
Vancouver (current standing:11th)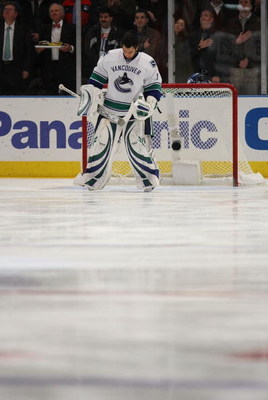 They were supposed to contend with the big boys for tops in the West this year. Quite frankly, I don't think the Canucks even know what hit them.
Their super-star goalie, when not injured, hasn't performed up to par. The team relied on Roberto Luongo last year to make the playoffs, due to their inability to score (only 213 goals-for, 24th in the league). This year, they've improved the scoring, but not by much (143 gf, 15th in NHL). It must be lonely being him, going from one team that doesn't play defense, to another team that can't score. He just can't win.
The Mats Sundin signing? Heck, for cheaper, Patrick Stefan could be out producing the Swede. Their inability to mesh has the 'Nucks capturing only one win since Sundin has joined the squad (9 games). At this pace, it looks to be a repeat of last season, minus the All-Star goalie saving their collective behinds. Look for them to make a run, but fall short at the 9 spot.
Final Standings
My predicted bottom feeder standings of the western conference
5th: Dallas
6th: Anaheim
7th: Phoenix
8th: Edmonton
---------------------------------------------------------------
9th: Vancouver
10th: Columbus
11th: Minnesota
Keep Reading