NBA Playoffs 2012: Why Celtics Must Play Small Ball to Return to NBA Finals
May 22, 2012
Elsa/Getty Images
A hard-fought victory for the Boston Celtics in Game 1 of the second-round series against the Philadelphia 76ers was as telling as any game thus far, as the Celtics' small-ball lineup was the key to their success.
In what was a game that went down to the wire, the difference was in the lineup that Doc Rivers had on the floor. When Rajon Rondo, Ray Allen, Paul Pierce, Brandon Bass and Kevin Garnett were in the game, the team scored 11 more points than did the 76ers in 11 minutes together on the court.
Since moving Garnett to center and integrating Brandon Bass into the starting five, the Boston Celtics have been the team to beat in the East.
It was as soon as Jermaine O'Neal was out of the lineup in March due to injury that these Celtics became legitimate threats in the Eastern Conference. Prior to the All-Star break, the Celtics were just 15-17 and searching for answers.
Since the midway point of the regular season, the Celtics have gone on to win 24 of their last 34 regular season games and have come out on top in seven of 11 playoff games.
What makes this team so effective with Garnett at the center and Bass at the power forward is the fact that both players can shoot from as many as 20 feet away from the hoop. This then forces opposing defenses to play out on these shooters and opens major cutting lanes for the guards and other scorers.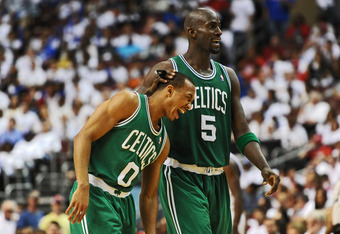 Drew Hallowell/Getty Images
Avery Bradley, Allen, Rondo and Pierce are all able to cut the lane and find the basketball on the run with the vast amount of open space in the middle.
In turn, as defensive minded as the Celtics are, they now have an offense that helps them to compete and score points throughout the contest. There is far less inconsistency in scoring since the lineup change.
Not to mention when Bradley, Rondo, Pierce, Garnett and Bass play alongside one another to start a contest this team has won 78.5 percent of its games.
Talk about impressive.
This postseason the Celtics have proven that they are capable of competing with their defense. Yet when it comes fourth quarter and the legs get tired, it has been their offense that has carried them to victory.
Defense may win championships, but for the Beantown veterans, it will be this offensive sparkplug that will ultimately make or break this team's title hopes. Playing the small-ball lineup has proven its worth, as there is no question Rivers will and must stick with the game plan going forward.