Didier Drogba's Uniqueness Is What Makes Him Chelsea Legend
May 22, 2012

Ian Walton/Getty Images
Didier Drogba is an all-time Chelsea great.
The most astounding part about his greatness was his uniqueness. There's never been a player quite like Drogba. Whenever you watched him play, you always expected something special—something different. And Drogba seemed to know that.
During the Champions League Final, Frank Lampard walked up to the spot. My friend, who doesn't know much about football, said, "man, he looks nervous."
As a Chelsea fan, I was quick to defend how great Lampard is at penalties, explaining how his power was nearly unstoppable. Meanwhile, I was quick to provide counterarguments (he always goes up the middle) so as not to jinx this particular kick. My friend responded with an interesting point.
"Fair enough. It just seems like every player looks nervous while walking up. Like, they would rather be doing just about anything else."
A few minutes later, Drogba walked up to the spot.
"OK, he doesn't look nervous," my friend said. "He's the guy I would want to take my fifth kick."
And I couldn't agree with him more.
Drogba has just a flair about him. You knew what to expect. You knew what was possible. Yet, you still couldn't believe it once it did. And Drogba loved that attention.
Every time Drogba made a quick turn and unleashed a volley, I expected this to happen—or Liverpool" href="http://www.youtube.com/watch?v=fa-bQDl_zmM">this. It may only happen once per season, but I expect these great moments at every turn. And, to a degree, I'm pretty sure Drogba expected these things to happen each time.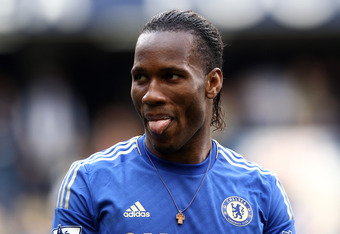 Ian Walton/Getty Images
That belief connected Drogba with Chelsea fans. It was incredible. Both he and the fans knew when he was feeling it. We knew when he would take matter into his own hands. At some point, Drogba would deliver the game. He just needed the big moment.
When that moment came, Drogba shined.
He wanted the ball when it mattered most. Drogba knew he could make the difference; he just needed the chance. He raised his play when it mattered most, and no one could ever capture the moment quite like him.
Drogba's uniqueness was his defining trait. Whatever the situation, Drogba would do it his way. And he would be the only one that could do it that way.
That's Drogba's legacy.
No one was like him. No one could be like him. No one will be like him.
I think that's exactly how he likes it.