Lakers vs. Thunder: Game 5 Highlights, Twitter Reaction and Analysis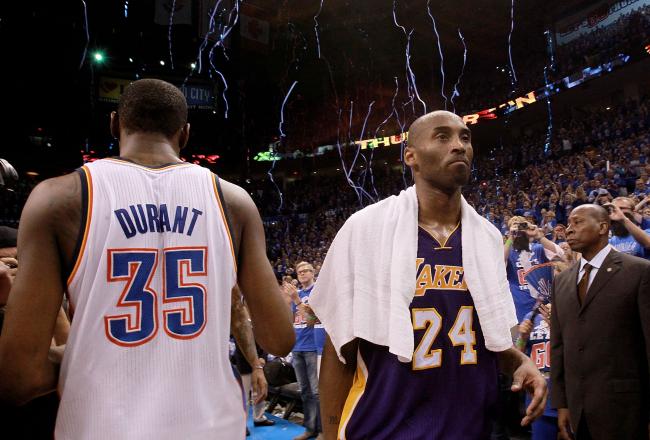 Ronald Martinez/Getty Images
The Oklahoma City Thunder have advanced to the 2012 Western Conference finals and ended the Los Angeles Lakers' season in the process.
In front of their deliriously happy hometown fans, the Thunder took down the Lakers 106-90 in Game 5 to take the best-of-seven series, 4-1.
It was a close game for three quarters, largely thanks to Kobe Bryant, but then Kobe sat at the start of the fourth and the Thunder took control and never looked back.
As it had been all season, the Lakers received little from their bench, and OKC took advantage by going off on big runs.
It was a fitting way for this series to end, as the Thunder owned the fourth quarter throughout this series. They will now turn their attention to taking down the San Antonio Spurs.
Tweets of the Night
Bleacher Report's David Daniels brings up a great point:
Russell Westbrook outmuscles Andrew Bynum for the rebound. Story of the game. #Thunder wanted it more.
— David Daniels (@TheRealDDaniels) May 21, 2012


The Lakers were plagued by inconsistent play by their bigs in these playoffs, and that play summed it up perfectly.
USA Today's J. Michael brings up an alarming stat for the Lakers:
#Lakers have 11 assists. Metta World Peace has 5. Ramon Sessions, the PG, has 3. #Kobe? 0 #Thunder #nba
— J. Michael(@JMike_USATODAY) May 21, 2012


When World Peace leads your team in sharing, there is something terribly wrong.
The Francis Pablo caught the fact that Andrew Bynum declined to shake hands with the Thunder players at game's end. He offered up his reason for skipping out:
BREAKING: sources tell me that Andrew Bynum skipped the post game handshakes to watch Spongebob reruns on Nicktoons. #Lakers #Thunder

— The Francis Pablo (@TheFrancisPablo) May 21, 2012
My theory is that Andrew Bynum is just an immature player who was too busy pouting to be a good sport, but maybe Pablo is onto something.
Must-See Highlight
The plan was sound. Ramon Session was going to foul Russell Westbrook and prevent him from getting an easy bucket. After all, the defensively-challenged Sessions has zero chance of stopping Westbrook.
The reality of the situation did not work out as well. As soon as he was fouled, Westbrook heaved up this miracle shot.
Grades for Key Lakers Players
Kobe Bryant: A
Kobe was fantastic in this game. He made sure that he wouldn't go down without giving his best and had his best game of the 2012 playoffs.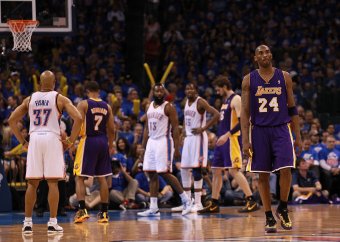 Ronald Martinez/Getty Images
He scored 42 points on 33 shots. He also played solid defense and did everything he could to carry the Lakers to victory.
Andrew Bynum: D
Bynum had flashes, but, once again, he just checked out mentally far too often this game. Part of this may have been due to his teammates not getting him the ball enough, but he can't let that lead to his disappearance on both ends of the court.
He also got into early foul trouble, which limited his minutes, but the fact that he had just four rebounds is disgustingly unacceptable.
Grades for Key Thunder Players
Kevin Durant: B-
Durant did enough and hit a couple of big shots in the fourth-quarter run, but his shot was off a bit.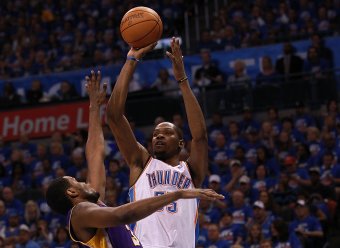 Ronald Martinez/Getty Images
He was just 9-of-21 in the series-closer and finished with 25 points. He did pull in 10 rebounds—or 2.5 times more than Bynum.
Russell Westbrook: A-
Westbrook was aggressive and clutch. He was 12-of-25 from the field and finished with 28 points.
The star point guard provided a huge spark at different moments in the game, and the and-one highlight above may have been the single biggest momentum-changer Monday night.
Deciding Factor: Heart
Scott Brooks' Thunder played with heart all series. Their desire and drive never waned, and that was on vivid display against the Lakers' moments of questionable intensity.
There was no bigger culprit in this area than Andrew Bynum, but Pau Gasol had his ups and downs in this one as well.
Game MVP: Russell Westbrook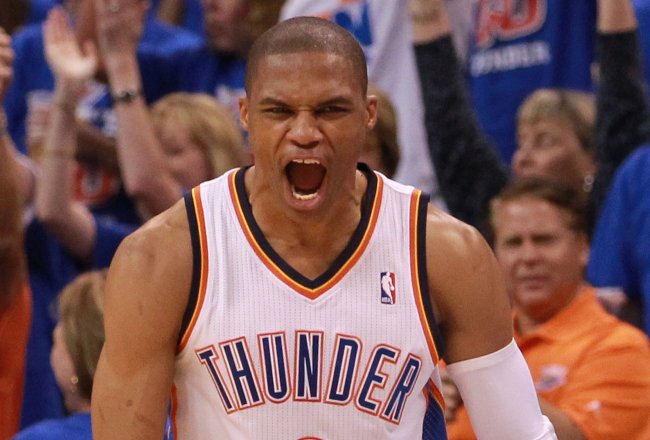 Ronald Martinez/Getty Images
Westbrook came up huge time and time again on the night, making sure his team's energy never slipped. He also hit some nice jumpers. When he is doing that, he is impossible to defend.
What's Next?
The Western Conference finals are next for the Thunder. They will travel to San Antonio and kick off the series on Sunday night at 8:30 p.m. ET.
For the Lakers, they are almost certainly headed towards a long offseason filled with drama and change.
This article is
What is the duplicate article?
Why is this article offensive?
Where is this article plagiarized from?
Why is this article poorly edited?