UFC 146: Power Ranking the Top 25 Greatest Heavyweight Fights in MMA History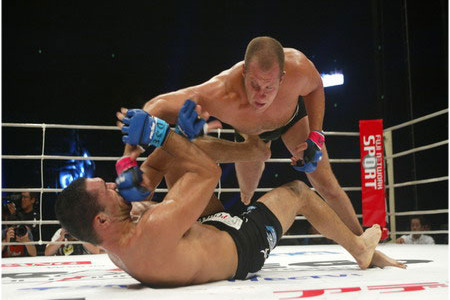 sherdog.com
Whenever fight fans have a moment to themselves and their minds begin to wander, usually they take a stroll down memory lane, thinking about their favorite bouts.
As fans, we all do it: we all have our favorites. The great fights of yesterday make us watch the fights of today in anticipation, hoping for another barn burner; it's the reason why we sit down to watch in the first place.
When the discussion turns to the land of the heavyweights, the debate is every bit as lively as with all other divisions south of the boarder.
Here is a list of the top 25 fights in the Heavyweight division.
Begin Slideshow

»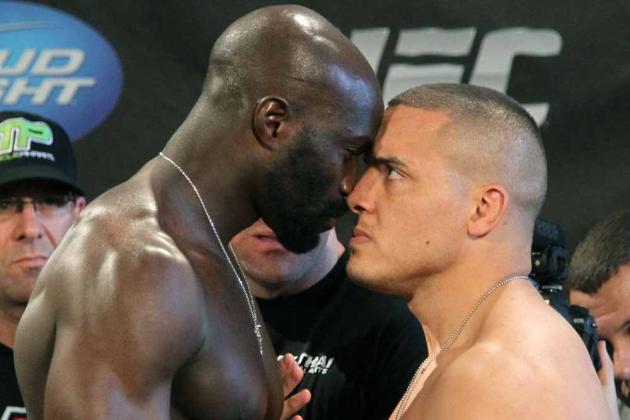 it.ufc.com
When and Where: 2011, UFC on Versus 4
Hard as it may be to believe, the heavyweight division is not immune to matchups between fighters who are drastically different in height and length, and Pat Barry vs. Cheick Kongo looked to be a mismatch for all the wrong reasons.
Kongo towered over Barry, and before the fight started, it seemed like he was going to be able to do damage while remaining out of range and out of danger. In truth, seeing Barry in the ring opposite Kongo reminded some why they have height restrictions at amusement parks; only Barry didn't look big enough to ride.
When Pat Barry set up shop under the eves of Cheick Kongo's chin, it looked like he had the fight in the bag. Barry ripped heavy shots to the head of Kongo, who was flailing to remain upright as his shorter opponent wreaked havoc inland.
Then, as so often happens when fighters trade leather up close, Kongo caught Barry with a violent combo that seemed to come from out of nowhere, putting him flat on his back and out cold.
It wasn't a long affair, but it was passionate.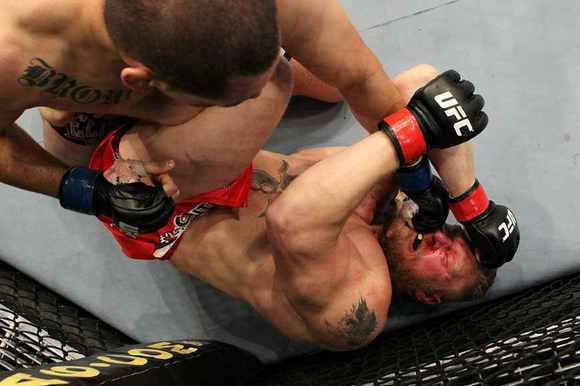 ufc.com
When and Where: 2010, UFC 121
In another fight that was short and sweet, Brock Lesnar came into his title defense against Cain Velasquez, riding the momentum of his thrilling victory over Shane Carwin.
For most of the first minute of the fight, Lesnar attacked the smaller challenger in bursts, then seemed to take a step back to see if it worked. Once he discovered that Velasquez was still there and unharmed, he would try again, like an earnest workman trying to drive a square peg into a round hole.
When Velasquez himself managed to score a takedown, Lesnar began to wilt. Velasquez was riding the back of the champion, throwing punches in his face, and it was looking all too easy.
Velasquez pressed the attack, his fists seeming to find the champion's mug no matter where it popped up. A heavy knee strike to the face sent Lesnar tumbling to the canvas, and Velasquez pounced, frescoing the blood-streaked champion until the bouts stoppage.
It may not have been the best heavyweight fight ever, but it was still ferocious, and it saw the crowning of the first Mexican-American as a heavyweight champion in combative sport history.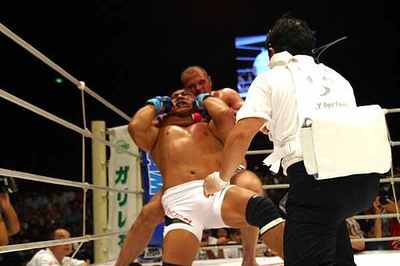 sherdog.com
When and Where: 2003, Pride 26
Some fights aren't great just because two men pounded on each other, as great as that can be. But let's face it, MMA and boxing are both—worst-case scenario—nothing more than legalized assault.
It takes something more to make a fight great.
It began predictably enough, with the champion dominating the challenger with a mixed bag of striking and takedown attempts. Then, Fujita connected with a single punch, a right hook, and suddenly, it was anyone's fight.
Fedor was honestly hurt for the first time in his Pride career, and Fujita was unloading, trying to topple the champion from his perch with wild haymakers that never seemed to find the button.
Fedor clinched, shook the cobwebs from his head, then finished Fujita on the ground with a volley of strikes accompanied with a rear-naked choke that ended the night for the challenger.
In retrospect, it was great because Fujita, with one blow, proved that nothing is a given in combative sport.
It was also great because Fedor, rocked and staggering, proved that he had all that was required of those recognized as the greatest of their time.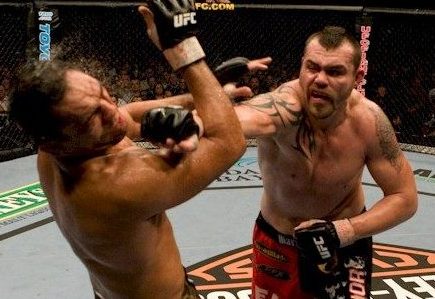 fighters.com
When and Where: 2008, UFC 81
If anyone can claim to be the Rodney Dangerfield of MMA, it's Tim Sylvia.
He's tall, powerful and skilled, but he's also awkward and has seen his career suffer unjustly from simple negative association: He's a good guy who got stuck looking like the villain against fan favorites like Randy Couture and Fedor Emelianenko, and that's never good for a career.
But one thing he has never been accused of is being unwilling to step into a fight with the best in order to prove himself, and that's what happened at UFC 81 when he climbed into the cage for a shot at the interim heavyweight title against Antonio Rodrigo Nogueira.
In what would be the last fight (to date) of his UFC career, Sylvia went after Nogueira for the better part of 11 minutes until he eventually got caught in a perfectly lain bear trap, tapping out to a guillotine choke at 1:28 of round 3.
It was an exciting fight because at many turns, it looked like Sylvia might pull off the upset and thus gain the respect he so rightly deserved. Even in defeat, he acquitted himself well, dishing out every bit as good as he got, and then some.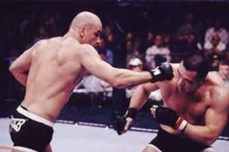 allfreefightvideos.com
When and Where: 1999, UFC 18
When you think back to the beginning of MMA in America, one name signifies all that was suave and striking about the sport: Bas Rutten, the Flying Dutchman.
Granted, he had earned his considerable reputation overseas in Japan, as the King of Pancrase, but everyone was watching his arrival stateside, especially when it was announced that he was going after the UFC heavyweight title.
All of the hype and hoopla seemed to be flying right out the window during the majority of his first fight in the UFC.
Tsuyoshi Kohsaka might have looked like "the opponent" to most casual observers, but as he controlled the distance and the fight on the ground, it became clear he had not intention of lying down for anyone, no matter how great their resume.
Everyone was watching and waiting and wondering if Rutten really was as good as everyone had said. He was being handled capably by Kohsaka, and as the clock ran down, that didn't look like it was about to change.
Seeming to have finally done the math necessary to stuff Kohsaka's takedowns, Rutten fought him to the cage and unloaded with all he had, knocking him senseless and finally dropping him to end the fight.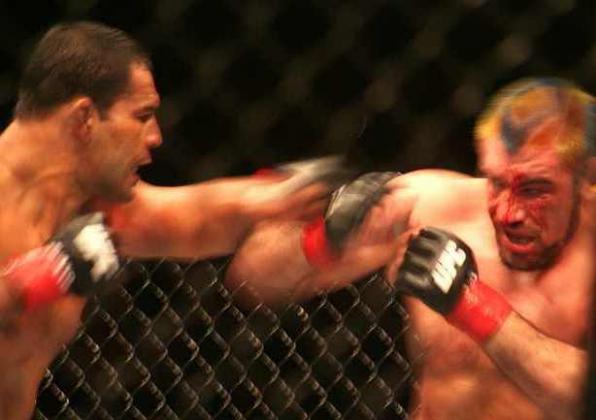 flickr.com
When and Where: 2007, UFC 73
In the third meeting between these two Pride standouts, Antonio Rodrigo Nogueira and Heath Herring went at it again, but this time in the cage of the UFC.
Though the location and rules were different, the fire they built was still the same.
In many ways, the bout was a replay of their first two meetings: Nogueira getting the better of the exchanges on the feet and controlling the action when the fight hit the mat with multiple submission attempts and vastly superior scrambling.
As usual, Herring never gave up, and he caught Nogueira with a brutal kick to the head that dropped him to his back. Herring went after him on the ground, but then let him up, to the shock of many.
Herring then hurt him again, and again Nogueira went down. Herring didn't press the advantage, letting Nogueira escape to the bell, bloodied and woozy.
It turned out to be a big mistake, as Nogueira recovered in his corner and came out to dominate the rest of the fight, taking the decision and running his record against Herring to 3-0.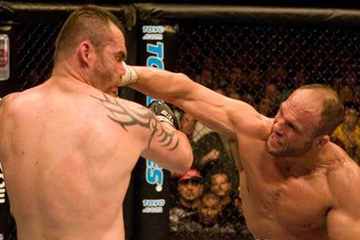 sports.yahoo.com
When and Where: 2007, UFC 68
When Randy Couture announced that he was coming out of retirement to face the current UFC Champion, Tim Sylvia, many feared for his well-being, asking the question: "What is he thinking?"
His move down to the light heavyweight division had been based on the fact that it seemed he could no longer compete with the big men of the heavyweight division, so why on earth would he try to come back against the biggest man to ever hold the heavyweight title?
Inside the first 20 seconds, Couture answered all questions when he dropped Sylvia with a big right hand, followed him to the ground and pounded him with fists one moment, went for submissions the next and all the while, maintained dominant positions on the ground.
It was a process that would repeat each and every round, earning Couture a decision as he claimed the heavyweight crown for a third time.
Couture had reinvented himself yet again, pulling off one of the biggest upsets of the year and smiling the whole way through.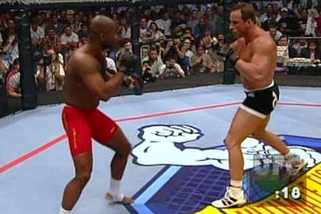 theflyingkneemma.wordpress.com
When and Where: 1997, UFC 14
When Maurice Smith stepped into the octagon against defending champion Mark Coleman, it was a classic clash of styles: expert striker vs. expert grappler, with the UFC heavyweight title on the line.
The general consensus was that once Coleman got his hands on Smith, the fight was over. Coleman was the champion because taking fighters down and pounding them into red oblivion was what he did, so why should Smith be any exception?
For the first half of the fight, it looked as if the challenger was no exception at all, as he was pinned on his back, eating a steady diet of hammer fists and head-butts. And still, throughout it all, the challenger was defending himself. Most of Coleman's shots crashed against Smith's guard, doing no real damage.
Then, a new story could be seen between the lines. Smith began to find ways to scramble to his feet, leaving Coleman tired and frustrated.
When they were on their feet, it was Smith's world, and he wasted no time in making that known to the champion, drilling his legs with brutal kicks and stamping the imprint of his fist along Coleman's cheek and brow.
For the remainder of the fight, Smith would stuff Coleman's take-down attempts and punish him on the feet, over and over again. By the end, Coleman was exhausted, swollen and limping to the center of the cage to hear the official decision.
Smith had backed up all the talk and was crowned the new UFC heavyweight champion. He had beaten the man many thought unbeatable, and he had also proven that the art of striking was alive and well…as long as it was able to survive on the ground.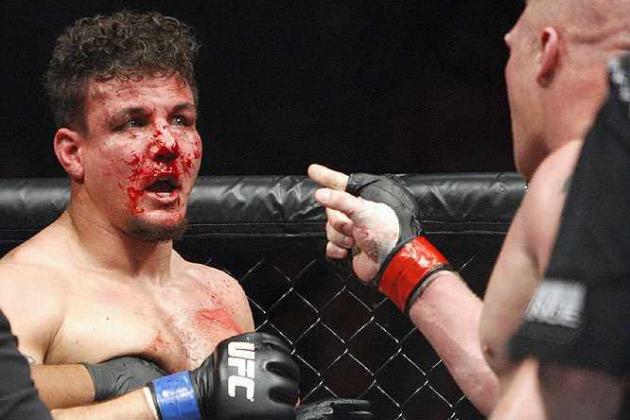 sportsillustrated.cnn.com
When and Where: 2009, UFC 100
It was the rematch people had been waiting for, and it took place on the biggest card in UFC history: UFC 100.
One of the great things that happened to Brock Lesnar was Frank Mir. Fred Astaire had Ginger Rogers, Cain had Abel, Ali had Frazier and Lesnar got Mir.
Mir was not so lucky to get Lesnar, in retrospect.
When they closed the door to the octagon that night, Lesnar wiped his feet all over Mir's every pre-fight word, taking him down and savaging him on the ground.
In the second round, Lesnar wound up atop Mir, slamming massive punches into his unprotected face while holding his other arm out of the way. The sound those punches made was like someone smacking a side of beef with a baseball bat.
Jiu-jitsu may have won their first meet, but it was the wrestling of Lesnar that carried the day in the rematch, allowing Lesnar to exactly bloody revenge on his hated rival in front of the biggest pay-per-view assemblage the company had ever known.
When considering the tale of Lesnar, the saying "the candle that burns twice as bright burns half as long" is indeed apropos, and for Lesnar, Mir was the exhilarant that turned the candle flame into an inferno.
Perhaps it really is better to burn out than fade away.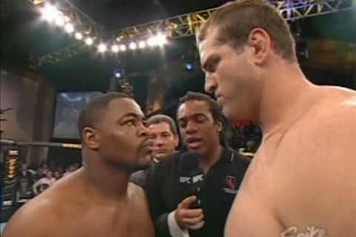 ugo.com
When and Where: 2005, The Ultimate Fighter 2 Finale
Big man vs. little man has always drawn an audience almost since the dawn of time. Everyone thrills at the idea that they might see the little man win if his heart is big enough and his will strong.
Usually they end up disappointed; one of the time-honored adages of the fight game says when all things are equal, a skilled bigger man beats a skilled smaller man almost every time, just like youth trumps age.
When the exception upsets the norm, it's usually a classic, and in the case of Rashad Evans vs. Brad Imes, nothing could be more true.
Evans, a small heavyweight, looked every bit the David to Imes' Goliath.
But he fought like a lion set loose among the lambs, and on that night, he rose to the occasion, battering his bigger opponent countless times in a thrilling fight that saw both men dig deep inside themselves and into each other.
It was action-packed from start to finish, and Evans took a hard fought decision that was the first step in a brilliant career that now finds him sitting in the top three of the light heavyweight division.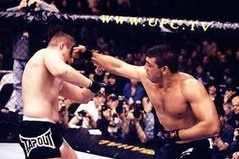 sherdog.com
When and Where: 2001, UFC 30
Reaching back into the early days of the Zuffa-owned UFC, we find a true gem of a fight in Pedro Rizzo vs. Josh Barnett.
Both men were on the title hunt, and both were clearly head and shoulders above the rest in their division of the company.
When they met, it was a tactical fight that saw Barnett being surprisingly effective in the stand up, even to a fault, you might say.
As the bout went on, his confidence grew, and this began a dangerous rhythm that eventually saw Rizzo clobber Barnett with a savage hook and then a wicked straight right that sent Barnett crumpling to the floor.
It was a short fight, but oh-so-sweet.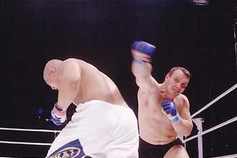 mmatko.com
When and Where: 2000, Pride 10
Sometimes fighters love something so much they empty themselves into the moment, keeping nothing in reserve.
When Enson Inoue went after Igor Vovchanchyn at the sound of the opening bell, they attacked each other with such a fury that one might think they hated each other.
Both men slugged it out, throwing wild bombs with total abandon, paying no heed to concerns of safety or record. They were locked in a moment that seemed bigger than both of them, and the only way they knew how to keep up was to throw themselves headlong into the river.
When the fight hit the floor, Vovchanchyn administered one of the most savage beatings ever seen in the Pride ring. Inoue continued to do his best to fight off his opponent, but the damage had already been done.
The fight was called, as Inoue was a swollen mess, clearly unable to continue.
This was a fantastic fight that, while not a technical masterpiece by any means, saw both men rise to the occasion, unafraid to let it all hang out, even if it meant one of them would end up hanging themselves.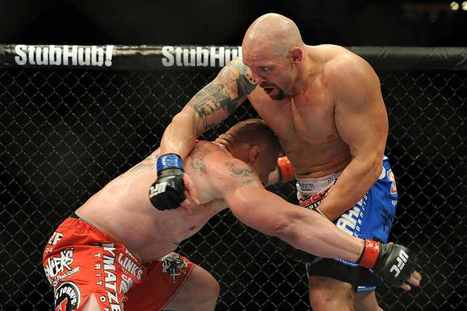 ufc.com
When and Where: 2010, UFC 116
Going into UFC 116, there were many questions surrounding reigning heavyweight champion, Brock Lesnar.
The main question was simple and two-fold: Could Carwin fight off the takedown attempts of Lesnar, and could Lesnar handle the blunt force trauma of Carwin's fists?
The answer came just like the question—in two parts.
In Round 1, the crowd was pulled to their feet as Carwin caught Lesnar with an uppercut and from there, proceed to knock the reigning champion left to right, all over the octagon.
For a good while, Lesnar was unable to do anything more than cover up and take heavy shots from a man whose fists were so large that custom gloves had to be made for them. The result was a bloody champion who walked back to his corner like the survivor of a natural disaster.
In Round 2, Lesnar scored the take-down he so badly needed, and from there passed to the side of the exhausted challenger and secured an arm-triangle choke for the victory.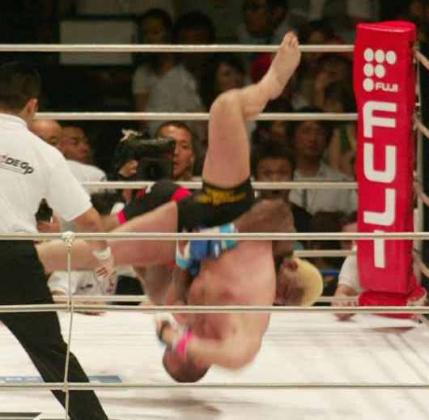 mmabouts.wikia.com
When and Where: 2004, Pride Critical Countdown 2004
In perhaps one of the most violent displays of power, Kevin Randleman almost did the unthinkable: defeat Fedor Emelianenko.
In perhaps the single greatest show of constitution and resolve, Fedor came back to defeat Randleman in the greatest comeback in MMA history.
Randleman took Fedor down in the corner, only to see Fedor get back to his feet with Randleman behind him. Then, in a truly Herculean feet of strength, Randleman hoisted Fedor off his feet, and in one fluid motion, suplexed him straight down, onto his head.
Any other mortal being would probably have been outright killed, paralyzed from the neck down or, at the very least, knocked totally unconscious. It was that brutal.
And once again, Fedor proved he was no ordinary man.
He scrambled with Randleman on the ground, locked a kimura and forced Randleman to tap out, easy and nonchalant as you please.
It was shocking and mind-blowing, and it only lasted a mere 95 seconds.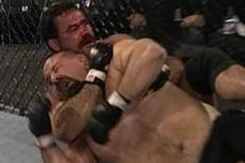 via allfreefightvideos.com
When and Where: 1996, Ultimate Ultimate 96
Cut from the kind of cloth you'd expect to find wrapped around the boot of Robert E. Lee, Don Frye and David "Tank" Abbott were believers in the saying "What hard work won't do, talk will never help."
So, in typical fashion, they let their fists do the talking, for better or worse.
And when they met in the finals of the Ultimate Ultimate '96, it was all for the better.
Abbott floored Frye with the first punch he threw, and from there on out, it was a free-for-all that would have made Ted Nugent stand up and clap.
Both men stood toe-to-toe, trading brutal shots until Abbott, taking an uncharacteristic step back, stumbled over his own feet and crashed to the floor.
Frye got his back, secured the rear-naked choke and the victory.
It was a brilliant finish to an event that was in theory built to pit the best against the best, and nothing could have been finer.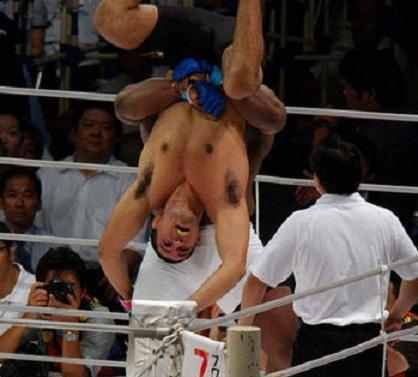 mixedmartialarts.com
When and Where: 2002, Pride Shockwave
Everyone loves the circus, even if they don't believe that everything before their eyes is honest and legitimate.
So it's no wonder that Bob Sapp started off his career actually trying to prove he belonged in the fight game instead of proving he could be bought and sold forsaking all notions of a true fight.
When Sapp squared off against Nogueira, he made good use of his size and power, and in the process, he forced Nogueira to use every bit of his skill, heart and technique to win the day.
Sapp and Nogueira went after each other in a dramatic bout that saw Nogueira fight with all his might in order to overcome serious deficits in size and power, winning by submission.
David and Goliath matchups were a long standing staple at Pride, and this fight was the benchmark, but sadly not the norm.
Some fights have to be seen to be believed, but that's what they usually say about the circus.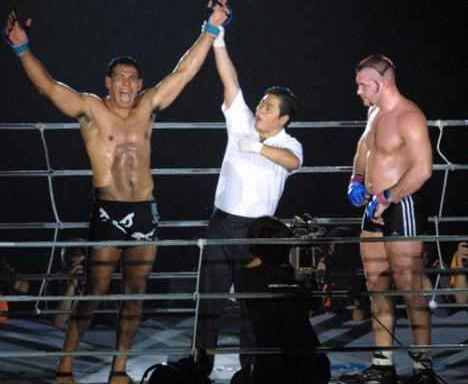 cagetoday.com
When and Where: 2001, Pride 17
Few fights in heavyweight history are know for a fast pace from start to finish, and even fewer are known for a high amount of drama on the ground: Antonio Rodrigo Nogueira vs. Heath Herring is the exception to the rule.
For the duration of the fight, both men went after each other almost frantically, exchanged in prolonged flurries on their feet and when the fight hit the floor, Herring would move the crowd with his gutsy escapes, as he twisted and jimmied his way out of every submission Nogueira threw at him.
By the time the final bell sounded, no one had any doubts that Nogueira had won, but Herring got to hold his head up high as he walked out of the arena as one of the few men to ever spend a prolonged period of time on the ground with Nogueira and not feel the need to concede.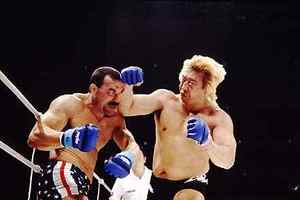 screened.com
When and Where: 2002, Pride 21
Anything can happen in the fight game, but even taking that as gospel, the fight between Don Frye and Yoshihiro Takayama was shocking.
As soon as the fight started, both men seized each other in a kind of hockey-style clinch, and from there, began to slam their free fists into each other's faces.
Continuously. Over and over again.
It was almost numbing in its simplicity and unforgettably brutal in its consistency, but that was where both men decided to wage war, and that was were the war was won and lost.
After six minutes of this kind of mutual abuse, Takayama had clearly had enough and the referee ended the bout, bringing to a close perhaps one of the oddest fights in MMA history.
Both men took a thumping in the fight, but Takayama was an utter mess of bruises, and no one was complaining that the bout had been called too soon.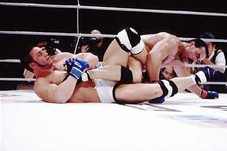 en.susumug.com
When and Where: 2002, Pride 19: Bad Blood
Many years from now, when scribes and historians look back into the history of the sport, they'll find themselves pausing in remembrance of what was one of the harshest and most punishing fights recorded: Ken Shamrock vs. Don Frye.
The staredown itself was epic, and by the time the fight was over, that pre-fight moment in the center of the ring, with both men eye-to-eye, proved prophetic in its silence.
Through the bout, Frye did a lot of damage with his fists, both standing and on the ground, and at one point, he knocked Shamrock out cold with a savage hook, only to see him snap back to consciousness once his head hit the floor.
Shamrock looked game even while ending up on the short end of the stick during most of the punching exchanges, but when he managed to get Frye to the floor, he went to work on both of Frye's legs, via regular and cross-body heel hooks, which are among the most damaging of all submissions.
The result of the fight saw both men recognized, with Frye earning a split-decision victory over Shamrock.
But the tale doesn't end there. Shamrock saw his career enter a downward spiral, and in truth, he never looked as good after that fight.
Frye, on the other hand, suffered significant damage to both ankles. He, too, saw his career begin a downward slide after Pride 19, which was his last victory over a true great in the sport.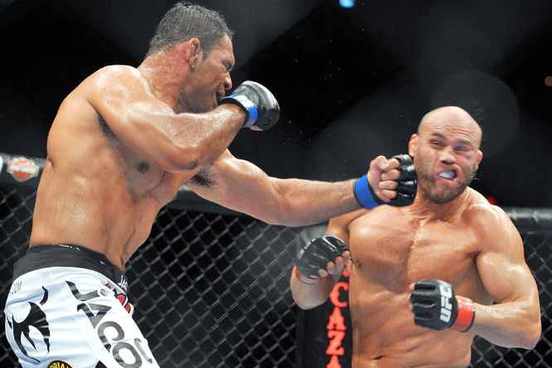 via Jon Kopaloff / Getty Images
When and Where: 2009, UFC 102
If Antonio Rodrigo Nogueira and Randy Couture had fought in some back alley, it would have been the most civilized and skillful street fight in history, and had they fought in The Colosseum, they would have been contesting in each other's blood to the approval of the stunned crowd.
When these two legends of the sport finally met at UFC 102, it was in Couture's backyard, and it was a dandy fight.
From the start, both men freely and willingly entered into close quarters combat, pummeling each other with uppercuts and hooks while tied up in a mutual dirty-boxing style clinch that left little, if any, room for defense.
From there, the fight stumbled across the cage and rolled across the ground, both men looking for the finish any way they could.
For three rounds, these two warriors went at it, both men taking damage to inflict damage, and when all was said and done, Nogueira had done enough of the later to gain a decision win over Couture.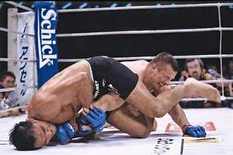 themmanews.com
When and Where: 2003, Pride Final Conflict 2003
During his heyday, Mirko Cro-Cop was widely thought to be the only man who could possibly defeat Fedor Emelianenko.
He had a sprawl that was getting better and better each time he fought, and his stand-up game was the best in the division from a purist standpoint.
When Cro-Cop ended up in the ring with Antonio Rodrigo Nogueira, fans knew they were in for a great fight, for however long it lasted.
During most of the time these two men fought, a compelling yet predictable story was emerging. Nogueira was getting tagged by hard punches and kicks and hurt more and more after each exchange, and he was not able to get the fight to the ground often enough.
In a true "hail Mary" moment in Round 2, Nogueira found himself in a scramble on the ground with Cro-Cop, and from there, was able to secure an out-of-the-blue armbar that forced Cro-Cop to tap.
It had all the necessary elements of a great fight, and above all else, it showcased the skills of both men and showed why they really were the best of the division, much like the fights between Hagler, Hearns, Duran and Leonard did for boxing in the '80's.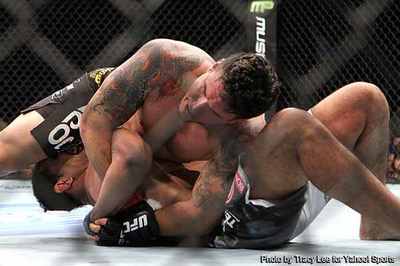 sports.yahoo.com
When and Where: 2011, UFC 140
If there would have been a list compiled of things we never would have expected when it came to UFC fighters vs. Pride fighters, Frank Mir defeating Antonio Rodrigo Nogueira would have been near the top.
Coming into the bout, Nogueira was primed and in top form, coming off a big win in his homeland of Brazil. The fact that he had the chance to avenge a defeat against someone that most thought below him in terms of skill and heart was the icing on the cake.
Having worked Mir against the cage, Nogueira unloaded with hard, accurate shots that stunned Mir and had him in a world of hurt. Sensing the end, Nogueira followed Mir to the mat, trying to lock in choke and take the victory by force.
Mir proved he's every bit the jiu-jitsu ace many have claimed, escaping the submission of Nogueira and then locking on a kimura.
They scrambled on the mat, and once again, Mir came up on top, working the arm of Nogueira until he finally tapped at the exact instant his arm snapped.
It was the fight many hoped to see the first time these two greats squared off because it finally ended up on the mat. The second time around, Nogueira forced the issue, only to find out Mir hand the winning hand on the ground.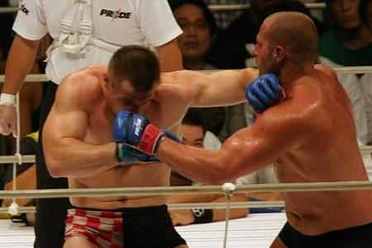 mmamania.com
When and Where: 2005, Pride Final Conflict 2005
The adage "styles make fights" is never more important than when two elite fighters are in the same space at the same time.
In his fight with Cro-Cop, Fedor kept it simple by making sure the threats he posed were honest. He engaged Cro-Cop on the feet with bad intentions, and when Cro-Cop would return fire (with equally bad intentions), he would go deep and get the takedown.
From there, he would try to work his brutal ground-and-pound while keeping Cro-Cop's back to the mat.
It was a brilliant game plan that worked so well that it saw him retain his title against the biggest threat ever posed to him, but it wasn't without some bumps and bruises along the way.
In exchanging with Cro-Cop on the feet, Fedor got blasted more than a few times. His nose was bloodied and his face marked, but he never let that throw him off course. He continued on as planned and won a hard-fought victory.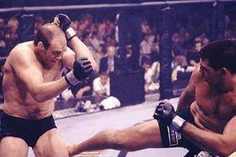 en.susumug.com
When and Where: 2001, UFC 31
More than a few "old men" have been lionized in the world of professional sport, not to mention movies, literature and so on for many years. In the fight game, men such as Archie Moore and Bernard Hopkins are regarded as the greatest Methuselahs the combative sports have ever known.
None of them have anything on Randy Couture, and in his fight with Pedro Rizzo in 2001, when he was at the tender age of 37, he gave us a deep look as to why.
The first round saw Couture take Rizzo down and pound the bloody hell out of him. At several turns, it looked as if Big John McCarthy was going to stop the bout; Couture loomed over Rizzo against the cage, drilling him with brutal punches and elbows.
But Rizzo made it to the bell, got himself cleaned up and then came out to give Couture a taste of his own medicine via brutal kicks to the legs, stiff punches to the face and knees to the body.
Couture seemed to have worn himself out in the first round, and in the second stanza, Pedro let it all go, battering the champion at range and up close.
Rounds 3 and 4 were more of the same, with Couture seeming to get the best of it, although both men rested as they could while still beating on each other.
Round 5 saw Pedro come alive once again, kicking Couture's swollen and purple legs and bouncing his fists off his determined mug.
The end result was a decision victory for Couture, and a classic bout for fans to enjoy for years and years to come.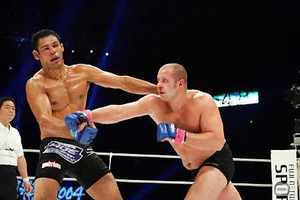 en.susumug.com
When and Where: 2003, Pride 25: Body Blow
When compiling a list like this, the question that should be asked first, last and all times in between is "What made this fight greater than the others?"
For me, when it comes to this fight, the answer is simple: Because of what the champion was willing to endure in order to try and keep his title, and because of what the challenger did in order to wrest it from the champions grasp and make it his own.
This was a true fight between two men who wanted the title bad enough to spend everything they had in order to get it.
Yes, it was a bit one-sided, but I found myself unable to look away. Fedor rocked Nogueira in the beginning with a big right hand that dropped the champion, and from here, he proceeded to drop the heaviest ground-and-pound I have ever witnessed.
And Nogueira took it all, for three rounds.
As hard as Nogueira tried, Fedor was just too much for him. The challenger sifted through all his submission attempts, and his fists continued to find Nogueira's face, over and over again.
After the final bell rang, Nogueira slapped the mat in disappointment, knowing full well the title had passed from him to the man who had taken it by force.
If a title switches hands, it should be as the result of a true contest between two men who want it more than anything.
When that happens, said title and the sport are truly served, and that's what we want to see and what we deserve.