Washington Redskins: What Does the Future Hold for Rex Grossman?
May 21, 2012

Al Bello/Getty Images
With the focus in Washington now squarely on Robert Griffin III and with Kirk Cousins in the margin, there might be no room left on the page for a 31-year-old former first-round pick. 
It's easy to forget that Rex Grossman was at one point nearly as hyped as Robert Griffin III is now. Griffin is a Heisman Trophy winner, but only a decade ago, Grossman was the AP National Player of the Year and a consensus All-American. 
But with the Redskins spending two of their first three 2012 draft picks on quarterbacks, Grossman's time could be running out in D.C.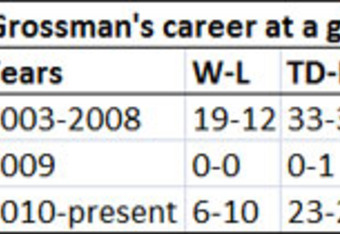 The team could opt to keep Grossman on board to help mentor Griffin and Cousins. Former Tennessee Volunteer quarterback Jonathan Crompton is also on the roster, but in two years, Crompton has yet to make a 53-man roster, so Grossman is the only Redskins quarterback with any professional experience whatsoever.
He also signed a one-year contract extension worth $1.3 million in March, but that was before the 'Skins knew their draft fate. It wouldn't be completely surprising to see the team opt to cut Grossman, who performed terribly in 17 starts over two seasons, and keep two or three quarterbacks with zero professional experience. 
If that happens, Grossman would inevitably land on the radar of teams looking for valuable experience on the quarterback depth chart such as Baltimore or Green Bay. 
My money's on Mike Shanahan and Co. keeping Grossman in town as the "third quarterback." Why the quotation marks? Because early on at least, I'd expect him, not Cousins, to step in if an injury to Griffin requires spot coverage. But for all intents and purposes, if the quarterback hierarchy in D.C. possesses Grossman's name, it'll be at the bottom. 
The Redskins wouldn't have used two picks in the draft's first four rounds if they weren't a) completely ready to extinguish the Grossman era, and b) ready to ride with those draftees from Day 1.