LeBron James Can't Win, Even If He Wins a Championship
May 21, 2012

Marc Serota/Getty Images
This just in: a lot of people don't like LeBron James.
There you have it, the secret is out.
Despite his three MVP awards, his success on the court and his multiple endorsements from Nike, McDonald's and many other companies, James remains the ultimate scapegoat for "hatred" in the NBA.
People loved him in Cleveland because he was the "hometown kid" playing for the entire city. A city that hadn't tasted any form of championship glory in over 50 years.
After his "decision," which shocked millions, and angered many more millions, James became Public Enemy No. 1 in the world of sports.
Now, James is nearing the end of his second year in Miami and is two losses away from falling short on his televised promise to bring "not six, not seven, not eight" championships to South Beach.
The man has played in the league for nearly an entire decade and has yet to win one ring.
His arrogance and obliviousness to the relentless criticism from not just Cavaliers fans, but many basketball fans from around the country, have put a target on the back of the entire Heat franchise.
But this isn't anything new.
The thing is that James simply can not win in this situation, no matter how many people think he can.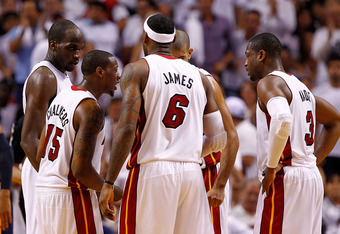 Mike Ehrmann/Getty Images
If the Heat fail to capture a ring this season, the second year into this "experiment," it will only be a matter of time until people begin to question if James can ever win a championship.
There's talk that if the Heat don't win it all this year, Dwyane Wade and Chris Bosh could be out the door in order to accommodate James.
That's pretty harsh for Wade, who is still a superstar in this league and has already brought a championship to Miami.
As for Bosh, he was always looked at as the third wheel in this collaboration, anyway.
Then what?
James would have no Wade, no Bosh and still no ring.
He could have Dwight Howard, but it would only be a matter of time before Howard starts throwing some tantrum that forces the Heat to revolve things solely around him.
See: Stan Van Gundy.
Of course, if the Heat do win it all this year, people will always fall back on "LeBron couldn't do it without Wade and Bosh."
And unless James sinks the buzzer-beating jumper in the fourth quarter of the clinching championship game, it will be hard for fans to accept the fact that he didn't do it himself.
Isn't that why there was a buzz about his last-second dish in the All-Star Game?
It was an All-Star Game for crying out loud, yet people still criticized his inability to make (or in this instance even take) the final shot of the game.
In order for James to finally get some respect, he must make that winning shot. He must be Michael Jordan over Bryon Russell.
He must.
If he does ever get a ring in Miami, he will always hear that he couldn't do it by himself. There's a reason Kobe Bryant was ecstatic to brag about winning a championship without Shaq.
He wanted to prove he could win it all without another superstar.
If James does win it all, he will still lose in the court of public opinion, but I'm sure he's okay with that.