Texas Football: Breaking Down the Longhorns Continuing QB Battle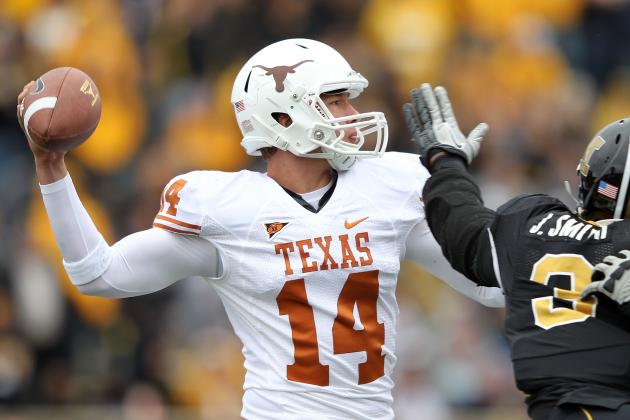 Jamie Squire/Getty Images

Coming off a bounce back 8-5 season, things are looking up for the 2012 Texas Longhorns. They are expected to field one of the Big 12's best defenses and running attacks. However, for yet another season, fans are left with the same lingering question: Who will play quarterback?
After moving on from Garrett Gilbert to the tandem of David Ash and Case McCoy, the Longhorns got quarterback play that often bordered on unwatchable as only WR Jaxon Shipley seemed to be able to throw the ball down the field. Though both Ash and McCoy were able to pull out signature wins while showing flashes of the ability to lead this team, neither was able to definitively prove they should be the starter in 2012.
So, here's what this year's edition of the Longhorns' QB battle looks like after the spring.
Begin Slideshow

»
Erich Schlegel/Getty Images

2011 Statistics: 1,068 yds, 4 TD, 8 INT, 56.9 CMP%, 107.4 Rating; 88 yds rushing, 1 TD
Entering his sophomore season in the burnt orange, Ash appears to be the favorite coming out of spring ball. Being the first true freshman to start for the Longhorns in nearly 12 years, Ash definitely hit his bumps in the road and often struggled to get the ball downfield. However, he did show his ability to put pressure on the defense with his legs and showed great maturity in leading the Longhorns to a Holiday Bowl victory over Cal (14-23, 142 yds, 1 TD, 0 INT).
Ash was fairly quiet in the spring game, throwing only four times for 17 yards. But what he didn't do with his arm he did with his head, throwing zero interceptions and leading the first-team to 28 first-half points. Considering that the running game is likely to be the team's bread and butter, this is exactly the kind of performance the coaches want out of Ash in which he plays mistake-free football while showing the ability to lead.
By building on his Holiday Bowl success in the spring game, the job appears to be David Ash's to lose. According to ESPN's Carter Strickland, the coaches are encouraged by his improved pocket presence and understanding of the offense, as well as his increased confidence throwing the ball. If Ash continues to improve in the eyes of fans and coaches alike, this may not be a competition in a month.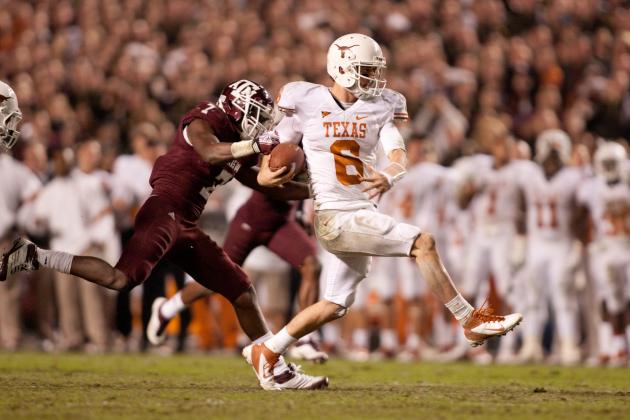 Darren Carroll/Getty Images

2011 Statistics: 1,045 yds, 7 TD, 4 INT, 61.4 CMP%, 131.9 Rating
In all likelihood, McCoy will likely find himself in the backup role to the younger, bigger Ash come fall. McCoy certainly had his bright spots last season and seemed to have won the job after his superb effort and leadership led the Longhorns to victory in their last bout with Texas A&M on Thanksgiving. However, McCoy simply unwound in the following game against Baylor in which he threw the first four interceptions of his career, and Ash was given the opportunity to shine against Cal.
McCoy then did himself no favors in the spring game in which he had limited success against the first-team defense and threw two interceptions, including a bad one in the end zone that should have been a Mike Davis touchdown. McCoy's saving grace is that, like his older brother, he is a natural leader and a very tough competitor. McCoy is also sophomore wideout Jaxon Shipley's roommate and best friend, so he benefits from a close connection to the team's most dynamic pass-catcher.
According to ESPN's Carter Strickland, Texas could still employ a tandem-QB system as they did for most of last season so not being named the starter may not necessarily glue McCoy to the bench. Either way, McCoy will try to make the most of whatever opportunities are thrown his way, which is all you can ask from someone is his position.
2011 Statistics*: 3,001 yds, 43 TD, 5 INT, 62.9 CMP%
Brewer was one of this year's most heralded quarterback recruits, though he dipped later into the year as concerns arose over his competition level. Brewer was brought in to cover the departures of Garrett Gilbert and Connor Wood, and he looked good in the spring game, showcasing his arm strength and accuracy as he put the ball right on the money numerous times.
Though Brewer looked good in the game and has undeniable talent, it would take a miracle or a lot of injury for Brewer to take the field this season as a starter. In fact, it would not be any kind of shock if Brewer found himself red-shirted for the season. Though he is an intriguing prospect, Brewer is just not yet a starting option for this team.
*High School
2011 Statistics*: 1,301 yds, 12 TD, 5 INT, 52.1 CMP%; 118 carries, 979 yds, 18 TD
Jalen Overstreet is the second member of this year's recruiting class brought in to add depth after the losses of both Garrett Gilbert and Connor Wood. Where Connor Brewer is a pro-style recruit,Overstreet is the definition of a dual-threat recruit that almost prefers to make plays with his legs rather than his arm. Overstreet did not participate in this year's spring game so it may be a while before we get to see what he can do.
As far as next season goes, Overstreet, like Brewer, is a prospect and will not likely take the field as a starter barring a series of unfortunate events. However, ESPN's Carter Strickland seems to think Overstreet could see the field in a wild cat set in which he would take the place of departed RB Fozzy Whittaker. Other than that, Overstreet will not see the field over the likes of Ash or McCoy.
*High School