Power Ranking Best Clutch Players Remaining in 2012 NBA Playoffs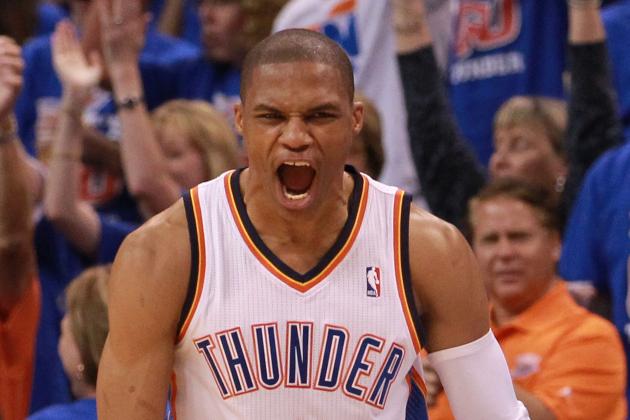 Ronald Martinez/Getty Images

As the second round of the 2012 NBA Playoffs is almost near completion, it is time to take a look at the guys that are getting it done.
The word clutch gets thrown around a lot, but some guys have stepped up to answer the bell and some guys have not.
Let's take a look at which NBA stars come through when the chips are on the table and their team needs them the most.
When I look at clutch players it is not just about hitting a game-winning shot, although being a closer is certainly part of the equation, but to me, a big play with three minutes left in a tightly contested game is just as important in the outcome as the guys who knock down that game-winner.
Making the play (at both ends of the floor) is as important as scoring the basketball.
But it is all about the word when.
Getting it done in clutch and pressure situations is what makes these NBA stars great.
Here's a look at the Top 10 clutch performers left in the 2012 NBA Playoffs.
Begin Slideshow

»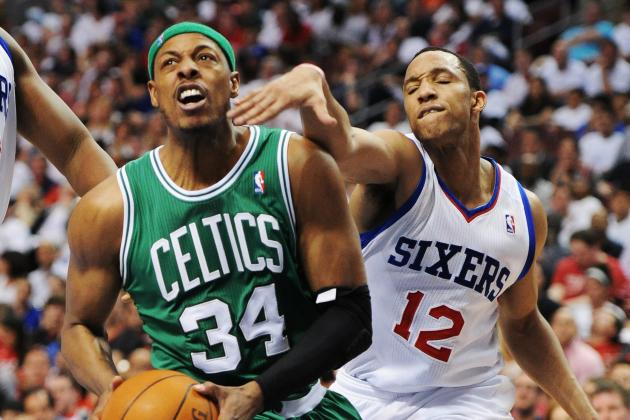 Drew Hallowell/Getty Images

Pierce is still one of the best go-to guys in the clutch in these playoffs.
When Boston needs a big basket, the ball usually finds a way into Pierce's hands.
He has got a banged up knee, but is still averaging 19.3 points and 6.5 rebounds throughout the postseason and single-handily carried Boston to a Round 1 win against the Atlanta Hawks with 36 points in Game 2.
Even with the Celtics offense struggling against the Sixers in Game 4, it was Pierce who came up with enough big shots to keep the Celtics in that game.
He may not be able to put the Celtics on his back all of the time the way he use to, but Pierce still has some big moments left in him.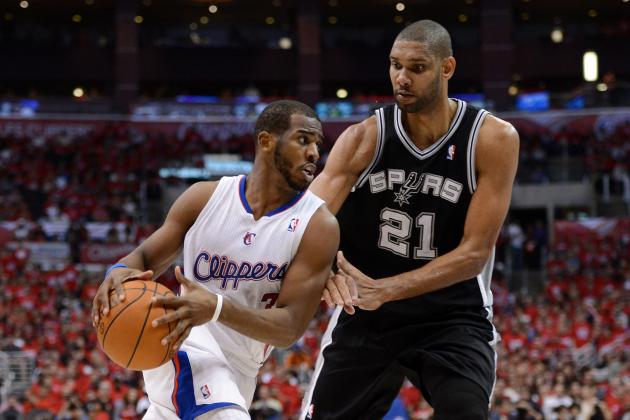 Harry How/Getty Images

It is hard to rank a guy like Duncan on this list, mostly due to the fact that the Spurs have not really been tested much in this postseason and he has not had to perform in too many clutch situations.
But the Spurs leaned on Duncan in their Round 2 sweep of the Los Angeles Clippers, as he averaged 21.0 points and 9.3 rebounds while shooting .594 from the floor.
In late and close situations, the ball should still touch Duncan's hands because he is getting it done.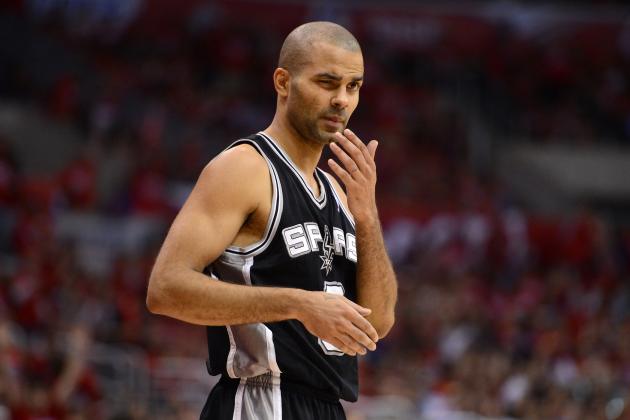 Harry How/Getty Images

Same thing with Parker as he really has not had to be tested in the clutch that much.
Six of the Spurs eight playoff wins have come by double-digits and only one game, a 102-99 victory in Game 4 against the Clippers, was really close in the fourth quarter.
In that game, Parker shot the ball poorly (39 percent), had only 17 points and dished out only five assists, but it has been a tremendous postseason overall for Parker and there are very few point guards in the NBA that I would rather have the ball in their hands late in a game than Parker.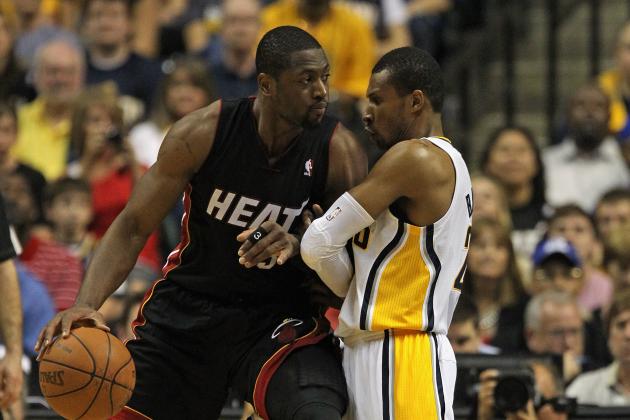 Jonathan Daniel/Getty Images

It is weird to see Wade this low on a list of clutch performers, especially considering the fact that Wade has a career 25.5 points per game postseason career scoring average.
But I have some concerns despite Wade's tremendous 30 point effort (13-of-23 shooting) in a Game 4 victory over the Indiana Pacers.
Most of that has to do with Wade's knee that's kept him in pain as of late, but there are some concerns to the struggles Wade experienced before Game 4.
In the four games prior to Sunday's heroic effort, Wade shot a combined 32 percent from the floor (25-of-77). With the knee in the bad condition that it is, it's a bit concerning that the shooting woes could pop back up.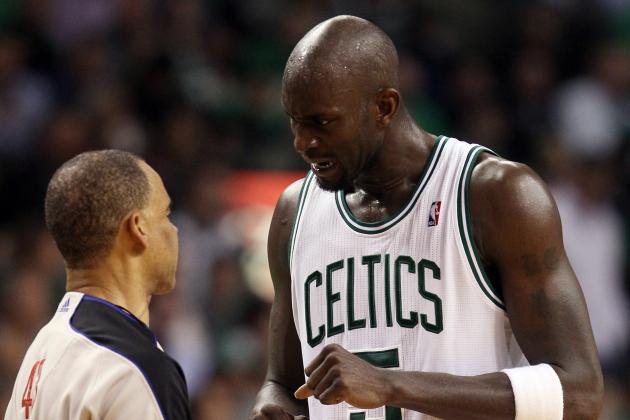 Elsa/Getty Images

Garnett has proven this postseason that he can still be counted on to perform in the clutch during the postseason.
He has shot over 50 percent in each of the Celtics two postseason series so far and playing the 5 he has the advantage with his range over almost every player that attempts to guard him.
KG's numbers this postseason are impressive, averaging 19.3 points and 10.5 rebounds throughout the playoffs, but Doc Rivers has made it a point to play Garnett late in close games.
He hit the game winner against the Atlanta Hawks to close out the series and then came right back to lead the Celtics late in the fourth quarter in a Game 1 victory over Philadelphia as well.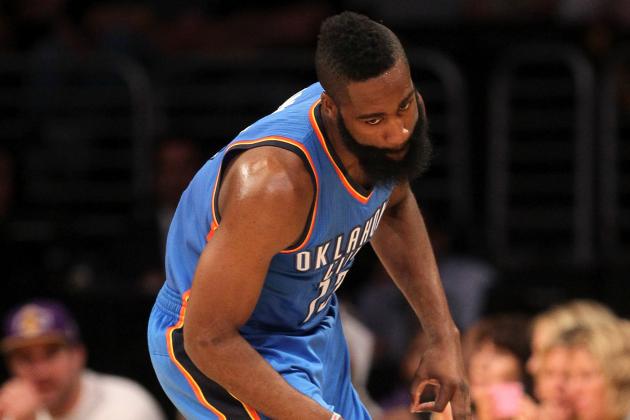 Stephen Dunn/Getty Images

Harden should be higher on this list, but there are some very good players in front of him.
He had a 15-point fourth quarter against the Dallas Mavericks and added to that in the second round with some big late game performances against the Los Angeles Lakers.
In addition to the 17.0 points per game Harden scored in the second round series against the Lakers, it is his outstanding free-throw shooting that makes him so clutch late in games as Harden knocked down 93 percent of his attempts from the charity-stripe against the Lakers.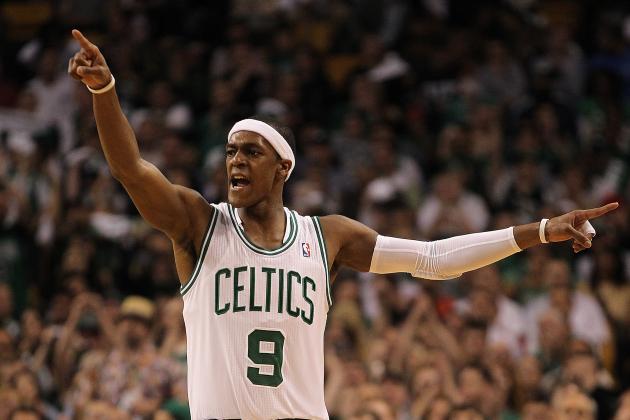 Jim Rogash/Getty Images

Rondo may not be the scorer that the other guys on this list are, but he is clutch nonetheless.
When the Celtics need a play made on the defensive end, Rondo makes it.
When they need him to be a playmaker on offense, Rondo gets it done.
Also do not kid yourself, when he needs to make a shot in the fourth quarter, Rondo often knocks it down.
Quite simply, he may be the best pure playmaker remaining in the postseason and that's as valuable as scoring the ball late in games.
He has averaged 14.6 assists to go along with 14.4 points against the Sixers and is shooting 48 percent from the floor in the process.
In addition Rondo has at least 13 assists in all five games against the Sixers, the first time that's happened since Magic Johnson did it for the Lakers.
Rondo just makes things happen.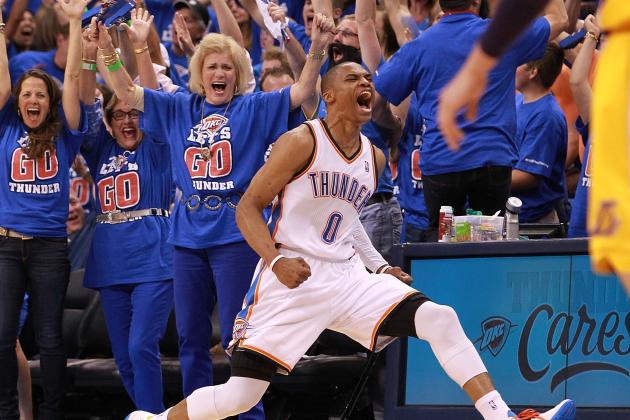 Ronald Martinez/Getty Images

Was there a better player on the floor in the Thunder's Round 2 victory over the Los Angeles Lakers than Westbrook?
He averaged 25.6 points per game and kept the Thunder in position to allow Kevin Durant to win games late.
The only reason Westbrook is not higher is there are still some concerns about his shooting at times, shooting under 40 percent from the floor in three of nine postseason games and under 30 percent on two of those occasions.
But that's just me nitpicking as right now Westbrook is a guy that's been tough to stop and has been big on engineering more than one Oklahoma City fourth quarter comeback.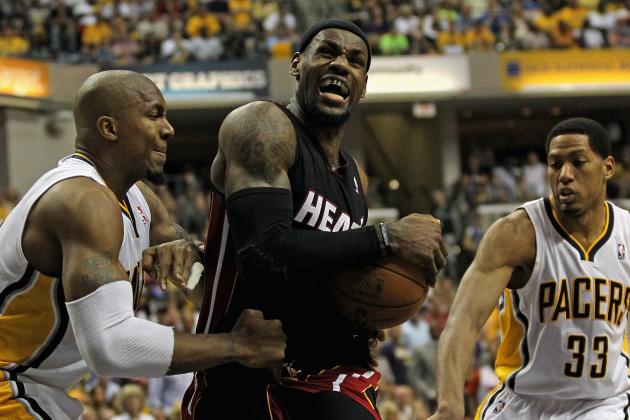 Jonathan Daniel/Getty Images

You can make the case that LBJ should be lower on the list as he has had some problems from the free-throw line and has not really been a factor late in any of the Heat's playoff losses.
But I will argue that his performance on Sunday in which he scored 40 points, grabbed 18 rebounds and dished out eight assists, was one of the greatest playoff performances ever.
I cannot dispute that LeBron has not exactly come through all of the time in the clutch, but when his team needed him, James came through in a big way.
I call that a clutch performance and it could be a sign of things to come.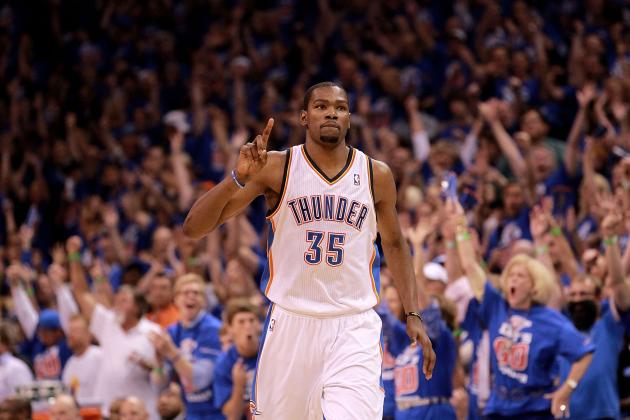 Ronald Martinez/Getty Images

There's been no better player in the clutch during these playoffs than Durant.
He is the NBA's best closer and has already knocked down three game-winning shots this postseason and is a large part of the reason why the Thunder polished off the Lakers in five games.
So far this postseason, Durant is averaging 26.8 points per game, grabbing 8.2 rebounds per night and shooting 52 percent from the floor.
With all due respect to LeBron, right now there is no better player in the postseason late in games than Durant.