Devils vs. Rangers: Most Important Players in Crucial Game 4
May 21, 2012

Bruce Bennett/Getty Images
Despite the New Jersey Devils' three Stanley Cups since 1995, they've only beaten the rival New York Rangers once in the postseason.
Should they lose tonight's Game 4, they could be staring at another one of those bitter series losses, and they're not happy about it.
Dropping a third game to New York would be catastrophic as the prospect of defeating Henrik Lundqvist in three straight games is as difficult as it gets.
That is why tonight's Game 4 is so important, and these are the most important players in it. 
Henrik Lundqvist, Rangers and Martin Brodeur, Devils
The Devils have been blanked by the Rangers' goalie and defense twice already in this series and they cannot afford to let that happen again.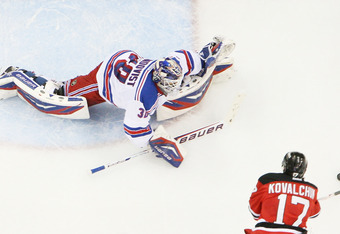 Jim McIsaac/Getty Images
New Jersey has to find a way to capitalize on their power play opportunities because the Rangers have been doing so on their end.
As for the Rangers' offense, they just need to keep doing what they've been doing and hope their defensemen continue to provide an offensive spark.
They were in the best team in the East this year for a reason and they're proving it right now.
Brodeur is a seasoned veteran, but he's not the goalie he once was. If Lundqvist is on his game, Marty has to be on his, too, or the Rangers will make quick work of him.
Zach Parise, Devils
New Jersey's most important offensive weapon has been anything but offensive in this series. The soon-to-be free agent has only one assist in three games against the Rangers and nine shots on goal. 
That simply won't cut it for a guy who scored 31 goals and assisted on 38 more this season.
He needs to be better or the Devils are in trouble.
Stu Bickel and Steve Eminger, Rangers
With Brandon Prust controversially suspended for one game, and Brandon Dubinsky still out with an injury, it appears the Rangers will lean on Bickel and Eminger to take his place.
According to Brett Cyrgalis of the New York Post, these two will split duty in Prust's place:
"The probable replacement for Prust will be a mixture of Stu Bickel and Steve Eminger, with one of them playing forward for Prust while the other plays defense. In Monday's skate, Bickel wore a forward's blue jersey while Eminger wore a defenseman's red."
The Rangers don't need a ton of production here, but they can't have any mistakes either.